Google streamlining Hangouts on the web with interface tweaks, higher quality video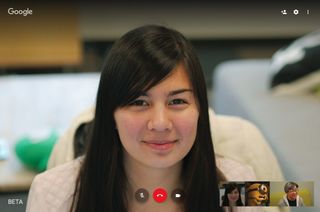 Google has announced some tweaks that are coming to Hangouts calls on the web intended to streamline the interface a bit and improve video quality. The new experience was announced by Google software engineer Eduardo Fernández, and includes moving the call control buttons down to the bottom middle of the screen and some tweaks to make calls start faster with crisper full-screen video. Here's the breakdown:
Calls that start faster and stay crisper, with higher quality video
A more streamlined and immersive full-screen interface
A simpler way to invite friends and family to your calls
Fernández notes that the refreshed Hangouts experience will begin rolling out to a small group of people today, and it will expand across the globe in the coming days. If you find that you prefer the current experience more after the new one is rolled out, you'll be able to switch back using the "Original version" setting in the Hangouts menu.
Source: Eduardo Fernández (Google+)
I don't know anyone who uses the service. It's mostly FaceTime and Skype where I am. Posted via the Android Central App

I use it pretty frequently. Skype still works a little better than Hangouts on the computer as far as video calls go, but I think Hangouts tops Skype when making video calls through the mobile app.

Agree
Mobile to mobile, pretty good video chat quality

I use it for voice-only chat when my buddies and I play online.

Get out from under the rock. Posted via the Android Central App

Most people I know don't even know what Hangouts is. I use the messaging part frequently but have never tried the video part. Posted via the Android Central App

Yep same here it's FaceTime or Skype. Anytime I say hangouts they give me that deer in the headlights look. Posted via the Android Central App

The only time i get a video call in Hangouts, it's by accident. Most of the time they think it's the button to attach a video, WHICH HANGOUTS STILL CAN'T DO!!

It is great for making regular voice calls. Posted via the Android Central App

I still think of that as Google Voice not Hangouts... Posted via the Android Central App

I'm getting frustrated with Google. I use Google Voice for texts, and I loved when they integrated hangouts for text messaging, because the Google Voice app was terrible. But now Google removed the most useful feature of Hangouts (at least for me, anyway)...the widget. I have multiple accounts, and now it's such a pain navigating back and forth between accounts. I've actually reverted back to the old version, so I retain the widget. With the old version, I can access whatever Google account by a simple click of the correct widget. Now, I need to click on the menu icon in the upper left, then click on the drop down. Then I need to select the correct account. If I want to make a call or send a text, I need to do extra clicks for that, as well. I wish Google would get off their duff, and give back the widget. There was really no reason to get rid of it. If you don't want to use it, you don't add it to your homescreen.

So many better video chat options out there such as Skype and VOLTE through Verizon. Posted via the Android Central App

I want to love hangouts, But the app feels slow on my droid turbo. The need to manage the message history better or something. Just to hop between groups and messages seems like my phone has to go to the cloud or something to get data and doesn't make sense. For what it does it does not feel like project butter. Anyone remember that? Its got to think about everything... The Message list, the message history, the users list... I archive old conversations too, and it all shows up again when that person messages me. They should auto-archive content more than 30 days old and make you search the archive if you want o find that data again. Nothing feels local. Also I want to be able to see my SMS's from the web app. Anything I can do on my phone I should be able to do from the webapp, even if I am using the SMS features local to the phone.
Android Central Newsletter
Get the best of Android Central in in your inbox, every day!
Thank you for signing up to Android Central. You will receive a verification email shortly.
There was a problem. Please refresh the page and try again.