Google Store drops Pixel C, but another detachable tablet is in the works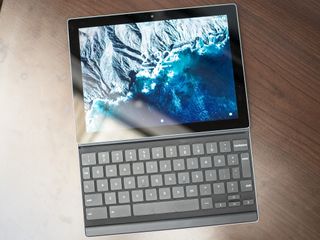 We've said it before and we'll say it again – Android tablets are in a really awkward place right now. Devices like the Galaxy Tab S3 and Amazon's line of Fire tablets stick out as some of the best options, but as a whole, the interest in large touch-screen canvases with Android has died down a lot.
Now, it appears even Google is calling it quits with Android tablets. The Pixel C is the last Android-powered tablet that Google released, and it came out all the way back in 2015. The Pixel C's remained at its MSRP of $599 nearly its entire life with discounts being few and far between, and it's also been sold out for a while, too. Now, the Pixel C has officially been removed from the Google Store for good.
The only laptop/tablet you can purchase on the Google Store is the Pixelbook, and while it does run Chrome OS, that's not necessarily a bad thing. Jerry noted in his review of the Pixelbook that it "is as much tablet as a laptop", and a lot of this has to do with how well Chrome OS has evolved over the years for things like using apps, playing games, and watching movies. The Pixelbook is proof that Google's tablet future lies with Chrome OS rather than Android, and the axing of the Pixel C is just reinforcement of this.
On that same note, new details of an upcoming Chromebook have recently emerged, as well. There have been murmurings of a detachable Samsung Chromebook since last month by the name of "Nautilus", and according to a new commit, Nautilus is referred to as having a stylus that can be stored in the Chromebook itself (ala Samsung's Chromebook Pro).
This can be seen with text such as "PEN_EJECT" and "TEST=Verify that the 'stylus tools' menu gets launched when I eject the pen on nautilus", and while exact details on the stylus aren't mentioned here, it'll likely perform similarly to what we've seen from past Samsung Chromebooks.
We still aren't sure when we'll get a public announcement of Nautilus, but if the Pixel C had to die in order for it to live, you won't find us complaining about that at all.
Joe Maring was a Senior Editor for Android Central between 2017 and 2021. You can reach him on Twitter at @JoeMaring1.
Android tablets are shyte that's why.

Find Android tablets to be OK but support (updates) has been pretty abysmal going by my experience. Had a few that never seen a single update out-of-the-box. They also suck w/storage options usually in the 8-16GB range, 32GB usually garners a hefty premium - yeah expandable storage most likely an option but still. If I'm paying $700-$800+ CND for say, a Samsung Galaxy Tab S3 9.7", it better have more than a measly 32GB. These are just a couple of reasons iPad has become my go-to tablet, my wife's as well.

I keep saying the same thing. Release a new nexus 7 aka a pixel 7 that's about 7 or 8 inches. Watch how popular it will become again. Big android tablets are a dying breed.

Agree. I would buy one in a heartbeat.

Yes, but at Nexus prices, not Pixel prices.

I owned the OG Nexus 7 and it was updated and was good for about a year. Then the slowdown became more of a nuisance than anything. It also took so long to charge. If it was at 20% battery life, it shut off and wouldn't come back on unless it was on a charger for almost 20 minutes before the screen showed you how much juice was in the thing. But if they made another tablet in the 7-9 inch range that was affordable, I'd get one. My mother got a Samsung Galaxy Tab E just before Xmas and that tablet is a beast.

Chromebook plus is my new tablet...

+1 and ditto. Nothing comes close at the $350 price I paid on Cyber Monday. Amazing device.

Same here. 1/3 the price of the Chromebook Pixel, all the functionality save for the backlit keyboard. Probably my favorite purchase of 2017.

The Nintendo Switch at $299 shows what a rip-off the Pixel C was.

The pack of toilet paper I bought yesterday at 9.99 shows what a rip off my Mercedes benz SUV is....

I'm running with a Microsoft Surface Pro 4, but honestly if I ever had to replace it, I would seriously consider a Chromebook and ChromeOS.

Android is a great smartphone OS but really doesn't offer as much in the tablet space. The iPad has a pretty good hold on the market and Windows 10 tablets especially the Surface Pro, are far more functional from a productivity standpoint.

I had Nexus 7 for one month and that's my short stint with any tablet. I sold it and got a big phone instead. I got a Chromebook shortly after, which I prefer over any tablet.

Gave up on Android tablets long time back, now use a pixel book as a complementary browsing/Android tablet device for casual home use.

Been using N7 2013 for years now. Continued to upgrade Android currently running AOSP 8.0 very smooth and runs great. Yes the battery life is not so good and need to charge overnight but for what it is for me its just fine. I have primarily used it for consumption, reading video mostly. If it died would I want to replace with anything current? Have not seen anything that says yes. My LG V30 would be just as fine for consumption. I will say I would miss my N7 though!

I just see the transition of android apps to chromeOS as Android tablets finally growing up. I'm not ready to upgrade my tablets yet as there are still a lot of polishing up needed but once everything is ironed out then I'm good. Although I do admit that I'm still just gonna use any chromebook as a tablet so I'm hoping to see more detachable chrombooks(crossing my finger to see an 8" model) out there and not just convertibles when its time for me to buy one.

I am a huge fan of my Pixel C, for the most part it has been my primary device for mobile computing.

I use my Galaxy Tab S3 every day. I think it is perfect. Shame more people do see the value in a good Android tablet.
Android Central Newsletter
Get the best of Android Central in in your inbox, every day!
Thank you for signing up to Android Central. You will receive a verification email shortly.
There was a problem. Please refresh the page and try again.