Google posts Android 4.4.4 (KTU84P) factory images for many Nexus devices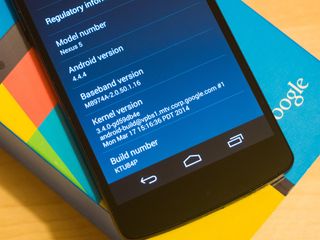 Nexus 4, 5, 7 and 10 all included — no sign of OTAs just yet
Google has just posted Android 4.4.4 factory images for several Nexus devices, following up seemingly randomly after the very publicized release of Android 4.4.3, which has recently just finished rolling out OTA. The images have just appeared on Google's Factory Image page, with no further announcement or information on what is included in the release.
The images carry build number KTU84P, and are available for the Nexus 4, Nexus 5, Nexus 7 (2012, 2013 and only for Wifi models) and Nexus 10. We're currently taking a look at them on our own devices to see if there are any noticeable changes. In the meantime, if you're so inclined you can have a download at the source link below and put them on your own Nexus of choice.
Source: Google
Andrew was an Executive Editor, U.S. at Android Central between 2012 and 2020.
I heard that 4.4.3 had some unexpected bugs and I expect 4.4.4 to fix them.

Never heard that on all the sites I visit, but I googled it and seems there are a few complaints about random reboots, exchange services/battery draw (always those complaints), and a few "bricked" devices. I would've stopped reading after "bricked" devices but it was the last bullet. Unless the hardware failed (very rare), you didn't brick a Nexus. Been great on my N5 and lady's N4. It's definitely a maintenance release so your right about fixing some bugs. We'll see what they changed/attempted to fix soon enough.

Interestingly, my battery draw has been a bit worse since the 4.4.3 update using ART. Switching back to Dalvik destroys battery.

In regards to the Nexus 5... The battery issues were there before 4.4.3 and the update didn't change much in that regard (and they are issues with mysterious rapid discharges which is [usually temporarily] fixed with a cache partition clear, or slow but increased discharges when idle, which is temporarily fixed with rebooting). I follow several forums and have not heard about any "bricked" devices. The main issues (at least on the Nexus 5) appear to be related to random rebooting and radio disconnects. And I have experienced both, where I have never had EITHER prior to 4.4.3.

I read 4.4.3 caused more bugs than it fixed Posted via Android Central App

Not on my completely stock Nexus 5. It was quite stable before and even more so now. The battery is also better.

I don't know that I've noticed too much different on mine. IOW, it didn't break anything for me. However it looks like it did for some, either that or it opened a security hole that needs plugging... Based on the link to the Sprint forum post above. Posted from my Nexus 7 2013 via Android Central App

Texting through Hangouts has been broken for me on my Moto X since the update. Posted via Android Central App

Same with me. Wy wife is an iPhone user and I had no trouble texting before 4.4.3 to her. She wouldnt receive any from me after 4.4.3 so I got the stock messaging app and it was fine through it.

https://community.sprint.com/baw/mobile/mobile-access.jspa#jive-discussi...

Nothing. He is just making stuff up.

Since my update to 4.4.3 my phone is very hot, loses reception and drops calls. Before it was fine. Hoping this new update fixes the issues 4.4.3 has caused. Android Central App | Nexus 5 | Powered by Android

I have the overheating problem as well

me too ... my nexus 5 is getting hotter since I upgraded to 4.4.3. never had this issue on previous release unless I was spending too much time playing games.

Exactly also I'm noticing some lag which is probably related to the soc over heating

Sup Norris Posted via Android Central App

New radio has been great for me in regard to battery usage (signal same or better esp in buildings), but you could always flash an older radio if you want (if rooted).

When does yours get hot? Mine doesn't get hot while I'm actually using it, even for processor-intensive tasks, but it gets super hot when it's charging, especially while charging on Qi. Posted via Android Central App

This entire thread of the new dial-er simply turning off the screen is apparently making stuff up (happens to mine right now ... it's annoying enough that I may flash back to 4.4.2... but will try to see if 4.4.4 fixes it first). https://productforums.google.com/forum/#!topic/nexus/mdklhqCgEM0%5B126-1...

so whos going to take the plunge with 4.4.4 and see whats changed?

Hopefully they fixed the random shutoffs. I've been reading there are a few 4.4.3. Nexus phones suffering. But might not be big enough for them to actually fix it.

I just got settled on 4.4.3!! Dammit oh well. I'm updating to 4.4.4 then.

Could it be running ART instead of Dalvik runtime by default? There has been a lot of talk about it today. Posted via Android Central App

I think they meant the next MAJOR update

No. Just flashed 4.4.4 to my rooted N4. I checked afterward, and saw that it was set to Dalvik (which I am now correcting).

Dam!! I haven't even received the 4.4.3 update yet, so now I'll be 2 versions behind on my moto g!! And since the new update is 4.4.4 the maybe the next version of android will be 4.5 after all!!! Posted via Android Central App

Don't worry, it's not really a big change. Look forward to a more colorful dialer and contacts though. android central app

Yawn..... Posted via Android Central App

4.4.3 OTA took a week for me to get. Let's see how long this takes Posted via Android Central App

I could be a member who complains but honestly if you want the updates quickly buy a nexus phone. I give up caring about them. My backup moto g still hasn't even gotten 4.4.3 and they're already prepping the next version. I gave up checking for the update. Guess all that crap Motorola flushed when the G was released was trashed. All about selling new phones. Think about it, moto g gets released in November, gets kit Kat in January but now there gpe moto g's that haven't gotten it. But oh well. I'm happy with my new device. Posted via my LG LS740 and The Android Central App

My wife's Moto G received its update 2 days after my Nexus. The G was purchased direct from Motorola and not through a carrier.

Check the forums, lots of moto g GPE owners didn't get the update yet. Me and my wife both have moto g's on boost mobile and neither one has gotten the notification yet. But when the update was announced for that phone they said those bought directly from Motorola would be first. That's one thing I do miss about samsung. Kies
Posted via my LG LS740 and The Android Central App

I'm thinking the same thing Posted via Android Central App

"The vulnerability is said to be in every kernel before the June 3rd patch" - Doesnt seem like 4.4.4 would fix it, when 4.4.3 fixed it

I imagine you're right. My LG volt is rooted using towelroot. Doubt this phone gets the update, but if it does I'm refusing it if that's the case. I will take it on my stock moto g though.
Posted via my LG LS740 and The Android Central App

Did u got OTA for 4.4.4 or got it through nexus update app ?
For me OTA update has not come till now..
Posted via Android Central App

Since 4.4.3, my phone gets much warmer than before. And, it seems the batter empties faster. The first time I've experienced this.

Exactly what I've noticed on my Nexus 5, and my wife has noticed it on her Moto X after it got the 4.4.3 update. I really hope this 4.4.4 update fixes it... Posted via Android Central App

I've also noticed that my phone charges much more slowly after 4.4.3 when charging wirelessly. I'll keep an eye out to see if 4.4.4 fixes it.

OpenSSL vulnerabilities. John Hancock

And I just got a 4.4.4 update notice on my n4. Posted via Android Central App

4.4.4 available on none Nexus/GPe phones in 6-8 months. Haha Posted via Android Central App

Thanks again Nexus owners for beta testing these for the rest of us. We appreciate it... I guess I should get the Nexus 7 out and clean the dust off. I know it is a few versions behind. I haven't needed/used it since my big Note Pro tablet got into my hands...

Bro...Get out of here Posted via iPhone 30 Running iOS 33

Cool story bro. Posted via Android Central App

Good luck ever getting the update on a Samsung device.As far as beta testing is concerned all 4.4 updates may have their fair share of bugs but alsp contained may fixes namely battery improvements and stability so its a worthy tradeoff than not getting the update at all Posted via Android Central App on Google Nexus 7 2013

I hadfew issues once I updated to 4.4.3......battery was still same.....had some app login issues......then went to do factory reset and nexus 5 bricked......waiting for new one to arrive !

not that it matters but you couldnt even get it into download mode to manually flash it back? That sucks....

Download Wugs Toolkit...you can unbrick that thing in a few clicks. Posted via My Nexus 5.

Do you still have the so called "bricked" Nexus 5 or did you send it in for the replacement? If you do have it, I'll help you out by sending you over $100 if you send me that brick in exchange. Pretty good deal isn't it? I've got papers on my desk that need held down :)

I just wiped and reset my phone yesterday. I'll be damned if I wait for an OTA this time! Factory image, here I come! Posted via Android Central App

The front facing camera on my N4 seems to keep the "shutter open" far too long, blurring and over exposing my photos. Hopefully this'll fix that. Also, when I open up the camera with the front facing camera as default, the settings show "HDR +" being turned on, but the N4 doesn't have that feature. Posted via Android Central App

Wow, look at Google with their sly updates!

Wake me when we're at 5.0...these incrementals are snooze fests. Posted via Android Central App on my white Nexus 4 with StraightTalk ATT

I wonder if some of this just lays the groundwork for some fun stuff for I/O. It is a nice thought...

I downloaded the update but nothing happens. Nothing changed not even 4.4.3.

Mine updated to 4.4.4. Only thing I've seen different so far is a brief display of a cast screen option on the settings drop down menu. It was there for a few moments when I first booted back up and now it's gone. Posted via Android Central App

That have been there before, I think you still need miracast receiver for that option to work.

It was there before. Just noticed it on my n10. Posted via Android Central App

Love the lack of information from Google. So amateur.

I just got 4.4.3 on my 2012 WiFi nexus 7, there must be something wrong for them to release 4.4.4 so soon. It seems snappier than 4.4.2. Posted via Android Central App

is your battery crap after the update? mine is toast, only a few hours of web surfing and stand by and its dead.

I downloaded the factory image. Every time I try to flash it, I get an error in fastboot saying that the update does not include a system image, even though I know it does (it HAS to). What am I doing wrong?

My misses n4 random boots my kids have n4 and n5 the n4 battery is worse since last update the n5 has started booting it's self. I used to love nexus but am loosing interest rapid time. (think it's cos of ear ache I've got over them) lol from my old note3 which i had to sell my soul for;)

Im updated my nexus 5. 4.4.3. Its wrost up date my battery is fucxxxxxxx with in 8 hours

reboot a few times, it helped my nexus 5 after the 4.4.3 battery drain.
If you are rooted and have TWRP installed try clearing your caches and then fixing permissions then reboot a few times. This didnt help my nexus 7 though

So post 4.4.4 upgrade my n4 is getting about 4 hours battery life. Perhaps we need a 4.4.5 update? Posted via Android Central App

reboot a few times, it helped my nexus 5 after the 4.4.3 battery drain.
If you are rooted and have TWRP installed try clearing your caches and then fixing permissions then reboot a few times.

4.4.3 basically RUINED my nexus 7 2012. Pre 4.3 i could get 2 days EASY out of my little tablet, the night of the update it was all downhill.
My browsers are SOOOOO slow..... IF they even connect to my wifi
My battery last a couple hours with light surfing and really just letting it sit there. I believe the battery drain is connected to the wifi. I should leave it off for a day and see if that helps but its no fix, simply a band aid. I could deal if I knew a fix was in the works but this 4.4.4 is ONLY for the heartbleed bug and no bug fixes to performance the last one caused. REALLY GOOGLE! Making it very hard to argue with apple folks. I mean after 4.4 kitkat upgrade my tablets rotation turned to molasses and I deal with screen pixelation on almost every screen turn.
Im not the ONLY one either because when I posted this on googles help forums many other jumped on board to. Bring back my nice tablet or Ill just going Cyogen
Android Central Newsletter
Get the best of Android Central in in your inbox, every day!
Thank you for signing up to Android Central. You will receive a verification email shortly.
There was a problem. Please refresh the page and try again.