Google Pixel and Pixel XL specs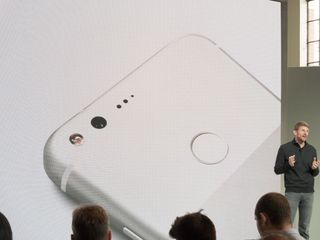 Google's Pixel and Pixel XL are made by HTC, but from a marketing perspective they're all Google. This means they're running the latest version of Android Nougat, version 7.1, with some Google Magic thrown in, but they're also top-of-the-line phones for late 2016. Here's what they have.
Swipe to scroll horizontally
Category
Google Pixel
Google Pixel XL
Operating System
Android 7.1 with Google UI
Android 7.1 with Google UI
Processor
Qualcomm Snapdragon 821
Qualcomm Snapdragon 821
RAM
4GB
4GB
Display
5-inch 1920x1080
AMOLED
Gorilla Glass 4
5.5-inch 2560x1440
AMOLED
Gorilla Glass 4
Rear Camera
12MP f/2.0
1.55-micron pixels
PDAF, LDAF
12MP f/2.0
1.55-micron pixels
PDAF, LDAF
Front camera
8MP, f/2.4
8MP, f/2.4
Battery
2770 mAh
Non-removable
3450 mAh
Non-removable
Charging
Rapid Charging
Rapid Charging
Connectivity
USB Type-C, Bluetooth 4.2
USB Type-C, Bluetooth 4.2
Fingerprint sensor
Yes
Yes
Storage
32/128GB
32/128GB
IP rating
IP53
IP53
Colors
Quite Black, Very Silver, Really Blue
Quite Black, Very Silver, Really Blue
Dimensions
143.8 x 69.5 x 8.6 mm
154.7 x 75.74 x 8.6 mm
Weight
143 g
168 g
Daniel Bader was a former Android Central Editor-in-Chief and Executive Editor for iMore and Windows Central.
who cares.. as long as it works well

Ah...so now huge bezels are okay...I see what's going on here.
Oh and let's not for get that 1080 seems to be just fine for a flagship phone...yes?

it was never a problem for me but u know it just like nexus 6p where everyone complained and then many bought them loved them

You would not be able to tell the difference at 5". At that point it is just numbers on a spec sheet

1080p was always ok for 5 inch screens

Seriously. I never saw the pont in going to 5.2 in but staying at 1080p.

I used a Z5C (720p 4.6") for several months between the 5 (1080p) and the 5X (1080p). I couldn't care less about the resolution. I still think 720p is fine for 4.7"-5". Maybe not for 5.2"... But 1080p is overkill. Something between 720p and 1080p would be the same.

I don't think the 1080p is as bad as the bezels. The Nexus 6 has by far the smallest bezels and there is no reason they should be reverting back to bigger ones.

You mean HTC since Apple ripped off the m7 years ago its made by HTC it looks like HTC .

Apple didn't rip off no HTC. IPod Touch from 2012 came long before HTC One M7. IPhone 6 looks just like big iPod Touch.

Nicee! Hopefully the limited Blue isn't limited to Verizon only.

Well, it is a flagship essentially.

Dude, that's just too expensive.

Why though? That's how much Samsung devices are and these have even better specs and far better software (in my opinion) and the software support for it is unmatched.

Very similar specs except screen res. Which wasn't a big deal... Til vr. Which Google just made a huge push into and I can tell you that even my s7e with 2k res looks grainy when using for vr. A 1080 screen in the 5 inch pretty much seals the fact that the vr experience will me horrible at best. The price should be lower to reflect that. At least on the 5 inch imo

Xiaomi Mi5s has the same specs including Snapdragon 821 and starts at $300. $650 for this phone is a total rip off! These are going to sell poorly.

Yeah the Mi5s Plus is what I'm now looking at. For the first time i was genuinely considering a Nexus/Pixel but its hard to see what the Pixel XL offers to justify what will probably be getting on for twice the price (not sure of UK pricing yet)

Yeah that's why I'm glad that I got the 6P; it's relatively cheap (for s flagship) and has great power, design and screen. I have a bad feeling that the Pixels will be the Nexus 6 and 9 all over again (but I really hope that doesn't happen). :(

The connectivity is not equal though.

yea, they would own the market if they just would lose a little money and sell them for $200-300 less...

That would be an excessive reduction, simply dropping it to the lower end of the premium market would be better for them in the long run as it would encourage sales without making people expect cheap pricing.

Tell me about it the 6P started at $499. This is a huge price increase.

Pretty much your typical late-2016 hardware.' inb4no6GBRAMnobuy

Yes sir... The price is up there with the 7 Edge and the new Apple 7 plus... ??? Not sure if I'm game just yet. I might wait another year... Nothing yet that makes me want to ditch the 7 Edge for this phone...

Yeah, except it should've had 6GB of RAM, so I'm not buyi... Wait a minute... 6 GB would have been nice though :p

XL my eye. 5.5 inches? Too small. What a wasted opportunity.

Most don't want or need a huge phone.

...and some of us do. I have a V10 now, and it was a huge step down from the Nexus 6. I won't go any smaller, they start to feel like toys.

Google isn't marketing this at the some, they want normal people to buy it. Not you, and not me.

Thank goodness I don't fit the "normal" description!

Exactly.. Google can keep this iPhone looking knockoff

Do we do phrasing here? If so, phrasing.

I am ready, can't wait to see camera samples. I think it is a clean design that looks like it will fit well in the hand, that is all I really care about.

https://www.dxomark.com/Mobiles/Pixel-smartphone-camera-review-At-the-top
A few samples, looking good

They should have made it a 5.7" or bigger screen and put the fingerprint scanner on the front...

No, 5.5 was a much better choice, more comfortable for one handed use.

Isn't that what the 5 inch one is for?

I love my 6p, but I would prefer my phone to be little bit smaller and I feel 5.5 is great for me. I think 5 inches is too small for me. I guess you cant please everyone.

I totally agree. The 6p does stretch one handed use. It's very doable, but if you hold a 5"phone, you remember how comfortable that hardware is with one handed use.

Google makes your money disappear.

No way 750 is going to fly, no reason to trade my awesome 6p for that

all new phone are around $750.....

Goodbye are the days of top tier hardware for a killer price. Well if you wanna play like the big boys better start charging like them.
RIP Nexus you will be greatly missed

All? Robin, Alcatel, Moto G4 Plus, Axon, OP3 you mean those guys?

Lack of Fi support and most are upper mid range in the feature department. Take a 6p chuck in an 821 with 6gb of ram sell it for 600-650. Oh and call it a Nexus

these phones are supported by project fi

they forgot to add IP67 or IP68 certification for water resistance.
I'm waiting for camera review of the Pixel and Pixel XL, I hope it has better video recording than the Huawei P9 which has Leica lens but video does not have stabilization and you get dizzy videos.
Also, hoping the camera on this flagship is better than LG G5, which takes great photos with low light, something the Huawei P9 with Leica lens cannot do very well.

Have you seen the video sample? It is amazing. Plus a score of 89 in the Dxomark rating. This camera blows the competition away

Woohoo! I can't wait! I'm so glad Google decided to add yet another overpriced phone into the already crowded flagship segment.

I hope so, but I won't believe it until I see multiple head to head comparisons against the S7.

https://www.dxomark.com/Mobiles/Pixel-smartphone-camera-review-At-the-top A good review of the camera and some cool shots

No wireless/Qi charging? I just got a car with a built in charging mat. C'mon! ;)

Still looks like the S7 is still arguably the top smartphone camera of 2016. The Pixel camera does look competitive though.

The reviewer in DXO Mark repeatedly said the pixel was the best he's seen period and that it raised the bar of all smartphones, yet fragile ego Sammy fans always must reassure themselves that they have the best. LOL, a Sammy phone can't match a Google phone period for one very solid reason.. Software updates. The Sammy has an awesome design, but after owning Nexus devices, I just can't go back to Sammy, HTC, Motorola, or any others.

Not based on those photos I just saw. Nexus fanboys, always so insecure. Camera looks great...by Google standards. Let's hope it tops the 6P in REAL WORLD usage. Not promo hype.

Well, I've used a lot of phone cameras, and I'd classify them as a "Jack of all trades" shooter. It does so many things well but doesn't necessarily excel in a lot of aspects other than speed. In short, it's a very good all-rounder, but other shooters may best it in some other areas, though not necessarily better as an overall package.

I thought they said it did, but looking at the specs now maybe not. They referenced the gyroscope being used for stabilization.

The only they got wrong with these phones that G, they should have just put the Apple logo on it. I mean wow these things look like iphones.

Why does it matter so much? Just get a case.

No micro SD slot, I'm not interested.

No micro sd and 5.5 inch max on the xl. Add in the price and the fact that this looks like an iPhone and you have nothing but fail written all over these.

Yea. What's up with that!

So the 32/128 just refers to two different storage options, and not micro SD card support with a max of 128 GB? Trying to promote your cloud storage and streaming services by artificially crippling a phone by omitting a bit of hardware that would cost maybe 1 dollar per unit makes me resent google a little.

wow horribly ugly phone., looks like a phone from 10 years ago. I will stick with Samsung. Fail fail fail

It doesn't look like a flip phone to me.

I think I figured out Google's strategy, they're hoping that people that buy an iphone are given Pixel phones and told that this is the new iphone.

And you still have to engage with "Ok Google".

I'm a butt-hurt Nexus fan. These devices look like iPhones and are priced like em too. Not as high, but high. I'll be getting a 6p. Performs very well and costs $150 bucks less than the Pixel. Good bye Nexus, you will be missed.

In the Same boat, maybe next year nexus/nexus pricing will be brought back

Shop around and you can get it even cheaper than that. Look on ebay and craigslist or just wait until B&H has them on sale. Last time it was hovering around $400 for brand new not refurb. That's substantially more than $150 in savings.

If the price translates to the UK which it normally does its more expensive than the S7 Edge £639. If the prove a similar program like Apple does with there payment plan then maybe but at that price just no.

On the one hand I'm fully expecting it to be a straight $ to £ conversion (as you say it has been in the past and now the exchange rate is worse) but then on the other hand, they surely can't be asking £870 for the 128gb XL....can they?! Maybe they'll sell a few of those on contract at EE but for anyone buying outright that's crazy money. I'm looking at the Xiaomi mi5s Plus, similar specs but .2" extra screen and an extra 2gb RAM and even after import fees it'll be under £500! Edited to say UK prices are £599 and £719 for the standard Pixel and £699 and £819 for the XL

Wow that's crazy sterling money. No chance, and they don't even throw in Touchwiz! Replies below....

im finding it very hard to say that price.. $7.... *breathe* $700... AND $69..... Only chance of me getting this if i win one lol,
although i could sell my laptop and then make a down payment and then have monthly instalment plans lol

The XL I ordered, including IL sales tax, was $950. It better be spectacular when it arrives or it will be going back :)

I can tell you it won't be, save yourself the trouble of returning it and cancel it now.

$769 for 32GB and $869 for $128 GB. WTF are the people at Google smoking? The marketing is terrible, and the keynote boring af. Last year's announcement of the 6P was more exciting. I'll be keeping mine for another year. #Fail, Google!

I don't hear any mention of the speaker(s) at the announcement, and nothing mentioned in the specs. So I guess it reverted back to a single speaker setup? Outside of the slightly improved IP rating, I'm taking a pass on the Pixels and sticking with my Nexus 6P. On the other hand, all the other Google products coming out, which include Google Home, Daydream VR, Chromecast Ultra, Google Wifi...gimme!!!

Ho hum. This is about as exciting as the HTC 10, which is just a step up maybe. That's being generous. Plus it looks like an iPhone. Pass.

And they included a headphone Jack XD

Just saw the pricing for Australia its $1419 for the big model 5.5' and 128gb
Hmmm thats the same price as the iPhone 7 plus 128gb... The big difference here is that Apple has a physical store... Hmm pixels are first versions bound to come with issues... Geez its more expensive than a note 7!!
I guess I'll skip this pixel this year.. They are asking for iPhone prices but would it have the same level of iPhone Apple service ?

Apparently, it has some sort of customer service app in the phone. That's what I read somewhere.

has anyone notice this yet on the Google Play Store - "Pre-order Pixel and get a promo code for the Daydream View — on us"?
so it's really $649 - $79 = $570, if you pre-order now before coupon codes run out! still out of my price range but free Daydream VR
makes it tempting...

You mean I can tell them to keep the VR and just pay $570? Thanks for the tip!

Not really. I meant it was theoretically, $570 for the phone if you redeemed the coupon code for the free VR headset. If you didn't want the VR headset, you could also redeem it, get the VR handset and sell it on bay for $79 or more.

I thought I was going to buy this phone but I got disappointed :(

Way over priced for both. Save your money and get a 6P which is still selling for $499 or less.

Already have a 6P and thinking about upgrading.

Really?
Price starts at $899 here in Canada!!
IMO at that price, you better get a Galaxy s7 or even cheaper phones from ZTE and the likes.
Sticking with my 6P for one more year... Very disappointed.

$650?! Thats absoletly ridiculous when theres a One Plus 3, Axon 7, Moto G4 Plus, and Idol 4S. All with about same specs... for 60% the price. Watch... the 5 inch Pixel will be $499 in 2 months. Just like the 5X dropped so fast... but drop faster this time. I will MAYBE buy it if it goes to $499 or less. If I don't got with a One Pkus 3 or HTC 10 before then. I will stick to my 6P until then.

I'll probably never own one as the price is too high. Can I afford it? Yes, but that's not the point.

$649?!... Oh wait, it's a flagship.

How do these phones still not have OIS? Also,would it kill them to have a decent level of water resistance?

I'd rather have wireless charging as opposed to water resistance.

Yeah, it seems like I'm the only one that's interested in getting one of these lol

Yes but it is exclusive to Big Red!

Watching the event, I think it's curious what Google decided to highlight about the Pixel phones. They were the least interesting hardware that Google announced, and arguably the least important. Unlimited Google Photos storage is basically worth about $24 per year for most people. Pre-installing Duo and Allo is a ridiculous thing to highlight. Fast charging is available on many Android phones. The camera is worth highlighting for sure. The materials and design of the phone are worth mentioning; unfortunately it looks so much like an iPhone that it falls pretty flat IMO.

Wow....what a let down. Looks like every other iPhone, rubbish battery capacity, and very high price. Why did they think this will sell well. So many Chinese phones better and cheaper. Stick with my xiamoi Redmi 3 pro. £500 less, and twice the battery life.

I would really like it if these were the actual names of the colors, it would really make fun of all the ridiculous names other companies have (ie: "Anodize black")

I did not watch the event. Did they describe the file structure present in these phones? I understood that phones released with Nougat would have a different file structure with 2 identical partitions to allow seamless OS updates as ChromeOS has. Updates would go to the second unused partition, then a reboot checks the partitions and uses the newest. If the Pixels have this feature, there are ramifications for internal storage, and possibly a solution for the carrier/OEM delay in system update and device abandonment problems in current Android phones. Would 32GB be enough in this scenario?

They did describe it and it is present, meaning seamless updates. Actually one of the things that I found positive about the whole affair, but it does mean that you are carrying a double system in effect.

That will take some storage for the new partition. Better go for the 128GB version. It has no SD card, if you need more storage in the future.

The only reason I would choose this over my Note 4 is for the additional internal storage. Pretty tired of trying to store apps on the SD card, then the app updates and moves it back into internal storage. Also, Groove and OneDrive download music to internal storage with no way (that I know of), to move it to the SD card. Office apps are like 150MB each and while moveable, I've seen them returned to internal storage after updates. Pretty ******* lame and makes support for 2TB SD cards (just throwing that out there), laughable.

Thank God I bought S7 a month back and didn't wait Pixel phones.

S7 is still a killer phone with great features.

i'm curious about the battery life of the 5 inch version

Me too, 2740Mah has me disappointed. I would definitely wait to see some battery tests carried out prior to purchase.

If it's anything like the 5x it's going to be terrible.

The battery lasts almost a week if your texting and calling. I use battery saver, play games and music, have live wallpapers, browse internet, watch Netflix and I still have about 85℅ battery at the end of every day. I have pixel xl

I know it was unrealistic but I was hoping for expandable storage. I have a 256gb card with things that I don't want in the cloud (and no, nothing like whatever your perversity came up with). LGs UI sucks, I HATE there phone app and would love Google's (or Sony's), but I've gotten used to my SD card, removable battery and IR blaster.

Then there's no option for you lol

So.. it would truly appear that 2016 is the year of compromises for smartphones.

I'm sure it is coming but I'd love to see a Note 7 vs. Pixel XL comparison...especially the camera...even if the XL is better on the camera, hard to give up the option of the S-Pen.

I'm fine with most of what's in here except for 2 things. 1, speakers. The speakers on my Nexus 6 are outstanding and even better than the ones on my Pixel C. Going back to a single downward facing speaker is very much a downgrade.
2, HTC. Don't get me wrong, their hardware tends to be fairly bulletproof but when you do have to repair one it's a labyrinth inside of ribbon cables, wires, and copper tape. As a phone technician, HTC is my nemesis.

650 with a 1080p screen? The original rumored price I read about was 500. I'm officially done with Google,not that they care.

Do we really need QHD on a 5 inch phone?

So basically the smaller variant is still good. Ye

It would have been nice if the Pixel was in the 4.5 to 4.7 inch range. 5 inches is still too big for my tastes.

This is what I was told via an employee at Project Fi. The devices will have the same model number whether purchased from us, the Google Store or Verizon Anyone know the model # and are they 2 different phones?

Can anyone explain to me the governor used on this phone? CPUz says "sched"
Android Central Newsletter
Thank you for signing up to Android Central. You will receive a verification email shortly.
There was a problem. Please refresh the page and try again.