First 6 things to do with your Google Pixel 2 or 2 XL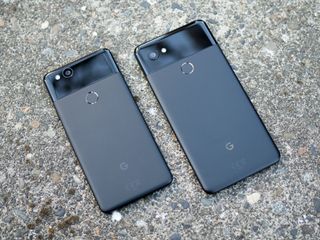 Opening up the box and pulling out a new Pixel 2 or 2 XL is a wonderful feeling, no matter how many times you've done it or what phone you're upgrading from. The excitement of the new device may drive you to hop right in without thinking about some of the basic things — forgetting the core features that work best when you set them up from the start rather than getting to them later.
Here are a handful of tips to keep in mind when you unbox your Google Pixel 2.
Add lock screen security
We know this is an integral part of the setup process on all new phones, but there's a chance you were so excited about your new phone that you skipped the lock screen setup portion. If you're reading this now and don't have a secure lock screen on your phone, do it now. It may seem inconvenient at first, but there's little reason to leave our phone unsecured from anyone who has their hands on it.
Going into Settings then Security & location, you'll see your various options for keeping your phone secure but also accessible. You'll want to go to Pixel imprint and enroll both of your index fingers, and that'll serve as the fastest way to keep your phone secure. You'll need to back that up with another screen lock of some sort, and while most people choose a pattern you can do a PIN or even a long password if you prefer.
If you need more flexibility, check out Smart Lock for options to keep your Pixel 2 unlocked when it's connected to a Bluetooth device, at a specific location and more. Just remember that these options are inherently less secure than a fingerprint!
Set up Google Photos backup
The Pixel 2 includes unlimited photo backup at original quality to Google Photos until the end of 2020 — but only if you actually set up the app to back up your photos! To make sure you don't have to think about it later on when you've already taken photos, open the Photos app and go into the settings to find "Back up & sync."
Make sure the toggle is turned on, and then check to make sure you haven't accidentally also turned on cellular data and roaming backups — that is, unless you have an unlimited data plan and don't care. While you're in here you can also choose which on-device folders are backed up, such as screenshots or edited Instagram photos.
Learn the camera's capabilities
The Pixel 2 has a fantastic camera, and for the most part can take great photos without any real work on your part. But to make the most of the camera, you'll want to hop into its settings and get acquainted with a few of the features and options.
Turn on location: It seems simple, but make sure that your location is turned on in the camera. It lets Google Photos search by location, and gives you an extra bit of context years down the road when you look at old shots.
Use Smartburst with moving subjects: Press and hold the shutter button to take up to 10 frames per second. Super useful when you or your subject (or both) are in motion for a must-have shot.
Choose your grid lines: It may feel distracting at first, but turning on grid lines will help you mind the proportions of your photos and line up horizons for great sunset shots.
Use focus and exposure lock: One of the only "manual" controls is the ability to lock focus and exposure after adjusting them. Tap the viewfinder to set exposure and focus, then tap the lock button to keep it there.
Don't be tempted by the flash: The flash should only be used as a last resort. Google's HDR+ processing is fantastic, and it really doesn't need a flash as often as you'd think.
Increase the panorama resolution: By default, panoramas are set for speed of processing rather than maximum resolution. You want maximum resolution — change the setting, and wait a few extra seconds for it to process.
How to take the best photos with your Google Pixel 2
Rearrange your notification quick settings
You know those quick settings found at the top of your notification shade? Those can be rearranged and set up however you like. After expanding your notification shade, give it a second swipe and tap on the pencil icon at the bottom of the shade.
Press and hold icons to drag them into their desired positions. The first two rows of the expanded view become the six icons you see with a single swipe of the notification shade, so choose wisely. If you don't want an icon at all, drag it down to the darker portion of the window, then maybe bring up a less-used icon to the top so it's available. If you add more than nine icons, the 10th and beyond go onto a second page you'll have to swipe one more time to access.
If you go overboard and want to just put them back how they were as default, go into that edit mode, tap the menu button in the top-right corner and tap Reset.
Check out the wonderful wallpapers
Google has seriously upped its wallpaper game since launching the original Pixel and Pixel XL back in 2016, and it continues the trend. There are just a handful of "pre-installed" wallpapers, but that's augmented by a regularly updated catalog of great wallpapers (from Google's Wallpapers app (opens in new tab)) in a whole bunch of different genres and styles.
You can wade through the dozens of wallpapers to find something that fits your style, or in some categories you can set a "daily wallpaper" and get a fresh one of that style each day. If you don't like the particular wallpaper that shows up, you can hop back into the wallpaper section and tap once to load a new one in that category.
Keep track of that headphone adapter
Yup, this is a thing now. There's a good chance this is your first phone without a headphone jack, and that means keeping an eye on that USB-C to 3.5 mm headphone adapter that comes in the box. If you regularly use one pair of wired headphones it's a good idea to just keep the adapter attached to the headphones themselves, but if you swap around often you should keep in the back of the mind where it is — being left out somewhere without the adapter sure sucks.
Google sells replacement adapters for $9 (opens in new tab), but they've curiously been out of stock often. And right now it's far from a guarantee that other USB-C to headphone adapters, if you somehow come across them in the wild, will work with your phone.
Updated January 2018: These are still the first things you should do with your new Pixel 2!
Android Central Newsletter
Get instant access to breaking news, the hottest reviews, great deals and helpful tips
Andrew was an Executive Editor, U.S. at Android Central between 2012 and 2020.
First thing I do is check for stuck or dead pixels and evaluate the screen. Typically I will throw up an all gray background as well to make sure there is no banding or other weird issues with the display. Since that is what I will be looking at for at least a year and these phones are already overpriced it needs to be perfect.

Exactly. Don't bother doing anything other than pixel peep first. Also, be sure to use your phone at angles you wouldn't naturally use to check for any blue tint.

Yeah, yeah., I wouldn't go that far but a dead pixel is usually obvious when you read news sites with white backgrounds and banding is obvious when you pull down the notification shade. If you want to spend $650+ on a defective display go right ahead.

Cool story bro.........It has a 2 year warranty........smh

Every morning at 8AM is pixel check time!

Does face unlock no longer work in Android...I set it up but it never triggers

It works great. There is no UI that comes up. Just Look at your phone and it unlocks

I think I'm definitely doing something wrong.... It doesn't work for me at all I have set it up and I have a pin and fingerprint set up... Can I not use all 3?

I have all the Smart Lock options set up. Face Unlock still works for me regularly.

Go Bucks! Even though they looked like complete trash last Saturday. Can still win the B1G.

Works for me constantly, and it's much better than it was in the past. You can hardly notice it's working.

Ugh the #donglelife. The one that came with my Pixel 2 never seated properly in the USB-C port, and died entirely after 3 days. After 6 days of Project Fi support hell, they said they'll ship me a new one... in "mid-November." It's almost enough to make me return the damn thing and get a phone with an actual headphone jack. Making matters worse, Bluetooth on Android still sucks, even on the Pixel 2—it regularly stutters with my car adapter and the crap headphones I'm using since I can't use my preferred wired cans. Hey Google: If you can't make Android's Bluetooth stack reliable, don't make me rely on dongles to listen to music.

And along those lines, has anyone found a true USB-C to 3.5mm *cable* (not adapter) that works with the Pixel 2? Since my Status Audio CB-1 headphones have a detachable audio cable, skipping the dongle in favor of a single cable is my best case scenario. And yes, the CB-1s are that good. Highly recommended.

I can't find any USB C to 3.5mm male cables anywhere, not even on Monoprice, which usually has everything you can imagine. USB Type C is the future. Unfortunately, we're still living in the present.

I just stumbled across this, which claims to have a DAC and works with the Pixel 2: https://www.amazon.com/Adapter-Acessorz-Extension-Headphone-Devices/dp/B... For $8, it's probably worth finding out.

Go to wish or the geek apps and they are there... I just ordered a couple

I picked up an inexpensive small Bluetooth receiver to plug my headphones" 3.5 Jack into. Works great, just drop the end into my pocket and I'm able to do what I need to with the phone without being tethered to the headphones. With the 8.1 update installed I no longer have Bluetooth connectivity issues.

Good to know about the 8.1 update. The bad Bluetooth plus broken dongle have definitely been the worst part of the Pixel 2 so far.

Have a look at Ear Studio. It first came from Kickstarter and Indiegogo. I'm not sure if they're available at retail yet but should be soon. An email from them said they're trying to get on to Amazon soon. It's a HiFi Bluetooth receiver that let's you use any corded headset with the jack-less phones.

Anybody tried the new wired data transfer for setting up a Pixel and if it has any advantages over the old Bluetooth/WiFi transfer?

It seemed a bit faster to update all my apps to me.... Although that could just be the new phone too

I used the wired setup when I got my panda yesterday - it honestly worked amazingly... homescreen / folders setup exactly as I had it on my 6P. Very pleased with the process.

This was my exact experience

Yup, it basically takes out some of the guesswork and opportunity for the process to get messed up when doing it wirelessly.

First thing anyone needs to do with the pixel 2 is contact Google and initiate a return. I don't care what any of you say, that's not a phone worthy of $1000 at the highest level. It looks dated and feels rushed. I loved my nexus 6p so much and waited so long for the Pixel 2, but I was severely disappointed. You know I'm right that it's worse than you had hoped for.

The price of the phone of $900 that I paid for my Pixel 2 XL is worth it. The features that make this phone high, even though I still think the price could go down more, are: *Best Camera.
*Only phone w/ Dedicate Visual Core Chip w/ machine learning.
*Only phone w/ Dedicated Security Chip. Most secure phone.
*Only phone w/ dual OIS & EIS stabilization for the best stable videos.
*Unlimited photos & 4K video storage.
*Now Playing.
*Best AI The Pixel 2 is now the most secure android phone you can get with that dedicated security chip. It can be used as an enterprise phone.

You may have been disappointed, but there are many more that own the pixel 2 and xl 2 that love it. I love mine and enjoy using it. Yes the screen may not be as good as Samsung Notes, but after the update the screen is much better.

I got my phone through target Verizon for 300. Verizon gave 300 off and then target gave me a 250 gift card. The main thing I like about the phone is that it makes phones. Everything else is an accessory. Yes I play gsmes, use the internet and take pics but again a phone is for making phone calls.

Return it and buy a note 8

Purchased a note 8 originally then came across the Pixel 2 XL. Initially I was disappointed with the pixels screen but after update 8.1.0 giving the ability to change screen colors I was pleased. I sold my note realizing I grew increasingly tired of Android asking me permission for duplicate apps. (For example setting an alarm Android would make me choose between stock and stupid Samsung's duplicate app)

step 1. think about how you use your phone and what feature you use most. for 99% of the world that is TEXTING.
step 2. send it back and get an iPhone....
Android and Texting is fk'ing terrible. pictures don't send half the time. pics and videos are so compressed, you may as well not send them at all.
I absolutely love my Note 8.... until it comes to texting friends. I tell them to text my iPhone because Android texting sucks.

Glad I don't have the texting issues with my Android devices that you have.

In fact for 99% of the world it is Facebook Messenger, WhatsApp, WeChat and Allo. Texting is dying. (I was joking about Allo)

1. Throw your wired headphones in the trash.
2. Put your wireless charger in a drawer until you decide to buy a full featured phone.
3. Check to see if it has an OS installed.
4. Check to see if Bluetooth works.
5. Turn NFC on to see if you hear ticking.
6. If XL check for screen burn in.
7. Admire those large bezels and remark how it reminds you of an iphone from 2010.

Clearly, this guy is not a fan of the new Pixels.

Oh, and I'm loving the headphone jack in my Note 8. Yeah...Samsung gives customers what they want, not what they THINK they want or what THEY think you should or shouldn't have. Novel concept, huh? Nice to listen to my music on my SD-card while plugged into the jack, leaving my charge port alone (I use wireless charging mostly anyways). You all should've just bought an iPhone, that's all the Pixel and Nexus are...peace out...'bro'.

If you are coming from an iPhone the first things to do would be:
1) set up your lockscreen and find my device
2) browse the play store and look for a third party keyboard to see what you like
3) look for a different launcher (it's worth looking or trying even if you don't set it as your default or install it)
4) set up Google Photos
5) get a case and/or a tempered glass screen protector
6) play with the camera
7) look at third party internet/SMS/RCS messaging apps
8) avoid any app that claims to "optimise" and stay far away from Cheetah Mobile

This was a forced update by my company. And once again, the TechnoFreaks "design engineers" are doing **** just because they can, not because it is needed. Personal Assistant? I'd like to fire it's ass! It makes suggestions that are not needed, and so far I can't find where to shut it off.
Transferring Data from the old phone? Worked sweet with the contacts, but I opened my photos and . . . WTH??? WHERE did it get the photos? There were photos I had deleted from my other camera that were in the photo album (you know, the fuzzy ones, the repeats, the ones-no-longer-needed). Oh, and that's another thing: Photo ALBUM, as in SINGULAR! Yeah, it took ALL my photos (and more!) from ALL my albums and dumped them all together into ONE album! So now I have to reconstruct my albums on a phone that user-friendly is a foreign concept!
And no USB cable to connect to my computer to transfer photos. NEWS FLASH! Not everyone is excited about having their photos on the "cloud" or wherever the hell this thing send them. I want them on my COMPUTER, and I want an easy way to get them there!
If anyone asks me, I'd say stay away form this POS!
Android Central Newsletter
Get instant access to breaking news, the hottest reviews, great deals and helpful tips
Thank you for signing up to Android Central. You will receive a verification email shortly.
There was a problem. Please refresh the page and try again.