Google Now Launcher is (finally) dead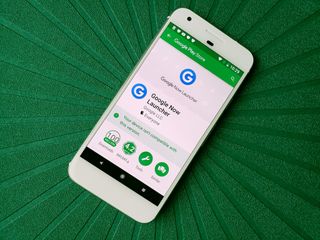 Google Now Launcher (opens in new tab) was Google's first public launcher, and it was shipped on Nexus phones as well as millions of other devices thanks to its inclusion in the Google Mobile Service package that Google offers to manufacturers. This was a simpler launcher for a simpler time in the Android ecosystem, and while its namesake feature has now been added to several launchers like Nova Launcher, Action Launcher and Lawnchair Launcher. Google Now Launcher's retirement was announced back in February of 2017, but sunset never seemed to come for the historic — and historically popular — launcher.
At least, until May 2, 2018.
As of our check against dozens of devices of varying age, the Google Now Launcher shows as not compatible with just about every recent device except the Pixelbook — which can't use it anyway — and the BlackBerry KEYone, for some reason. This has been a long time coming, and now that it's here, it's time to pour one out for the first launcher Google ever published to the Google Play Store for all users to enjoy. The Google Now page that sat to the left of the home page was something an Android lover could get addicted to, and many of us did. Alas, in the days of Google Assistant and its great and growing functionality over the old Google Now feed, the old launcher's charm was wearing a bit thin.
Launcher 3 — what Google Now Launcher is based on — is a part of AOSP and the basis for many other launchers today, and with the Google Now pane can be added to launchers using an API that is sadly not Google Play-compatible yet, but separate add-ons have enabled it for many popular launchers. If you still have Google Now Launcher installed and you still use it, you can keep using it. When you upgrade phones, however, you'll need to look for a new launcher, and if you want to replace it with something similar, here are a few ideas:
Looking for something else? Check out the Best Launchers for Android
Let's raise a glass to Google Now Launcher! May it rest in peace, and live forever in the myriad of launchers it has inspired and pushed to new heights. What features of the launcher did you love? What launcher have you moved on to? Does this finally mean that the Pixel Laucher will replace the Google Now Launcher during Google I/O next week and become available to all users? Share your thoughts in the comments.
Android Central Newsletter
Get instant access to breaking news, the hottest reviews, great deals and helpful tips
Ara Wagoner was a staff writer at Android Central. She themes phones and pokes YouTube Music with a stick. When she's not writing about cases, Chromebooks, or customization, she's wandering around Walt Disney World. If you see her without headphones, RUN. You can follow her on Twitter at @arawagco.
So sad to see this implementation die. I still use Now via Action Launcher, which I've been using for about a year.

Google Now Launcher will forever live on in the Now pane... But the Now pane isn't worth giving up my Quickdrawer.

Of my friend, I can only say this: of all the souls I have encountered in my travels, his was the most... human.

I still cry at that scene everytime I see it.

A better quote than the launcher deserves.

No, he's on Genesis. Just go pick him up. But don't bring your son.

I will mourn it's death the same way I treated it in life. By barely acknowledging it's existence.

I, for one, am very sad to acknowledge the passing of the launcher that I used for several total minutes between a few Nexus devices. May the first thing that I replaced when setting up a new phone rest in peace.

It may have been limited, but it push launchers to new heights... of jumping through the hoops to implement the Google Now pane, at least.

"its" is the word you need

I tried that launcher and it was so limited I could not tolerate it. So bye, I hardly ever knew you.

I use it everyday with Nova Prime and I really didn't have to jump through any hoops to get it to work properly.. Just another reason I'll keep my LG v20 till it dies...

You didn't have to jump through many hoops, but Nova Launcher's developers did trying to get that API working in a way that wouldn't get their app kicked out of the Play Store.

So google currently doesn't have a launcher for android?

Well, it is a week to Google I/O...

Pixel launcher, enough said

So if I buy a new moto G 5, what launcher will it come with?

Pretty sure that isn't Google Play Launcher, but rather the Launcher 3 that's in AOSP with the Google Now pane API that was released last year following the announcement of GNL's retirement added to it.

My Moto Z Play got Moto App Launcher which is just like Google Launcher. So future Moto devices should also get that.

Still use GNL and will continue to do so. I don't like the way that other launchers display groups with micro-icons that just look ugly IMO. GNL displays groups with the first icon displayed and others stacked behind it - much more elegant.

You can still have that kind of folder icon in Nova Launcher (Nova Settings > Folders > Folder Preview > Line) and Action Launcher (Action Settings > Folder & Shutters > Style > Legacy).

I do not think I really used it, but then all I do is press on the app icon I want to to run and that is it, what launcher is on Android phones now? Google assistance i disabled a long time ago.

I just re-installed it on my LG G5. I had uninstalled it ages ago and had been using Nova Launcher instead. I often go back though and play with using the Google Now pane.

You can get the best of both worlds with the Google Companion for Nova Launcher, but so long as you're enjoying your launcher experience, that's all that matters.

I for one am sad that the Google Now launcher is actually dead, it was and always will be my favourite launcher after the Pixel launcher. I just don't know if I can use any other launcher.

What do you want in a launcher? What have you tried and not liked in the past?

I want a launcher that does the basics well and the Google Now Launcher was great and only the Pixel Launcher i s better. I don't want a Launcher with a gazillion options I'll never use plus I'm a Google fan and will only use Google services.

I somehow feel that Star Lord is somewhat responsible for this....

It'd be the first time I thanked him for anything in a long time, but don't blame Thanos for this (or it might come back in a year).

These violent delights have violent ends.

It's dead in the app store, but I use it via APK file 😂

Try microsoft launcher for android...been using it since...it can be costumized...just check it out..!

I still use this launcher it is the most accessible launcher for visually impaired apart from pixel launcher which is not available on my phone

But it still can be downloaded in Taiwan …

Mostly dead, as of this morning it is still available for download on my LG G6. Maybe due to the outdated OS on the G6 or the Canadian Playstore hasn't received the change but I reinstalled it this morning and it still works fine.

I will miss you bubby. get rest and sleep bye and thanks

I'll be using the Microsoft Launcher just to kick Google in the teeth for abandoning me to the 9th plane of BIXBY HELL.

Would like the opportunity to download the last official version released. Could some kind soul lead me in the right direction. Thanks in advance.
Android Central Newsletter
Get instant access to breaking news, the hottest reviews, great deals and helpful tips
Thank you for signing up to Android Central. You will receive a verification email shortly.
There was a problem. Please refresh the page and try again.