Google Nexus 7 looks set to launch in India in November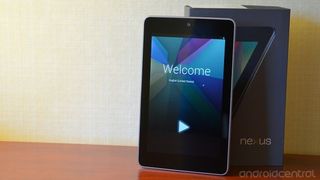 Let's face it, Android fans around the world want to be able to get their hands on the Nexus 7. And rightfully so. Google has hit a sweet spot with the Nexus 7 in terms of value for money. The list of official markets that can purchase the Nexus 7 is still pretty slim, so the news that the device is expected to become available in India is welcome.
The good folks over at AndroidOS.in recently attended a press event thrown by ASUS India, where they were told to expect the Nexus 7 to arrive there in November. Originally, the Nexus 7 was expected to ship in October in India. Google still needs to work on providing their content services globally, but getting the Nexus 7 into hands is a good place to start.
Source: AndroidOS.in
I gave up waiting for it to come to Norway last month and ordered from Google using JetCarrier and VPN.

Thats a nice news. Will buy it when it gets here.

it arrive tomorrow in Malaysia :P

Does that mean, Google Play - Device Store will be open for India too?

I tried ordering one form US via a firend. But it had the screen lift and flex issues and had to return it.I think by november it will be pretty much outdated :(

mine arrives tomorrow....yipeee

Good for India. Now what I want to know is when the Google Nexus 10 is coming out in the US of A.

Same here.. Cant wait for Nexus 10 in the US. I would buy it on release date.
Android Central Newsletter
Thank you for signing up to Android Central. You will receive a verification email shortly.
There was a problem. Please refresh the page and try again.