Google News: 5 tips and tricks to make it great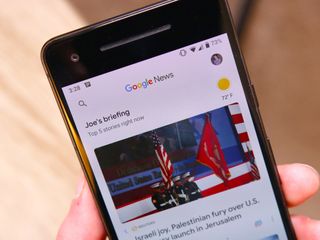 During this year's I/O developer conference, Google announced a huge overhaul for Google News. The updated Android app replaces both Play Newsstand and Google News and Weather, combining both services under one big umbrella.
There's a lot to see with Google News, and to help you get the most out of the app, here are five tips/tricks that'll make your experience even better.
Favorite topics and sources
The default "For You" page in Google News is where you'll likely spend most of your time. For You houses a collection of national and local stories Google thinks you'll be interested in based on your location and interests, and to help tailor this experience as much to your liking as possible, you'll want to make sure you let Google News know which topics/sources you're the most interested in.
To do this, navigate to the Favorites tab at the bottom of the app and start adding away. Tapping the + icon will allow you to search for topics, locations, and sources you want to add to your list, and the more of these you add, the better Google News will be at delivering stories you know you'll like.
Additionally, you can tap on your favorite topics or sources at any time to view content that's only related to them.
Check out that Full Coverage button
When there's a particularly heated or controversial story floating around, it's important to read up on it from as many viewpoints as possible. With every popular story that comes up, you'll see a multi-colored button next to it.
Tapping this will take you to a Full Coverage page, and here you can browse through top coverage of the matter, related videos/tweets, a timeline of how the chronological events, and opinion pieces/analyses.
See more stories at once with Mini Cards
Regular view (left) and Mini Cards (right)
Google News is a beautiful app and does a great job of intertwining videos, articles, and tweets into one central hub. A lot of the stories on Google News feature large header photos and short video clips, but you can shrink these down to view more stories on your phone at once. To do this:
Tap on your profile picture at the top right
Tap Settings
Tap the toggle titled Mini Cards
Update your data preferences
For those times when you need to watch your data usage, Google News offers a few basic controls to ensure it's not eating up your monthly data allotment while catching up on what's going on in the world.
From the Settings page, you'll want to first focus your attention on Data Saver Mode and Autoplay Videos. Data Saver Mode is enabled by default, but you can change this to always be on or turn it off if you've got plenty of data to burn through. Autoplay Videos are also turned on out of the box, but you can choose to only play these when you're on Wi-Fi or turn them off altogether.
If you scroll down a bit in the Settings, you'll see more options under the Downloading section. Here, you can choose to only download content over Wi-Fi, only download while charging, and have magazines automatically download to your device when a new issue arrives.
Hit up the Newsstand
Speaking of magazines, don't forget to check out the Newsstand section of the app. This is what's replaced Google Play Newsstand, and it's where you can subscribe to popular newspapers and magazines.
You can browse through these by topic or what's popular, see any available discounts, and purchase a subscription without ever leaving the app.
Download: Google News (free) (opens in new tab)
Android Central Newsletter
Get instant access to breaking news, the hottest reviews, great deals and helpful tips
Joe Maring was a Senior Editor for Android Central between 2017 and 2021. You can reach him on Twitter at @JoeMaring1.
Google news is ok. I'm more irked that Google Reader was shutdown. I like Inoreader it's a RSS/ news reader.
I prefer that because I can subscribe to what I want to read. And try to get more just the facts let the reader decide reporting... But that is getting harder and harder to find...... it seems everybody loves their confirmation bias news sources....

My biggest problem with the new Google News app is there's no way to tell which articles are new/unread versus old/read in my Favorites sources. The Newsstand app showed new/unread articles with bold headlines while old/read articles had grayed/dimmed headlines. This was an important cue for me so I'd know where to resume reading when I returned to a source under my Favorites. Can't believe the Google team overlooked this important UI element as they planned to transition off of Newsstand...

This app needs a dark mode so bad. I've never seen so much white! Google news and weather had one... Why not keep it?

I like the new app, but give me back my dark mode. Off subject, but speaking of dark mode, I've had it on my iPhone for YouTube for a month or better and it's very nice at night, where is it for Android?

I haven't figured out how to import Magazines I already subscribe to - it was in the old version but I can't find it in this new version.

Your subscribed magazines should appear under the Favorites (the star tab).

I love the new Google News. Sad there's no dark mode though.

The app is really nice but it seems to have way more ads on articles than if you go and read in he original source of the article. Otherwise it's convenient and pretty of course it needs that dark mode badly.

Automatic downloads for offline have gotten worse in my experience. Dang it.

How the f&%K do I stop seeing stories about the royal d'dam wedding?
Android Central Newsletter
Get instant access to breaking news, the hottest reviews, great deals and helpful tips
Thank you for signing up to Android Central. You will receive a verification email shortly.
There was a problem. Please refresh the page and try again.