Google I/O 2015 Keynote liveblog — Relive all the Google I/O announcements!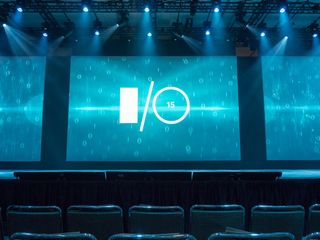 Today's the day! We're coming at you live at 9:30 a.m. PDT — that's 12:30 on the east coast and 16:30 UTC — from the keynote address at the 2015 Google I/O developer conference! And while we've already previewed what we think is coming you never really know what to expect until the lights drop, the music starts and Google's Sundar Pichai takes the stage.
We'll be there. And you'll be there. It's going to be magical. Or something. At the very least it'll be awesome.
There will be Android, of course. And Chrome. And Android Wear and Android Auto. And enterprise. And so much awesome stuff for developers that we couldn't possibly recap it all here. (So it's a good thing we have this handy Google I/O preview!)
In any event, join us back here at 9:30 a.m. (probably a little sooner, actually) as we liveblog the biggest Google/Android/Chrome/ZOMG event of the year. You don't want to miss this.
And be sure to check out all our Google I/O coverage here.
Surely I will be putting work on hold for this! I'm going with marshmallow via AC app.

Hoping for Android Moon Pie and a surprise twist being a Nexus watch... A guy can dream right? Posted via the Android Central App

A Nexus watch would be an interesting idea for sure!

What is a Nexus these days? How would a nexus watch be any different than any other smart watch? Posted via the Android Central App

This will be the first Google Keynote I've ever followed in real time. Never been an Android user when they happened. Hoping for some good things!

Is the keynote being live streamed? Posted via the Android Central App

https://events.google.com/io2015/schedule#day1/

Thanks! Posted via the Android Central App

Project Volta: battery life ... 5:30 this evening. how long have they been talking about this? here's an idea, how about Project Bigger Battery: users don't need thinner phones Posted via the Android Central App

Lol, they put that in there every year to create hype. If it turns out like last time most phones will end up with slightly worse battery on Android M.

Looking forward to Android McFlurry!

17:30 GMT Posted via the Android Central App

10:30 AM Mountain Time, I'll have to be sneaky at work. Posted via Android Central App
Android Central Newsletter
Get the best of Android Central in in your inbox, every day!
Thank you for signing up to Android Central. You will receive a verification email shortly.
There was a problem. Please refresh the page and try again.