The Google Home Hub is running a different OS from other Smart Displays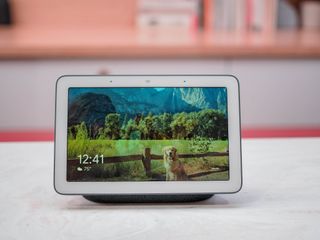 (Image credit: Android Central)
At Google's big hardware event this Tuesday, the company announced a slew of new products — one of which was the Google Home Hub. The Home Hub is the latest Smart Display to hit the market and is essentially Google's version of products like the Lenovo Smart Display and JBL Link View.
However, while Lenovo and JBL's gadgets run something called Android Things (an Internet of Things platform built by Google itself), the Home Hub is powered by something completely different.
In an interview with Ars Technica, Google's Vice Presiden of Product Management, Diya Jolly, explained that the Home Hub is actually based on a modified version of Google Cast — the same platform that powers the Chromecast. Commenting on this, Jolly said:
In addition to the discrepancy with the operating system, the Home Hub also uses a custom Amlogic processor instead of the Qualcomm Snapdragon 624 that was built specifically to power Android Things devices. Although it's unclear why exactly this was done, one possibility is that it was a cost-cutting move to help get the Home Hub at its $150 price tag.
While that may sound like substantial differences between the Home Hub and other Smart Displays, there's honestly nothing user-facing that we've seen so far that really makes the Home Hub a seriously better or worse product. All of the new software goodies shown off at the Google event are coming to other Smart Displays, but even so, it's still interesting to think that Google built a turn-key platform for OEMs to make these sort of gadgets and then decided to not use it itself.
If you've got any takes on this, feel free to sound off in the comments below.
Google Home Hub hands-on: The perfect compact bedside gadget
Android Central Newsletter
Get instant access to breaking news, the hottest reviews, great deals and helpful tips
Joe Maring was a Senior Editor for Android Central between 2017 and 2021. You can reach him on Twitter at @JoeMaring1.
Sounds like the OS that Vizio has in its 2016 to current TVs (SmartCast). I had wondered if they were the Beta testers for Google.

As per the article, as long as it remains that there are no differences and other devices don't have to wait long to get new features then that's fine. If there is a long delay, it really sucks to be an OEM trying to join Google in launching things only to be left in the dust just months later

Sounds like Google wasn't exactly forthcoming with their hardware partners. Possibly to give themselves an advantage. I hope that is not the case.

I thought I had read - from somewhere else - it was running the new Fushia OS ?? Or could run.. Interesting thought...

Sounds like something ripe to be abandoned shortly!

Sooo anyone else here completely missing what the "VP" said?? "We would have easily given the third-parties Cast if they wanted it"... Huh, that sounds kinda fishy to me... If they wanted it? IF they wanted it? I'm sorry... But why WOULDN'T they want it? Right now, the only devices 'running Cast' is well, the Chromecasts! Why on earth would a third-party hardware manufacturer/whatever NOT want access to that??? They could be making 3rd Party Chromecasts for crying out loud! SO! Personally, I feel that this was just a huuuge flat out LIE... and that they wouldn't have given them access to "Cast" considering they haven't just given it out openly anyway as it is... You'd see a flood of devices if that were the case...

Vizio uses this in their current TV's if I'm correct. So someone thought to ask lol.

This looks like an opening for Google to keep exclusives for them self's in the future. Google move step by step away from the idea of not being evil.
Android Central Newsletter
Get instant access to breaking news, the hottest reviews, great deals and helpful tips
Thank you for signing up to Android Central. You will receive a verification email shortly.
There was a problem. Please refresh the page and try again.