The Pixel Fold wasn't sent to the grave because it isn't actually dead yet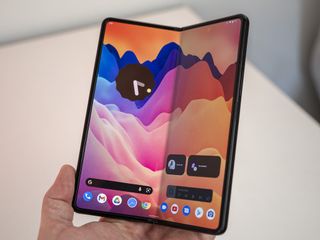 (Image credit: Nick Sutrich / Android Central)
Google may have a track record of killing projects before they become a reality, but in the case of the potential foldable device, that's likely not what will happen. A new report indicates Google is canceling the release of a foldable device in 2022 and experts note it's possibly not the right time and that the company wants to perfect the form factor, some analysts say.
Revealed by Display Supply Chain Consultants' analyst Ross Young, supply chain sources indicate that Google is no longer planning for a 2022 foldable device reveal.
"Our sources indicated that Google believed the product wouldn't be as competitive as it needed to be. They likely figured that competing against Samsung in the U.S. and Europe in a small niche market facing higher costs than their primary competitor would stack the odds against this project," Young writes in a blog post.
Android Central reached out to Google for comment but did not hear back in time for publication. That being said, a source familiar with Google's plans has told AC that the project has not completely halted, but rather been postponed for a 2023 release.
Young says in an interview that without knowing Google's long-term strategy regarding foldable hardware, it is "likely that Google will continue to monitor the foldable market and potentially enter at a later time."
"As the foldable market continues to grow, we expect greater than 100% growth in 2022, we think Google will eventually enter the market with a foldable device. It may be 2023 or later," he adds.
Samsung's impressive lead makes it hard for other manufacturers to enter the market
Maurice Klaehne, a research analyst at Counterpoint Research, says in an interview that he refrains from commenting on rumors or speculation but it is very important to note that Samsung has a big lead over other manufacturers in the foldable space.
"[It] naturally makes it harder to enter a market as Samsung commands a very big market share, with different form factors and price ranges even," he says.
Samsung proved to customers that it was thinking differently about foldable devices when it introduced the Galaxy Z Fold 3 and Z Flip 3. The company showed it was able to offer a premium experience that slab-shaped phones couldn't at prices that were still expensive, but reasonable. It should be noted that Samsung isn't the only company with foldable phones, included in this list are Microsoft, Motorola, Huawei, and Xiaomi.
Klaehne says that the market is still nascent and that companies are still figuring out durability, the screen crease, and longevity of the flexible screens; all of which can still be improved upon.
There is also a high cost that comes from research and development, he says, and when companies wait longer before launching their own device they "will be able to fine-tune their devices more to address customer pain points, but at the cost of current mindshare."
Jitesh Ubrani, IDC's research manager of worldwide device trackers, agrees with Young and notes that if Google were to have released a device now it "simply wouldn't be competitive enough, as Samsung's reach and brand recognition surpass Google's in the smartphone market."
He notes that Google would struggle with securing enough supply and at the right price because they don't have the same scale that Samsung does.
"Not only would Google struggle with supply but they notoriously lack the carrier relationships that are key for the success of any smartphone in the U.S. and Europe," he says.
While Samsung barely has a presence in China with the foldables, they are the second-largest vendor behind Huawei, Ubrani says. He says, in general in China, local brands and Apple lead in the smartphone market space, and Samsung faces an uphill battle. The foldable space in the U.S. and Europe are completely different, Ubrani adds, noting that consumers don't have it as easy when it comes to switching between smartphone brands because they're often tied into an ecosystem.
"Smartphone distribution in the U.S. is also heavily dominated by telecos and Samsung has developed a very good relationship with these channels over the years," he says.
Anshel Sag, senior analyst at Moor Insights & Strategy, adds that because "Samsung has already set the bar quite high," it might be smart for Google to step back, for the time being at least.
"It would be a fairly high-cost and high-price product to produce which could result in a considerable loss if it were to flop, which I believe Google was concerned about," he says.
Android 12L is indication that this project isn't dead, yet
Google's foldable device has been rumored for some time now as the company's answer to the growing foldable segment. It was alleged to have a 120Hz LTPO display similar to some of the best foldable phones from Samsung. It would also likely have been powered by Google's first in-house designed chip, Google Tensor.
And just because we might not be getting a foldable any time soon, it was clear Google had plans for foldable software with Android 12L. The new OS is due out in early 2022, which will improve the Android experience on tablets and foldables.
Despite the indication of 12L, which is designed for larger displays, Sag says that Google will create a foldable "regardless of when Android 12L comes out."
"But I believe it would be premature for Google to launch a foldable before it updates Android to fully support it," he says.
Ubrani agrees, adding that even if Google doesn't release a foldable, 12L is meant for larger screens so many of Google's other products stand a chance to benefit from Google's developments.
"I don't think Google created 12L simply because they wanted to launch a folding device, rather I think the pressure from their partners and end-users is what's led to the [potential] creation. Google probably just wanted 12L to have a folding phone launched alongside the OS," he says.
For that matter, Klaehne notes that foldables are here to stay and that means hardware "needs to be matched with appropriate software."
Yes, Google has abandoned projects, but that's not the case this time
There have been plenty of times when we hear rumours of Google's potential products, whether it's with researchers revealing codenames, or if it's speculative leaks of design renders.
In mid-October, AC reported that the rumored Pixel Watch was not going to launch this year, despite speculation that it would launch around the same time as the Pixel 6 lineup. The watch is now delayed to launch in Q1 2022, and part of the delay could be because of the semiconductor shortage continuing and Google is bidding time to ramp production.
There was also the demise of the Pixel Slate that was announced in October 2018 and discontinued in the three countries it launched in after two years.
Eight months after the launch of that tablet, Google confirmed it was stepping out of the tablet market and would focus on laptops only. This means any device that "detaches completely from a keyboard base or doesn't even have a physical keyboard in the first place."
But these examples are not an indication that Google plans to abandon the foldable, Ubrani says.
"In the long run, I do believe Google will launch a foldable, especially as costs come down and the form factor is more widely accepted. That said, they could perhaps start with a clamshell form factor like the Z Flip as it provides an easier transition from the traditional smartphone to a folding one and ensures minimal software changes," he says.
Sag agrees, adding that "Google isn't in a rush and at this point it doesn't really matter when Google comes to market because it is still a very small market."
Android Central Newsletter
Get instant access to breaking news, the hottest reviews, great deals and helpful tips
Shruti Shekar is Android Central's managing editor. She was born in India, brought up in Singapore, but now lives in Toronto and couldn't be happier. She started her journalism career as a political reporter in Ottawa, Canada's capital, and then made her foray into tech journalism at MobileSyrup and most recently at Yahoo Finance Canada. When work isn't on her mind, she loves working out, reading thrillers, watching the Raptors, and planning what she's going to eat the next day.
"It was delayed because Samsung's foldables are too good." That doesn't make sense. Baby steps have to be made before one can start running. A fully developed lion isn't born mature. Samsung went through a learning phase with the Galaxy Note series and also with the Galaxy foldables.

As did Microsoft with the Surface Pro. The first two were trashed/were trash. Trouble is it's Google who cancelled the Pixel Slate because they didn't want to fix it's issues. Pixel Slate 2 could've easily been a great device.

Sure, but at some point you will end up looking like a fool if you release something too inferior to the competition. It's the same reason TCL cancelled their "budget" Flip3 contender AFTER they had shipped early review samples. Because TCL used flimsy plastic all over and it still would cost almost as much as the Flip3.
Samsung did set a mark 30-40% lower than the competition expected and none of them seemed to be prepared for it. I wonder what surprises they're in for with the Flip4?

I agree, truthfully I don't even think Samsungs foldables are really that good either. Took 3 generations to get an IP rating (and apparently there have been suggestions that its not as good as Samsung says), worse cameras compared to the Galaxy S series, terrible under display camera (not sure whats wrong with a hole punch until the tech is equal), a display that scratches with your finger nail, all packaged in a device that costs between $2,000 - $2,800 (Canada). I'm not suggesting that they stop making them, but I think Google is smart to wait it out until a lot of these issues are solved. Suggesting they cancelled it because Samsungs is just so good is stupid.

What else did you expect? This site has become a Samsung love fest for the last few years.

Shame. The Galaxy Fold isn't as good as the Huawei Mate X but that doesn't have Google Play. So there is room for improvement, especially with the crap outer screen.

Huawei moved to the fold form factor for their second try at a foldable. It seems clear that Samsungs design is the better one.

It's one thing if the product isn't competitive. It's another thing if the product isn't ready completely for introduction. With Google introducing a new proprietary SOC in the Pixel 6/Pro, it makes sense to delay the new form one year to make SOC issues fixed. Staggered rollout with dependable SOC next year seems the smarter play.

I would have purchased a Pixel Fold the minute it was announced, no matter the price point. That is how much I want a "clean" version of Android on a foldable phone.
I HATE Samsung's UI with a passion as there is so much overlapping crap that Google simply does better. Contact integration? I lost 50 contacts because it was syncing with a S8's Samsung contacts app instead of Google's when I migrated to a OnePlus 6T. Lost em all. There are other examples of pointless redundancy, but I'm not going back to Samsung no matter how compelling the hardware. I've done that 3 times over the years starting with a Galaxy S3. Thinking it HAS to have gotten better. Nope. They just keep adding the bloatware to the system making it worse. Foldable phones are the most refreshing form factor design since the G1. I don't mind them taking their time on this as I want a good device, not one rushed to market. But Google NEEDS to come out with this as Samsung will continue to just throw out junk software dragging down Android.

Samsung's flagship smartphones have so much RAM and storage, including expandable storage, added Samsung apps make zero difference to performance. The truth I'd that Samsung leads Android OS with new features that Goigle later incorporates into stock Android OS....

Thanks for the reality check. The fact that Android is what Samsung develops is at its most obvious on Wear OS 4. The software that is in reality Samsung's Tizen with Google logos. I mean, that port/rebrand was done so late that Google didn't even have core Google apps ready when it launched this summer. :)

But yet Samsung devices run circles around googles laggy pixels.

I've used Google Android and Samsung one ui pretty heavily. For years Samsung has been more performant, more easily customizable, and with better usability features than Google. Hell it took Google 6 years to launch an Android phone without crippling performance issues.

I think foldables are ugly and just a stupid form factor. None of them are "good".

I don't like foldable phones but cannot deny that Samsung have made quite a bit of progress since the first generation devices. At least Samsung is trying something new. There are various reasons why I still don't like foldable phones namely their thickness, weight , price, narrowness of the external screen and of course the fragility and price of the internal screen.

To each one is own. I have two foldables and I haven't enjoyed phones in the last few years as much I enjoy this. The form factor is beautiful and refreshingly different. Don't knock it if you haven't tried it 😊
Android Central Newsletter
Get instant access to breaking news, the hottest reviews, great deals and helpful tips
Thank you for signing up to Android Central. You will receive a verification email shortly.
There was a problem. Please refresh the page and try again.