Google extending manufacturer warranty for Pixel 2 and Pixel 2 XL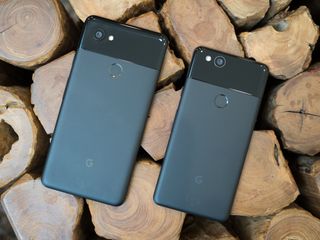 (Image credit: Andrew Martonik / Android Central)
After stating that it was "actively investigating" consumer and critic complaints about the Pixel 2 XL's display on October 23, Google recently issued a more official response fully detailing the exact steps it would be taking to remedy the biggest issues that have been brought to light.
While doing this, Google also announced that it would be extending the standard one-year manufacturer warranty on the Pixel 2 and Pixel 2 XL to two years at no extra cost. This applies to current and future Pixel 2/2 XL owners, and considering that Google reports nothing is technically wrong with the Pixel 2 XL's display, this is quite generous on its part.
Do take note that this is not the Preferred Care insurance plan that Google offers when buying a Pixel 2. It's simply an extension of the warranty that comes with all Pixel 2 and Pixel 2 XL purchases, meaning that you have an added year of coverage against any issues that are directly related to the manufacturing of your device.
If you want protection against accidental damage and priority repair service in addition to the now-standard two-year manufacturer's warranty, you can still purchase Preferred Care when buying your Pixel 2 or Pixel 2 XL for $129 per device.
Joe Maring was a Senior Editor for Android Central between 2017 and 2021. You can reach him on Twitter at @JoeMaring1.
I'm buying the new OnePlus 5t!

My Pixel 2 XL should be here tomorrow. I'm happy with the findings and results (read the appropriate links on Twitter) - so glad I didn't cancel my order. Thanks guys for finding this - which also aided the overall resolution in this matter. Stay true and vigilant in your investigative reporting.

So is mine, can't wait. It's like Christmas when I was a kid.

Mine was due on 10/24 or 10/25. Ontrac lost package. Called Google on 10/26, "a specialist will get back to you in 1 to 3 days." Really making me doubt Google's customer service.

Can you buy preferred care even if you get the 2XL from Verizon or is it for Google store purchases only?

Does boost my confidence when considering buying. Good move and now equals the LG V30+ which is also on my short list.

I just reordered my Pixel 2xl...satisfied with their response and truly luv the phone

No problems at all with my pixel 2 but I'm glad to have the extra warranty. Thumbs up for Google.

From the looks of it, customers are going to need it.

I'm just wondering when I will get my email about ordering my Google mini.

I got mine three days after I ordered my Pixel 2. It simply said I should expect a promo code emailed to me about 4 weeks after my phone ships.

Besides the blue shift with the display, which is not a big deal to me, I don't any any other issues with it and decided to keep it and returned the Sony Xperia XZP. Thank goodness for the awesome camera.

Well.... for nearly $1000...

Is this worldwide like Apples?

.. Google already had a standard 2yrs warranty on hardware in the UK and EU, this is just the US catching up (...nothing to do with Apple! ;) )

I just spoke to Google support and they have no idea about free second year warranty. I advised them to google "pixel 2 warranty" to see all articles and news about it.

Is this just USA or Canada also ?

Google has not yet updated its "new" 2 year warranty on the Pixel 2 XL on its warranty page in the Google Store. I'll feel better when I see it in writing "there".

Sweet. My Pixel 2 is nothing but awesome, and I'll take it. Cheers.

Google...stick with searching for stuff and apps, get the hell out of the cell phone manufacturing arena, you SUCK!

Anybody know if the warranty gets transferred to a 3rd party buyer if it's sold on swappa?
Android Central Newsletter
Get the best of Android Central in in your inbox, every day!
Thank you for signing up to Android Central. You will receive a verification email shortly.
There was a problem. Please refresh the page and try again.