Google Duplex is now live on all Android devices and iPhones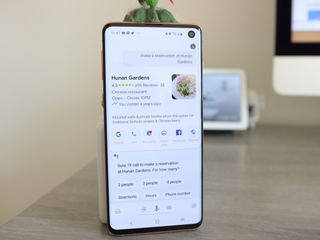 (Image credit: Android Central)
During Google I/O 2018, it's safe to say that Google Duplex — the feature that enables the Google Assistant to call restaurants and make reservations on your behalf — stole the entire show. After initially being available exclusively to Google's Pixel phones, Duplex is now rolling out to all Android and iOS devices.
If you take a look at the support site for Google My Business Help, you'll see that the "devices supported" page now lists:
Android devices running version 5.0 or newer
iPhones with the Google Assistant installed
Duplex is currently live in 43 states across the U.S., and I can confirm that it's working on both my Galaxy S10 and iPhone XS.
To use Duplex, you can get started by staying something along the lines of "Hey Google, make me a restaurant reservation." From there, you'll select the restaurant you want, how many people should be on the reservation, what time you want to book it for, etc. Google Assistant will then confirm all these details with you, call the restaurant, and then add the reservation to your calendar.
Duplex has been met with both excitement and criticism, but I'm certainly in the former camp. I'm all for anything that can make my life easier, and as dumb as it may sound, having to call a restaurant and make a reservation on my own time can be a pain. There's an argument to be made about how much time you're actually saving compared to calling on your own, but I still think it's wickedly cool.
Google Assistant: News, Tips, and Everything you need to know
Android Central Newsletter
Get instant access to breaking news, the hottest reviews, great deals and helpful tips
Joe Maring was a Senior Editor for Android Central between 2017 and 2021. You can reach him on Twitter at @JoeMaring1.
Does anyone know when this will be available in Canada?

Yeah. No. This would take as much time to populate the fields as it would to call and provide the same info. It might be worth trying once, but if you make a rez at a resto that calls back to confirm the day before, does Duplex handle that?

Agreed. I would love to see multiple side by side comparisons in times to just call and do it yourself vs Duplex handling it. It can't be that much quicker if it is, and it's probably best case scenario too that it gets it all right. Where I could see this being super helpful is when it's been around longer and had time to be refined, would be letting it handle reservations when traveling outside your native language area. That would be an awesome product not a gimmick at the point.

You're absolutely right. Translations in foreign countries, and not just for restaurants but hotels, trains, etc.

I've used it a few times, and it works great. You don't need to populate all the fields. All you need do is say "Hey Google, make a reservation for tomorrow at Brendan's Bistro for a party of 4. I prefer 7pm, but any time between 6 and 8 will be fine." And off it goes. You don't have to fill in any fields if your query already provides the information. Duplex will even allow itself to be put on hold, and respond accordingly when asked if they can hold until the human taking the reservation can take the call. I find it VERY useful, especially since I don't have to sit on Hold myself waiting for the host/hostess to have time to address the call because they're busy.

tried it with 2 local restaurants near me. neither accepted online reservations. hey google, don't show me restaurants if then you are going to crap out saying they are not available

fjleon - It's not an online reservation. Google Assistant will make a phone call to the restaurant and talk to them. Most people don't even know its an AI call.

Duplex doesn't reserve online, it places a phone call to the restaurant and an AI speaks to the person who takes the reservation. It's difficult to believe you don't know this if you supposedly already tried twice, so I'm going to assume you were lying and tried to be clever.

When will the call screening be available?

This time next year, Google announces it's shutting down Google Duplex.

I don't today eat it at places that require a reservation. Does this work for other things?

What I think that a LOT of people and Myself would like to know is;
1. If and When it will be able to be capable of Call Screening?
2. If and When it Will be capable of Call Screening, will it be able to either just hang up the call, let the caller go to Voicemail, let the Caller connect with Us Directly, as well as be able to let us instruct it what to do for Each type of Call, and let Callers that We select connect with us without having to talk to Google Duplex at all?
3. Will it be able to call in a Food Order for Delivery or Pickup?
4. Will it be able to try again to call if the number is busy and if so, how many times will it try until it finally connects?
5. Can We have a Scheduled time for it to make a call?
6. Will it be able to make a Doctor Appointment for Us?
7. How much will Google Duplex be able to Learn in order to be capable of more capabilities over time?
Android Central Newsletter
Get instant access to breaking news, the hottest reviews, great deals and helpful tips
Thank you for signing up to Android Central. You will receive a verification email shortly.
There was a problem. Please refresh the page and try again.