Google Clips AI-powered camera now on sale for $249 from multiple retailers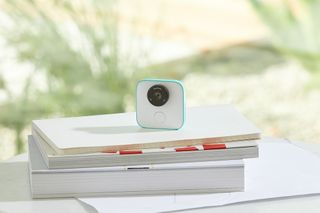 Google Clips, the $249 AI-powered camera announced alongside the Pixel 2 last year, is finally available and shipping from Best Buy (opens in new tab), Verizon (opens in new tab), B&H (opens in new tab) and the Google Store (opens in new tab). Pre-orders initially opened up (only to close quickly) at the end of January with a quoted late-February ship date, and now that we're in the final hours of the month Google is ready to start fulfilling orders without restriction.
The whole idea of Google Clips is to be a camera that you set up and just forget about for long periods of time. Rather than being actively involved in capturing moments with a smartphone or dedicated camera, you just place Google Clips somewhere and let it do its thing. The camera identifies when things are happening in its field of vision (which is 130-degrees), as well as who's in the frame and whether it's able to take a clear photo. It then captures bursts of photos at up to 15 fps and syncs them to your phone (opens in new tab) to review later. You can quickly triage anything you don't want, and save everything else to Google Photos. It will of course create animations and other automatic creations, all without your input.
This really is a different way of thinking about photography: capturing moments that matter while you're also being part of those moments, not stuck behind a smartphone or camera the whole time.
The "Clips" name has a bit of a double-meaning, as it of course refers to the quick video clips it can capture but also because it has a plastic clip on the back. The whole idea is that you can secure Google Clips somewhere to give it a great view of wherever you are, rather than having to rely on setting it on a flat surface.
Google Clips is $249, which is a bit on the expensive side for most people who are happy to just have their smartphone be their only camera. But that's also much less expensive than a dedicated camera, if you were in the market for one. I wouldn't blame anyone for holding off on buying a Clips camera until it's been proven to be really good at automatically capturing the photos you want. If it requires much management at all, it will quickly lose appeal.
Andrew was an Executive Editor, U.S. at Android Central between 2012 and 2020.
Anyone else completely forget that this thing existed?

I think this is actually interesting, would be fun to here from others that have used it. I would interested in using it for skiing (as long as it stays on) to outings with friends and family.

It's like a small wildlife camera.

I think it's pretty cool. might pick it up once reviews come in and the price goes down.

The price on this is way out of whack.
Android Central Newsletter
Get the best of Android Central in in your inbox, every day!
Thank you for signing up to Android Central. You will receive a verification email shortly.
There was a problem. Please refresh the page and try again.