Google announces Google Play for Education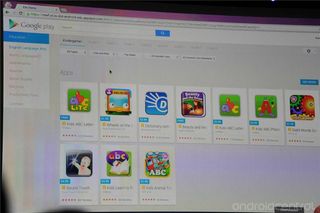 Google making strides into the classroom with new education focused Google Play service
Google is making a push to get technology, more specifically tablets into schools with the announcement today of Google Play for Education. Officially launching in the fall, submissions will be accepted soon.
Google Play for Education will allow for the mass deployment of apps to education tablets. Not just apps either, books, videos, all available through Google Play for Education with mass licenses chargable against school purchase orders.
6 elementary schools have been involved in a pilot scheme, with 550 different third-party apps deployed in a single day. This is huge for the education sector, and its great to see Google making strides into improving education with technology.
Follow our live coverage of the Google I/O keynote for the rest of the day's news!
I work in a school and am in a position to recommend tech. Unfortunately, this is too little too late for us(and probably many others) the iPad has been here for over a year and we are already going forward with plans to implement them everywhere. That head start makes it pretty hard to pictures schools switching directions. What we'd love to see is mass deployment tools for pads that allow for installs and wiping user data remotely etc., and neither platform allows for that right now.

Hi Gregg,
If you are looking for a Mobile App to incorporate into your school, take a look at Teacher App by Academically Informed. It is currently on the Android Market and pending approval for the Apple Market. Teacher App by Academically Informed is the most intuitive teacher, parent and student app on the market. There are 3 different interfaces. One for the teacher, parent and student. The teacher can do everything on the app from update grades, attendance, add events to a calendar, take student notes, and send messages to a single student or parent or they can send a group message to everyone. The parents and students can view grades, attendance, notes, and the calendar. The parents can even send an absentee letter through the app. You can go to the website for more information. www.academicallyinformed.com.

It's a shame that public education has already committed to delivering obsolete technology (iPad) to young minds. At least many of them will be offered the flexibility of Android at home.

I do indeed see this wiping out the iPad in schools eventually. Google Play for Schools + Google Apps + cheaper Android hardware = a better deal all the way around for schools. Keep in mind that the only place Apple really has headway with their own school initiative is in the US. Google is thinking worldwide. Price is going to make a big difference to many school districts, and Google has a BIG advantage on Apple in this area.
Android Central Newsletter
Get the best of Android Central in in your inbox, every day!
Thank you for signing up to Android Central. You will receive a verification email shortly.
There was a problem. Please refresh the page and try again.