Google and KISS made Live Cases, and you can buy them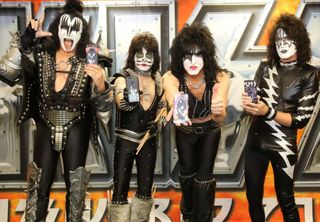 Gene Simmons owns, and according to a blog post from Google really loves, Google's Pixel. It's a solid phone to be sure, and it looks like he's a big fan of the camera which makes a lot of sense. The thing he really loves about his Pixel nowadays? The money he and his bandmates are going to make from the new line of Live Cases with Kiss artwork all over the back.
It's not really clear how many people fall into the venn diagram of Pixel or Nexus owners and hardcore KISS fans, but if you head to the Live Case creator tool you'll see 12 KISS designs you can set up on your case however you choose. And, because it's a Live Case, you set whatever you want on the hot button on the back of the case when it arrives. It's in the Artwork section, just in case you get lost looking for it.
Do these cases give you Reason to Live, or are they something out of the Psycho Circus? Sound off in the comments!
Get the Android Central Newsletter
Instant access to breaking news, the hottest reviews, great deals and helpful tips.
I was made for lovin those cases!!!!!!!!

Someone had fun with this. Sorry, I'd fold in a KISS lyric, but I've never really listened to them.

Well shock me!! Gene would figure out another way to make money off of something.

Totally anecdotal but my experience with these cases has not been good. 1) The NFC button "feature" does not work well. It either is extremely difficult to trigger or triggers randomly and excessively to the point that ripping out the NFC tag is preferred.
2) The colors are disappointing and have great variability under different lighting conditions. My Pittsburgh black and gold looks more like purple and legal pad yellow under most indoor lighting.
3) The build quality is terrible - I've never dropped my phone and only removed/replaced the case four or five times and three of the case's corners are cracked after 8 months.
4) Combine the above with the expensive price tag and the regret only grows. I suggest avoiding all of Google's Live Cases.

Down for the red white and blue case.

Really? My experience, save the NFC tag, is better. The case is tight, for me very durable, no cracks. I got the Faile case, and the graphic art accents the blue perfect. The NFC button works but requires a bit of pressure, enough to not make it super useful.

I suppose it's possible that the type of printing also comes into play. Mine was a Places map case and I've seen both a Photo case and a Christmas sweater one that looked better and didn't vary quite as much but were still a bit disappointing. I was happy with the fit of the case and it protected my device just fine from daily wear and tear which I guess is the top priority for a case, so maybe my expectations were too high?

Probably not too high, might have been a defect. I do see that the image quality vs. reality is different. When. I did the maps live case for my 6p, it wasn't satellite view, I went more arty so I can't speak to that. These KISS ones just look to good for me to pass one up, I may have a little problem with too many cases.

Gene Simmons messed up the promotion a tad bit though... By doing an Alicia Keys! ;)
http://www.phonearena.com/news/KISS-frontman-says-he-loves-his-Pixel-twe...

every penny they can from your wallet.

True, which got me is zero lol. The Donnas' cover of strutter is pretty good though.

We know, you love Ariana Grande!!1

KISS Rocks!!! Always has and always will

Very cool. Wish these were available for my S7 Edge.

They sent their love for the Pixel phones from an iPhone. LMAO 😂! True story, check it out. I'm surprised AC didn't out that little fact. Oh, and from personal experience, these cases are slicker than owl 🦉 sh*t. 😃

I saw this and said OK Google play me some music from KISS. It's fucked up and playing Strutter over and over. And I'm not complaining :)

Yeah it could have been worse. It could have selected something from "The Elder" and played that over and over again.

KISS made phone cases for you,
made phone cases for you
Put them on the phones of everyone!

Russell, the question I have is, does Kiss play Pokémon Go?