Google aims to solve Pixel retail support conundrum with uBreakiFix repair partnership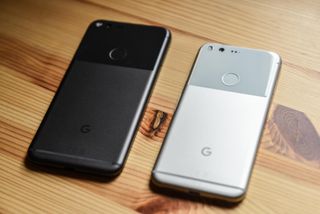 In an attempt to fix its inherent shortcoming of not having a physical retail presence for in-person phone repairs and support, Google has struck a deal with popular electronics repair chain uBreakiFix to be the exclusive repair company for the new Pixel and Pixel XL. Pixel owners will be able to take their broken phone into any of uBreakiFix's 250 retail locations across the U.S. and Canada, or mail the phone in if you don't live near a store, and have the phone repaired with genuine OEM parts by trained technicians.
uBreakiFix specializes in same-day repairs, and Pixel owners won't need to make an appointment ahead of time to have their phone fixed. Screen replacements — by far the most-used service — come in at $129 for the Pixel and $149 for the Pixel XL at any location.
Though Google offers its own "Device Protection" insurance service for the Pixels at the rate of $99 for two years (with a $79 deductible), a majority of buyers are likely to skip the insurance offering at the time of purchase. When their phones eventually break, it's important to know that there's a Google-backed repair shop that will be able to fix the phone in the same day with the same level of parts and service you'd expect from Google itself. The fact that the prices are reasonable is just another win.
Though there's a robust industry of third-party repair shops out there, and it's tough to go through any city in the U.S. without finding a small store that will offer its services, having a consistent experience with hundreds of stores across the U.S. and Canada is amazingly important. The service and parts you get from these little repair shops often varies dramatically, and chances are that you wouldn't find one to replace the cracked screen on a Pixel, either — most focus on the best-selling devices from Apple and Samsung.
You may never have to replace a cracked screen on your Pixel, but knowing that Google is thinking about this and you'll have a guaranteed option in that time of panic is extremely valuable.
Andrew was an Executive Editor, U.S. at Android Central between 2012 and 2020.
Boom
Dat's what I'm talking about.
G is taking care of it's people ... because ...it has too.

As linked in the article I would expect Google to eventually update its support docs to reflect this, too, but Google's obviously going to prefer that you sign up for its own insurance.

Biggest problem is assuming Google's coverage was like Apple's in that you could buy it after the fact. If you don't get it on the same order as your pixel, you can't get it later. Even if it's still in pending or processing. Not a huge deal though. I would have to break it 3 times for the coverage with Google to be cheaper.

Big Red gives you 30 day's should you go that route

I did the insurance. For me it makes sense. Plus I have seen some pretty crappy phone repairs over the last year, not from this company but others. When I live the closest ubreakifix is 250 miles away, that's just not good enough for me.

you can always mail it in

We'll see if there's one.

Yeah I think this is amazing, and somewhat of a game changer! This is really awesome.

I mean a release by Google?

I signed up for the insurance so I'm good but this is good to know since there are around 8 in the Atlanta area.

None in Utah. There are tons of tech comps there...and Google Fiber. One day I guess.

You live in Utah of all places. Lol.

Indeed. Please stay away. We're full.

These kind of articles make me appreciate my shatter shield screen so much. Cant wait for the days where water proofing and shatter proof screens are standard on phones and other tech.

There are trade offs to that screen. It's why I ditched my Z Force.

You prefer plastic screens over glass? Plastic scratches too easy for me.

Pricing is identical to the iPhone. This is certainly a wee welcome addition though for those who want to fix it on the spot

Best news all day! There's only one in Toronto though and two in Saiga City.. that's unusual loool

Great news for those who want to make sure that they're getting original OEM parts for their Pixel.

Not to be a jerk, but this was told by Google to Android Authority almost a WEEK ago.

Google executives should have gone undercover and visited uBreakiFix locations before signing such a ridiculous deal. If they did, they would have seen in person the horrible work that some of these locations performed. :(

Looks like My next phone Will be a pixel after all....

And repairs for the rest of the world???

Yet no support to anyone outside the US that makes me sad

I applaud Google for this move. But the fact is there is no smartphone out there that is worth the price of an Iphone. And one of the selling points of an Iphone is the fact that Apple has those stores. And it has been proven that year in and year out, Apple consistently makes the best phones. And yes, the Apple phones do have their occasional problems and it is true that there aren't stores everywhere. And IOS -- because it's closed -- works way more consistently (less buggy) and updates are immediate (Google has addressed timely updates on their Pixel phones). Android has come along way, especially with the past couple of revisions that unfortunately most folks that don't own Pixels will never see. And I can say this having used both systems (I am currently on Android) and form helping my friends and family with their tech. Perhaps the new Pixel line will show that it's worth the premium price that an Iphone sells for. Time will tell....

The Pixel only costs a little more or the same as any other premium flagship. I don't see what all the fuss is about regarding pricing. In my eyes the Pixel stands as a complete package, no other phone but the iPhone can say that.

The Pixel XL 128 GB I would like is $869. I cannot justify that. My Moto G (4th generation) that cost me $200 will get Nougat later this year so I'll settle for that. It has no NFC but that is not real important to me. My sdhc 64 mb card makes me happy.

The big deal here is that Google is the first to make same day repair service available where the user actually gets their original device repaired instead of a retailed simply just exchanging their unit for an over-the-counter replacement. The price point is also very good considering it's just been released where Apple iPhone 7 LCD screens (just the part, not labor a repair shop would charge) is still $100+ and are typically refurbished LCD screens. Google seems to be stepping out of Apple and Samsung's traditional post-sale service models and putting their fair in 3rd party repair shops instead of the traditional supply chain. Can read more about it's impact in direct relation to repair repair industry on this blog post http://harvestcellular.net/ubreakifix-google-partnership-repair-pixel-ph...

Hey all, I actually manage a uBreakiFix location here in Austin, TX. I have repaired the Google Pixel, and want everyone to know that the parts are indeed stock OEM from Google. The repair *should* only take around 1 - 2 hours max, and has the same 90 day warranty that any other repair we perform has. We are extremely excited about the partnership with Google and are training technicians appropriately. Have confidence when having your device repaired by us! Just thought I would weigh in as a UBIF employee! Hope everyone enjoys and doesn't break their Google Pixel! :)
Android Central Newsletter
Thank you for signing up to Android Central. You will receive a verification email shortly.
There was a problem. Please refresh the page and try again.