Gold Galaxy S8 Plus surfaces in latest leaked image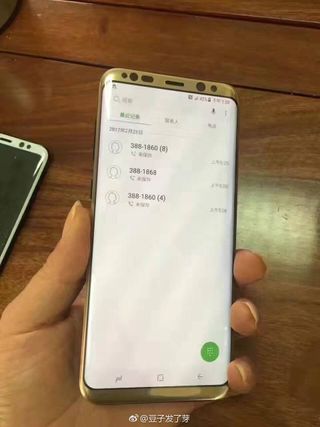 The Galaxy S8 leaks are coming in thick and fast now, and the latest live photo shows off the gold color option of the Galaxy S8 Plus. We get a good look at the dialer, the on-screen navigation buttons, and the general curvature of the display.
The Galaxy S8 will feature a tall display much like the LG G6, and the phone is set to offer ultra-fast facial recognition — as evidenced by the bevy of sensors above the display. A leak from over the weekend showed off the standard model of the Galaxy S8 next to the S8 Plus, with the sizes roughly matching up with what we've seen last week.
While we don't have a release date yet, Samsung aired a 15-second commercial over the weekend in Korea highlighting its upcoming flagship just as the G6 made its debut. The brand will unveil the Galaxy S8 and S8 Plus in New York on March 29, and the phones could be available starting April 21.
Get the Android Central Newsletter
Instant access to breaking news, the hottest reviews, great deals and helpful tips.
Harish Jonnalagadda is a Senior Editor overseeing Asia at Android Central. He leads the site's coverage of Chinese phone brands, contributing to reviews, features, and buying guides. He also writes about storage servers, audio products, and the semiconductor industry. Contact him on Twitter at @chunkynerd.
Damn. Why even bother making the top gold... It's 60% sensor cutouts...

No kidding. Any color but black looks ridiculous. The more I see the GS8, the more I hate it.

Ya I think LG definitely has the better design this year. I usually go black to keep the front black but that silver looks hot

My thoughts exactly, that platinum is sick. Also hope it hides fingerprints better than the black

+1. Too busy up there so black is where's it at...

Seeing those cutouts makes it look......awkward.

That top bezel is ugly AF

Looks ugly with Soo many black holes... G6 looks way better... I guess only black color will look nice on s8 s8+ and s8+ looks really big next to s8...

When I first saw the S8 and S8 plus I thought wow those phones look really huge and then I saw them compared to all the other phones and realised that there are actually quite small. Well the S8 is smaller than the S7 but the S8 plus is narrower than some of the current phones out now and the same height like the 6p and the iPhone 7

I'd have to go with black just to cover up the tarantula eyes up top

Tarantula eyes! Now that's all I see, thank you for that!

I was wondering why all of the previous gs8 leaks were of black models. Now I know why, this gold gs8 is atrocious.

Pearl black are there new Matt black​is the way to go here

Gs8 Plus in black with dbrand black leather for the black for me. that would be this phones saving grace other than that is exactly the same size is a 6P. In a slim case it will not have false touch issue's, this phone interestingly enough is no bigger if not smaller than some of the flagship phones we have seen in the last few years. It only lacks wasteful bezels. I'm thinking about how I will get used to on screen buttons. I never like them but technology must evolve and time waits for no one.

Exactly...The edge to edge will look stunning in person these low light grainy looking photos don't do these phones Justice . I didn't think I'd like the blue coral when I sure the pictures. But in person wow . Colors are always a preference thing personally I think I'll be getting ether the matte black or Pearl black are the blue coral again

I would love to have an S8+ in Emerald green. S6 was released in this colour and it was awesome and I never met a person that didn't love it even asking old friends at Samsung about it's re release came with shrugs and confused "i don't know.." looks. It was a beautiful colour.
Red would be another grey colour.

Wow...5 front facing cameras for ultimate selfies.

Yep ...More better to see you with haha . Who needs an old tech finger scanner . Stop using the one on my note7 the first day of uses

"Bullet time" Selfies like the Matrix hehe

Dual cameras, dual iris scanners and a single proximity sensor perhaps?

The should have kept the front blank with a colourful back.

Nooooo that's a apple thing . That I never understood

Save money in manufacturing as they only need to make different colour backs.

What's not to understand it hides all the sensors and camera cutouts.

Well, definitely the black color if you get one of the S8's this year, otherwise, the top bezel, as small as it is, looks terrible.

But yet...People claim to not care about aesthetics. I knew that was bullshit lol

I am one of those that claims to not care. I still do not care what color my phone is. The comments on this article will skew toward those that do care.

Hey Johnny, if your comment is directed at me, and it appears to be attached to my comment. I do care about aesthetics, especially on something that I'm going to be looking at many, many times per day. Also, I'm not one who has said that I don't care about aesthetics. I do, obviously. Ugly is ugly. Brand independent.

Unless you've seen that particular user claim to not care about aesthetics, then you're making a wild generalization. I, personally, don't care and would get the gold if I were getting an S8 (I'm waiting for the next Note).

I feel like they should just make the top bezel black on all the phones because it looks ridiculous with any other color. Make the back of the phone only with the different colors.

I'm liking the white S8 with black case storm trooper look.

I think that is a great idea!

Which I could get excited about the S8 this year I just can't. I know big and long phones seem to be a trend at the moment. But I am not feeling it having this in your pocket just feels kind of wrong.

Which current phone do you feel is ideally sized for you?

I know right since this phone is about the same size as the note 7 which wassss .... Perfect!! And smaller then that big ass iPhone 7 plus

To me it looks like they put a color screen protector on the black devices to show off the different colors as you can see the buttons are black too...im sure it will be more refined on the finish product...

I hope these leaks are off and the device looks totally different /..

Some of those sensors must be hidden on the final model. Have to be...

Looking at a current S7 or S7 edge, you can have a good idea of how slim the top bezels are because the camera cut out is the normal 5 millimetres high. The cut-outs look really big in pictures because there's not much above or below them which makes them stand out a lot. I think that it will look a lot less garish in person than here as we focus on them. In fact since the bezels are so small you can hold the phone on both sides and fully immerse yourself in your content which is actually the most important thing and the main reason why we buy a phone or at least the reason why I buy my device. I always felt like the sides of phones are wasted with blank thick bezels and that one centimetre would be more than enough and I have relatively large hands and this is even with Samsung old capacitive buttons. In comparison Google Pixel large blank bezels make it seem like an unfinished R&D device.

What you're seeing are screen covers. That is not the actual phone with all the pronounced sensors.