Google unveils new Gmail app interface to match desktop redesign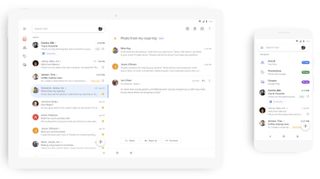 It's hard to believe we're coming up on a year since Google redesigned the Gmail web interface, which was sorely needed at the time. Now the Gmail mobile apps for Android and iOS are getting the same treatment to further synchronize the design and features of the service across all platforms.
With an update arriving in the coming weeks, Gmail apps will gain feature parity (or close to it) with the desktop version. That means faster email responses with machine learning-derived Smart Compose suggestions, better Smart Reply for quick replies, and "nudge" reminders to get back to someone after you've marked an email as read but haven't yet replied.
The main interface is going to highlight attachments within emails so you can view them before even tapping in to each message, and Gmail is making it easier to switch between multiple accounts. You'll also see enhanced alerts about potential phishing emails so you can keep your account safe from attacks.
From what we can see in Google's announcement, the interface draws heavily from the design sensibilities of the desktop version, but also feels like it incorporates some of the look of the now-shuttered Inbox app. The interface is very white, which isn't going to make the dark mode stans happy, and thins out lines and adds colors to help break up the vast swaths of white. There's a distinct lack of the typical Gmail red, too, which again matches the desktop.
Google's promo screenshots show a prominent Google search bar at the top rather than a small button in the current version, and puts a focus on the "social, promotions and updates" flags at the top of the inbox — let's hope that can be configured like the desktop interface. We'll have a better idea of all of the configuration options when the update arrives in February.
Andrew was an Executive Editor, U.S. at Android Central between 2012 and 2020.
Hopefully there's a dark theme. And I still don't like the web redesign.

I'm with you dextorboot...

Jeeves: Sir, studies and surveys show users prefer dark themes on their mobile devices. Boss: Hmmm, thank you Jeeves. Tell the design team to make that motherfricker blindingly white. Jeeves: But sir? Boss: DO IT!!!!!!!!!

Studies actually show users keep the default design.

Recent studies determined that studies are BS!

I guess I've never been "studied", LOLOL. First thing I do on my phone and every app I install is look for, and turn on, a dark mode.

Corporate decisions never make logical sense!

Looks like I may be searching for a new app then. The last thread keeping me attached was the hope it would go dark.

The only thing going dark is Inbox :-(

K9 worked well last time I used it. It has had a dark mode for years as well.

It looks fine to me I guess. Very Googly. It's too bright but Google's new fad is for white right now. That will change as design trends always do. Everything will probably be pastel next year. I have those tabs (social, promotions, etc.) turned off so it will look even cleaner than this.

As long as I'm able to open the app and see how many emails I have in a tab, even if I already opened the tab, I'll be good. Hopefully it'll get email grouping like Inbox

I don't care so much about the aesthetics of so much white in the design. I'm more concerned with battery drain. I use email a lot, so all those pixels fired up, all of the time, will take a toll on battery life.

Unless you are sporting AMOLED screen, the power draw is independent from the color.

Unless...I am with my Galaxy S8. I think a LOT of devices user AMOLED.

So on the web GMail has themes, which I've set to a Dark theme. And with them rolling out other apps with new dark modes I have to believe they will bring a dark mode to GMail at some point.

I really need them to bring over Inbox's Trip bundles. They're like a kind of magic. That's the biggest missing piece in Gmail for me right now. Anytime I showed my Inbox trip to one of my travelling coworkers that wasn't familiar with the app they were blown away.

I know white backgrounds use more battery,even still I like them better than dark themes. Inbox functionality would be even better since even the new Gmail on the desktop is not as functional as old inbox.

Well, time to look for a new Gmail app. I despite the website redesign, and this looks somehow worse.

Making Apps Great Again....

Contacts , phone dialer went the same route. Dark mode followed. See a pattern?

Thank you. That is what I came here to say. They are putting out their main design and then a dark mode will follow. All white designs like this actually make it easier to support both a white and dark mode. Its just a matter of changing contrasts.

Try Bluemail app. It has a dark theme. I will add that I've found that dark themes are overrated. I only use it on the phone app screens and the menus.

Hope they add filters in search box. Its a big miss.

I personally love the bright interfaces with the white and the bright and bold colors. I think it's better than a dark theme. That being said... When I'm heading to work at 5am and it's pitch black out it's not so great. Android Auto does a great job at changing up the contrast to be easier to see at night but then I try to use voice to get Google Assistant to play some music and a giant, white panel fires up and blasts light in my face.

No dark mode, so I'm still not going to use this app. Even if they do send me emails saying I'm not using the default app lol
Thy need a dark mode option like some of their other apps

I like the clean look but this is just too much white. I sometimes try to imagine how these meetings go at Google and somewhere along the lines they all, or majority, agree that this is the design to go with. Yes, our users will LOVE this. How? It baffles me.

Well, Outlook.com/Microsoft Outlook exists for a reason! Just looking at the images was like getting punched in the face by a shooting star. I'm convinced Google is doing this to troll their users.

I installed the update and hated the Ghostly White. I also had problems using the app, especially sending emails. Just had another Gmail update come through that I installed. I think it must've been from Ghostbusters because the Ghostly White has gone and the "old" Gmail it's back. I'll read the most recent reviews next time, before updating the app. Lots of negative comments in those reviews.

Good! It's clearly better outside. Black on White that's the way outside.

Well, you can get this refreshed look via yesterday's official update.
Android Central Newsletter
Thank you for signing up to Android Central. You will receive a verification email shortly.
There was a problem. Please refresh the page and try again.