Keep a watch on your child wherever they are with Verizon's 4G LTE GizmoWatch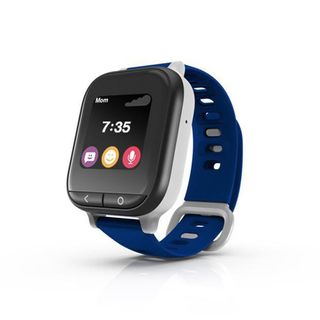 In today's era, simply sending your child to school can be worrisome. For parents who're looking for a bit more peace of mind, Verizon is debuting its GizmoWatch later this year — the first 4G LTE watch for kids powered by Qualcomm.
The GizmoWatch is a successor to LG's GizmoPal 2, a wearable which allowed for two-way calling with your child and the ability to view the device's location on your smartphone. The GizmoWatch takes things a step further by implementing Verizon's 4G LTE network to ensure your child's calls and texts are sent successfully.
Though the original GizmoPal could only contact two selected phone numbers, the GizmoWatch is capable of calling up to ten numbers which can be set in the GizmoHub app for iOS and Android devices. If your child happens to share their number with someone whose number isn't on that list, the call won't go through. The app also allows you to pre-write up to 20 text messages that your child's watch will be able to send to anyone on the list of contacts.
You'll be able to track your child's location using the GizmoHub app too; it can even be set up to send you notifications if your child leaves a predetermined area. The app will show the watch's battery life and is capable of managing multiple watches too.
For the kids, there's an integrated fitness and hopscotch tracker where they can keep track of their steps each day. A voice changer has been built-in as well that can make their voice sound like a robot and other fun characters. You'll have the power to turn off the watch remotely via the app in case you feel like it's taking attention away from something more important.
The watch is capable of lasting for up to four days depending on usage, and offers seven days of stand-by time. It'll be released on October 10 to in-store and online at Verizon Wireless for $179.99, though you'll be able to pre-order beginning on September 20. You'll also have the option of adding it to your exisiting Verizon plan for only $5 a month (plus taxes and fees).
Alex is a graduate from the University of North Florida with a background in sales and merchandising. When he's not hunting down the next great deals to post on Thrifter, he can be found making music and working on his eBay business.
This LTE radio equipped device is absolutely unsafe for a child to wear. It's scientifically proven to disrupt and damage the cells (accumulative effect over time) in specific proximity to the body. Of course attached against the body is the worst position you can set such device in. It's not just LTE of course. WiFi devices are causing the same harm as well. They all need to be set as far from the body as possible.
From Cell phones to Tablets and other gadgets, people need to know how to be used in a safe way.
No parent should attach this watch to their kids wrist. Here is the talk / lecture at University of Melbourne, Australia with evidence presented. https://youtu.be/BwyDCHf5iCY

Lol, BS... Terrified of your cell phone are you? 🤔Maybe crawl back under your rock, where they fear WiFi too! 🤣

Guys / Gals Does verison's network use sim cards or is it CDMA? Anyone know if this unit would work (if unlocked) on telus' network? I have a son with autism and this would be a perfect companion.

Since this is LTE, it should use a SIM, but, given its size, it probably has an eSIM, which you may or may not be able to activate on another carrier. Also, there's the issue of managing it. Most likely, the backend systems needed for that will be housed at Verizon. Having said that, my guess is that this device is being built for Verizon by another company, so there's a theoretical possibility that Telus could decide to offer it. As crazy as this sounds, I'd contact Verizon corporate and ask them. Best way to do this is to find their press release and contact the press contact listed on it. That increases the odds that your message will actually reach a human who will read it. Explain your situation and see what they have to say. You might also see if you can find a contact at Telus and ask them about the possibility they will offer this device or something like it. Contacting big companies like this is always a long-shot, but, every now and then, you get lucky and reach someone who will talk to you. And remember that companies are made of up people, and most people will want to see if they can help you. Good luck!

Thanks for the info. I have looked at all the options from China and they only work on the Rogers network which we don't have here.

Samsung is coming out with an LTE tracker at the end of the month, It doesn't have voice/call/text, but it will allow you to track anywhere using the Smart Things app. It costs $100 and comes with a free year of service through AT&T (US). I don't know about availability in other countries, but it could be worth looking into.
Android Central Newsletter
Get the best of Android Central in in your inbox, every day!
Thank you for signing up to Android Central. You will receive a verification email shortly.
There was a problem. Please refresh the page and try again.