How to set up and get started with Movies Anywhere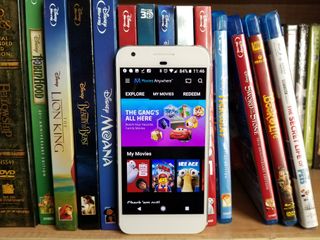 Before there was Android, before there was Google Play, there were movies on iTunes and Amazon, and there were digital copies of movies that were redeemed on iTunes, Amazon, and Vudu. Well, we can free them from their unused services and bring them all together on Movies Anywhere, adding them to your Google Play library and making them watchable just about anywhere!
Getting set up is a breeze, and you can get 5 free movies for doing it, so what are you waiting for?
Movies Anywhere is the multi-studio successor to Disney Movies Anywhere, and the setup works exactly the same, which is simple and you can do most of it straight from your phone after downloading the Movies Anywhere app (opens in new tab).
Open Movies Anywhere.
Tap Get Started.
Tap the account you wish to log in with. On Android, Google will connect with the account set up on the device.
Agree to the Video Data Sharing agreement, which is required for the various studios and video services to talk to each other and share your library information.
Tap the checkbox next to the terms of use for the service to agree. You can also opt out of the marketing and promotion emails from Movies Anywhere and its studios by unchecking the opt-in boxes below the terms of service.
Tap I Agree.
If you already had a Disney Movies Anywhere account linked to the same email you used for setup, you'll be prompted to import all your Disney movies. Tap Agree & Continue.
Tap Finish.
Tap the three-line menu icon in the top left corner.
Tap Manage Retailers.
Tap Google Play to link your account to Google Play.
Choose a Google account to link your account to.
Tap Allow to allow Movies Anywhere to add movies to your account and see what movies you own that are Movies Anywhere eligible.
You'll receive the first two promotional movies. Tap Connect Retailers to link another account.
You can easily link Google Play and Amazon (opens in new tab) via the Movies Anywhere app. Vudu (opens in new tab) was experiencing issues connecting to Movies Anywhere on mobile and desktop, but this should be cleared up. Connecting iTunes requires you to log into Movies Anywhere on a device with iTunes, such as an iPad or desktop computer.
Note: After you link any account, give Movies Anywhere a few minutes for your movies to show up. The eligible titles will appear once your libraries sync. The current studios working with Movies Anywhere are Disney, Sony, Universal, Warner Bros., and 20th Century Fox.
Once you've linked all your accounts, you can stream the movies to your device, or you can Save Offline to watch when you're stranded without data. As was done in Disney Movies Anywhere, offline copies in Movies Anywhere are handled by Google Play. By default, Movies Anywhere has Wi-Fi Only enabled to help you avoid breaking any data caps, and it can be easily toggled off from the main menu.
Because you sometimes hand your phone over to your kids to let them watch something while in the car/grocery store/backyard, Movies Anywhere has a profile system to let you quickly and easily switch to an age-restricted account for your little ones.
Tap the three-line menu icon in the top left corner.
Tap Add Profile.
Tap Change Avatar.
Tap the avatar that you desire for the profile.
Name the profile.
Slide the rating viewer to adjust what movie ratings your kids can see.
Tap Create Profile.
Now you can switch profiles by coming back to the main menu and tapping Switch Profile.
How are you liking Movies Anywhere? The bonus features UI could use a little work right now, but the app is as stable and capable as its predecessor, with a whole lot more movies that can use it. And once more studios sign on, I can see the next frontier for this service: TV shows.
Movies Anywhere: Everything you need to know!
Ara Wagoner was a staff writer at Android Central. She themes phones and pokes YouTube Music with a stick. When she's not writing about cases, Chromebooks, or customization, she's wandering around Walt Disney World. If you see her without headphones, RUN. You can follow her on Twitter at @arawagco.
USA only though, according to the help section. I can't sign up with my Google account. Edit: https://help.moviesanywhere.com/hc/en-us/articles/115004576166-What-are-...

Yep, US only.....another great idea scuppered at birth. :(

I was able to set up my account using a VPN. Connected VUDU, Amazon and Google Play so I got the free movies. All the supported titles in my VUDU library (which all came from Ultraviolet codes) were replicated in my Amazon and Google Play account. However, none of my Google Play movies made it into the MoviesAnywhere library.

I'll try again then with a vpn and see what happens. :)

Do these companies realize that only 4% of the world's population live in the US? Drives me nuts! I mean it can't be copyright issues like with Hulu and Netflix because they are my movies and I have access to them on Disney, iTunes and UltraViolet. So what is the deal?

"Do these companies realize that only 4% of the world's population live in the US?" But it's the best 4%.

It's a bit more complicated than just copyright law and media law. It also means a lot of (financial) agreements between the studios and the digital marketplaces in the countries they want to operate within. This will hopefully spread, but if you're going to pilot a venture like this, it's best to start in one country where you're already intimately familiar with the copyright and distribution laws.

It would be awesome if it was a streaming service by all the studios like a Netflix type setup. I'd be willing to pay monthly to stream from it. Since I don't buy movies anymore (haven't for quite a while now that I look back), this service is pretty much useless for me.

Pretty sure that's where this is going. With Disney dropping Netflix support in 2019 you can expect other studios to follow. Movies Anywhere gives them a vehicle to offer a streaming service while eliminating the middle man (Netflix)

Totally agree. I haven't bought movies in years. Like music, streaming is the way to go. And many of the movies I wanna see aren't even available on Play or Amazon. So I buy a used DVD for a couple bucks, rip them and save them into my collection. Digitized all my DVDs that way. What if you spend hundreds of dollars on digital movies and in a few years the get rid of that model and so go all your purchases.

VUDU is still having issues connecting to this (as of this morning), and that service has the most movies in my library. I managed to connect Google Play and Amazon yesterday without a hitch. iTunes on the other hand, though it says I'm connected, I still don't show movies from that library a day later. Edit: looks like VUDU finally connected thru the app. Still not showing iTunes though.

ITunes took a while to sync for me, but it only had two titles to add. I think the more titles it has to sync the longer the sync takes.

I signed up for this yesterday. As a Disney obsessed family we were already members of Disney Movies Anywhere because my wife is an Apple person and I'm an Android person. It was nice to get all the Disney movies in both places (as well as Amazon and Vudu). I just mentioned to my wife a few days ago how I wished every studio would do this. I got my wish. To me this makes buying digital copies of movies more enticing as you won;t be stuck in one ecosystem and now I don't have to have so many blu-ray cases lying around. My one question would be, if you use Vudu's DVD to Digital service, would those be added to all video channels? Will be testing this tonight,. It did take a while for all my movies to actually sync up so be mindful of that.

I've heard from people that it's a yes, but only in the quality of the disc and only with participating studios. If it was a DVD from Fox (for example), it will redeem in SD.

That would be great. I know paramount isn't participating yet. I think it's a great deal to pay the $2-$5 per disc for a digital copy when they could be in Google Movies and iTunes. Better than purchasing again. I wouldn't do every movie I own, only the ones I like.

Awesome. My Google Play Movies library immediately showed the titles from the other providers. This is a great service--thanks for bringing it to my attention. Now if only it would sync up the TV seasons. I have a couple of Game of Thrones seasons and a Star Wars Rebels season stranded on Amazon. It'd be nice to have them all in one place.

TV should be the next frontier here. Buying TV seasons digitally is a cluster.

It should be mentioned that if you sign up and link two services you get five free movies added to your library: Big Hero 6
Ghostbusters
Ice Age
Jason Bourne
The Lego Movie It worked immediately for me once I linked my accounts.

Doesn't have every movie or studio. Movies in my collection across the supported services as diverse as The Butler, Escape Plan, Wreckit Ralph, and Transformers are missing from Movies Anywhere when linked. It seems I'll still need the linked services' apps regardless.

It works on my Chromebook....but on my Nvidia Shield, I'm seeing "Playback Error. There is a problem connecting to Movies Anywhere.". This happens for movies on Vudu/Amazon/Google Play Store.

So glad I am not the only one!! I have looked all over the internet trying to find help with the Nvidia Shield getting a Playback error. My movies have always played fine on the Shield on Vudu and Play Store.

I jumped at this in the hopes of it being the one movie library to rule them all. But then I noticed a bunch of my movies weren't making the leap. Went back and read the story again and saw the snag, elegible titles. It immediately went from a final solution to just adding to the clutter.

The only major studio not on board right now is Paramount.
Android Central Newsletter
Get the best of Android Central in in your inbox, every day!
Thank you for signing up to Android Central. You will receive a verification email shortly.
There was a problem. Please refresh the page and try again.