Samsung's Galaxy Z Fold 3 & Z Flip 3 are outdoing the Galaxy S21 series in preorder sales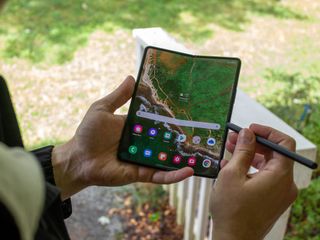 (Image credit: Nick Sutrich / Android Central)
Update, Aug 23 (12:20 p.m. ET): Samsung confirms its new foldables are seeing "strong global consumer demand"
What you need to know
Samsung has reportedly received nearly half a million preorders for its new Galaxy Z Fold 3 and Z Flip 3 phones in South Korea.
Last year's Galaxy Z Fold 2 only received a total of 80,000 preorders in Samsung's home market.
Korean media expects total preorders for the foldable duo to reach 800,000.
Samsung's new Galaxy Z Fold 3 and Galaxy Z Flip 3 foldables are generating more interest among consumers in South Korea than the Galaxy S21 series. According to The Korea Herald, Samsung has received a combined 450,000 preorders for the two phones as of Sunday.
Industry sources believe total preorders for the two foldables could even hit 800,000 if sales of unlocked units are included. For reference, Samsung received just 80,000 preorders for the Galaxy Z Fold 2 in its home market last year.
Surprisingly, the new foldables are proving to be even more popular than Samsung's best Android phones. The report says preorders for the two foldables are twice that of the Galaxy S21 series and 1.5 times that of the Galaxy Note 20 series.
As per statistics shared by a leading South Korean carrier, nearly 49% of preorders for the Galaxy Z Fold 3 were from customers in their 20s and 30s, while the same age group accounted for 57% of total preorders for the more affordable Galaxy Z Flip 3. These numbers clearly suggest that Samsung's new foldables have been successful in catching the attention of young consumers, at least in South Korea.
The main reason behind the significantly higher interest in the Galaxy Z Fold 3 and Galaxy Z Flip 3 is likely their more affordable pricing. Samsung's Galaxy Z Fold 3 is priced 16.6% lower than its predecessor in South Korea, while the Galaxy Z Flip 3 starts at under KRW 1.3 million.
Update, Aug 23 (12:20 p.m. ET) ― Galaxy Z Fold 3 and Z Flip 3 have already surpassed global Samsung foldable sales in all of 2021
Samsung has now confirmed that the Galaxy Z Fold 3 and Z Flip 3 are seeing strong consumer demand globally. Even though it has just been days since announcement, pre-orders for the two phones are already higher than the total global Samsung foldable sales in all of 2021.
In a statement sent to Android Central, Samsung said:
The Galaxy Z Fold 3 and Z Flip 3 will be available to preorder in the U.S. through midnight ET on August 26.
Samsung Galaxy Z Flip 3
The Galaxy Z Flip 3 is Samsung's first foldable phone that's aimed at the masses. Aside from a relatively affordable price tag, the phone also offers Qualcomm's Snapdragon 888 chip with 5G connectivity, water resistance, and a larger cover display than its predecessor.
Get the Android Central Newsletter
Instant access to breaking news, the hottest reviews, great deals and helpful tips.
Interesting, but Korea is very much its own market.

I could definitely see the Flip being the future of smartphones if they can get the price down along with doubling the battery life and ensuring durability. Just much more convenient than a regular smartphone. Still about 2-3 years away though imo.

If they had awesome cameras on the flip, it would be a huge sell for the tiktok generation:)

It has they same camera setup as the S10, which is a pretty good camera phone.
The priority for the cameras on foldables is size. As a long time owner of the old Z Flip I can say they're definitely doing the right thing. The point with the format is to make a big screen feel small in the pocket. That won't happen with an S21U camera hump on the back.

Truthfully, I do not know what to believe from Samsung or any other company these days. Too much pressure to inflate numbers for social media hoopla marketing to increase interest and potential sales. First time in my life really feeling this with all the deception going on these days.

Lol I don't believe it. Samsung probably has all its employees preorder a couple. Probably free or super cheap if indeed they ever take delivery on them.

I think Fold/Flip 3 will definitely sell better than first and second generation combined. My join in decision was based on trade in value. Most who passed on earlier generations and have paid off devices can get fold 3 down to $1000-1200 and the flip 3 for less. That's a big selling point as that price range for a flag ship has become expected and doable.

Yeah yeah.
I'm calling BS on these claims. They said the same thing about the S20 and S21 and each of them was a bigger disaster than the previous one. Foldables are a pointless gimmick. Everyone with a working brain can see that. Which is why no one is buying them...much to Samsung's dismay. They're as much "the future" as 3D TVs were.

LOL...you are so wrong...

Koreans are buying it so I should? Never foldable here... Hard pass.