Would you buy a flat-edged Galaxy S9?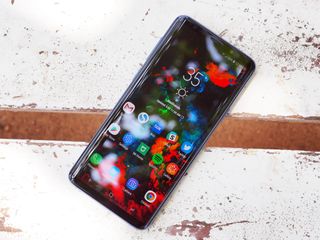 The Galaxy S9 and S9+ are some of the best phones money can buy right now — and if you like to keep up with the latest tech, you might already have one. One of the reasons the S9 is so popular is because of its incredible build quality and design. Samsung spared no expense, crafting the phone out of beautiful curved glass and metal.
There's just one problem: curved glass isn't always functional. It's gorgeous, and it feels great in the hand, but despite Samsung's best efforts for accidental touch rejection, it's still not uncommon to inadvertently touch the sides of the Galaxy S9 during regular use. Curved glass is also incredibly fragile, and much harder to protect; curved glass screen protectors are few and far between, and cases have limited space to attach to the phone and struggle to provide full coverage.
I really don't think I'd mind a flat-edged Galaxy S9 variant, like we saw last year with the Galaxy S8 Active. Sure, last year's Active model wasn't quite as pretty as the standard Galaxy S8, but it was still a handsome phone, and in exchange for the flat display, we got a much larger battery — the S8 Active carried a whopping 4000mah cell, and the difference in longevity was definitely noticeable.
Curved displays aren't all bad, though. Sit the Galaxy S8 next to the S8 Active, and you'll notice that the latter is bigger in every dimension than the standard model, despite both phones having a 5.8-inch display. Curved glass allows the display to wrap around the sides, making the phone significantly easier to hold and use one-handed.
It also just looks and feels great. There's nothing quite like running your finger across the curved edge of your phone, whether you're accessing Apps Edge or swiping in from a menu panel in the Google Play Store. And who doesn't love the look of a glowing edge when you receive notifications with the screen face-down?
Even four iterations into the Edge design, however, Samsung still hasn't given many practical uses for the curved glass from a software perspective. Apps Edge is nice, but most users end up disabling it after a few days. Likewise, the ticker-style widgets that scroll through an edge of the display can be handy, but ultimately feel a bit limited.
Still, maybe a curved display doesn't need software tricks, and allowing for a narrower chassis is useful enough. Any improvement to a phone's usability is a plus, after all. I'm personally pretty indifferent towards curved displays. I don't specifically hold out for them in a phone, but they're certainly a nice aesthetic touch and I do love that they make phones a bit more narrow. Still, it's always a bit of a relief when I go back to flat-edged phones, mostly because I like to use glass screen protectors when to prevent scratching.
What's your take on curved displays? Does a flat Galaxy S9 sound up your alley, or are you happy with the curves on your S9 as it is? Let us know in the comments below!
Get the Android Central Newsletter
Instant access to breaking news, the hottest reviews, great deals and helpful tips.
Hayato was a product reviewer and video editor for Android Central.