Galaxy S8's Snapchat-like filters are the perfect tool for Instagram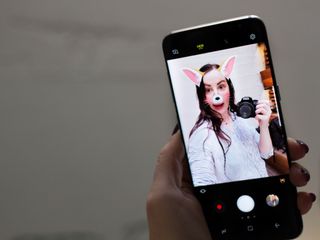 I see you: the Snapchat naysayers with the app icon secretly stashed at the back of the Home screen. You know you give yourself away if you post a filtered selfie to Instagram Stories, right?
Perhaps you should consider the Galaxy S8 as your next smartphone. It comes chock full of Snapchat-like filters already baked into the phone's native camera app, and they're just as much of a delight to use as the ones they imitate. Their inclusion is also a nice compromise for anyone who loves the idea of silly augmented reality camera effects but doesn't want to deal with Snapchat's often sluggish Android app.
Like the real thing
I had a chance to play around with the Galaxy S8's filter effects at a media briefing a few weeks back. They looked high definition in the view finder and seemed more responsive to subtle body movements, at least compared to my experience with Snapchat. Samsung's inherent facial recognition feature is likely the reason for why tracking felt so fast. Unfortunately, I didn't have a chance to test the effects with another person in the picture.
The Galaxy S8's built-in filters will be especially beneficial for Instagram users who don't typically have access to augmented reality effects for their Stories. They won't have to maintain a dual app life, either, and have to switch between using Snapchat, saving and exporting to the camera roll, and then importing back into Instagram. It's easier to do it all with the default camera app, which is also more user-friendly.
Interestingly, Snapchat users won't be reaping many benefits from the built-in filter effects on the Galaxy S8. Any photos or videos that are not produced with the Snapchat app fail to translate. The app has an extremely clunky import mechanism, likely to discourage others from using other apps, and thus, any media imported through the camera roll is published with an accosting white border around it.
Will the kids like it?
Snapchat has this reputation — and rightfully so — of being the young millennials app, which is why this feels like such an obvious ploy for the youths. But this could also turn out to be one of Samsung's smartest marketing ploys, particularly if the filters take off worldwide and the people using them are prolific on social media.
If the filters included with the Galaxy S8 were specially designed for Samsung's devices, that means that anyone posting content made with those filters is representing Samsung, in some capacity. It's in the same vein as Snapchat's puppy dog filter; when people see someone posting a picture with the puppy dog filter, they immediately associate with the Snapchat app.
If this sort of thing catches on as a mainstream camera effect, much like how Instagram-like vintage photo filters are now bundled into most default camera apps, perhaps we should all look forward to a future abundant in augmented reality photo effects.
Be an expert in 5 minutes
Get the latest news from Android Central, your trusted companion in the world of Android
Florence Ion was formerly an editor and columnist at Android Central. She writes about Android-powered devices of all types and explores their usefulness in her everyday life. You can follow her on Twitter or watch her Tuesday nights on All About Android.