The Galaxy S8's new 'Infinity Wallpapers' are awesome — here's how they work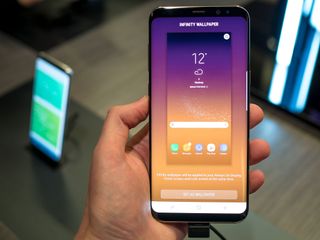 In the various online leaks leading up to the Samsung Galaxy S8 announcement, we got to see glimpses of the phone's new lock screen, home screen and always-on display, and it always seemed like there was something new going on with the way the GS8 handled the interaction between these three screens. Android has had animated home screens and lock screens for years, thanks to the Live Wallpapers feature, but the GS8 takes this a step further with its new Infinity Wallpapers.
And they're actually pretty neat.
Infinity Wallpapers live in the Samsung Themes app, and they package three different live wallpapers together as one — for the Always-On Display, lock screen and home screen — with smooth transitions between each three levels.
Raise a sleeping Galaxy S8 and you'll see the Always-On Display wallpaper, which is usually pretty barebones. In most cases this is a simple pixelated star field with some kind of colored glow in the background. Press the virtual home button and a swooping 3D effect will transition you to a geometric pattern surrounding the GS8's neat clock widget, and any notifications that might be waiting for you. Then unlock the phone -— by swiping, using the fingerprint scanner, or scanning your irises — and you're catapulted into a cleaner colored gradient, with the same animated star field in the background.
There's a dozen or so different Infinity Wallpapers loaded on the Galaxy S8 out of the box, with more likely to be accessible via the Samsung Themes portal in future. The company has largely shied away from animated wallpapers in the past, and these new Infinity Wallpapers add a futuristic sheen to what's already a very forward-looking handset.
Alex is global Executive Editor for Android Central, and is usually found in the UK. He has been blogging since before it was called that, and currently most of his time is spent leading video for AC, which involves pointing a camera at phones and speaking words at a microphone. He would just love to hear your thoughts at alex@androidcentral.com, or on the social things at @alexdobie.
That's pretty cool. Ill have to try to use stock UI for a few days before Nova Prime treatment.

I wonder if this feature will be a battery drainer.

You might want to wait like you said Samsung new UI is miles better then before to the point where I don't muck with it much

That video didn't impress me one bit tho

Ah but it impressed you enough to tell us it didn't impress you.

I was unimpressed I had to comment on it.

No you didn't?? It not required

then us didnt have to reply to him either. its not required.
its a comments section and people can post their opinion.
its u who didnt like his opinion need to stop trolling

seriously!! you could have come up with a better punch line than that. thats one fail reply

Curious if ram management will be any better than the S7. My Edge is constantly around 1.2GB remaining with only WhatsApp and Messaging running in the background.

It should have less available ram. That's how Android is supposed to work. It's not Windows. It's not iOS.

Unused RAM is "Available RAM for next app to be launched"

Even though I like Samsung's Galaxy and Note, this might push my boundary in Australia. Around about $1200 and 1400 respectively. I think I might never settle. Midnight Black sounds nice.

Alright, I want this phone.

Looks pretty neat, but I'm trying to figure out how this is different from the Live Earth wallpapers on the Pixel. Does it work differently?

Haven't we got better things to use our batteries for than advertising Samsung phones?

can't wait for AC to review it

Meh....got my s7 in decembre, i'm not gonna go buy this one.. Really nice phone, but not for me

Looking at this phone and going back to the early days of the GS3 you can clearly see how much Samsung has evolved. Just amazing!

We praise Samsung for this stupid crap when they put the fingerprint sensor and navigation buttons in the wrong spot while the clock is in the wrong orientation.

Huh ...??? All of that can be changed....are you new to this whole smart phone thing. And finger scanner who cares face scanner is actully faster . Flip phone for you sir

do you remember Nova Launcher?

I like the s8+ but I wish it ran stock Android. Updates make me less likely to switch to a Samsung or LG device. They looks really nice though.

stopped at Best Buy tonight and now I am not so sure I want to wait to see when a Note arrives, the S8+ is gorgeous and I was surprised that it felt so heavy in my hand but that isn't a bad thing
Android Central Newsletter
Get the best of Android Central in in your inbox, every day!
Thank you for signing up to Android Central. You will receive a verification email shortly.
There was a problem. Please refresh the page and try again.