Here's what the Galaxy S8's 5100mAh power bank accessory will look like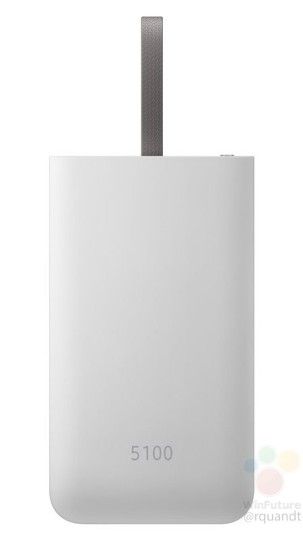 It's springtime (for some of us) and just as the flowers are blooming and the bees are buzzing through the meadows, so is Samsung preparing itself for its big flagship release later next month.
Practically everything about the Galaxy S8 and Galaxy S8+ seems to have been revealed, but of course, we won't know if that's the case until an official announcement from Samsung. For now, we can speculate on the smartphone and what its accessories might look like, especially considering the company will have to ostensibly refresh its accessory lineup to work with the Galaxy S8.
Samsung might sell this curvy, oblong-looking battery pack along with the Galaxy S8. It's a 5100 mAh battery pack with 15W Fast Charging and USB Type-C compatibility. According to the source, it may come in Samsung's signature gray and blue aesthetic, and it may retail for €60. The new accessory lineup may also include a few new cases and screen protectors, too.
We'll know more after Samsung officially announces the Galaxy S8 on March 29.
Florence Ion was formerly an editor and columnist at Android Central. She writes about Android-powered devices of all types and explores their usefulness in her everyday life. You can follow her on Twitter or watch her Tuesday nights on All About Android.
Gift with pre-order? 60€ seems like a lot for a 5100 mAh power bank..

Samsung's power banks have always been very expensive for their capacity. In turn, they're at least extremely well made and usually nicely match/pair with Samsung's phones and cables.

That's what I've noticed they definetely have a nice aesthetic!

Agreed on the expensive part. But man do they provide a fast charge (got one for free with my Note5).

I would not mind if this is given free with each phone, similar to last year with a VR.

If it also can wireless charge the phone then I'd be down

You're better off getting a 22000mAh for just $35 Battery Pack RAVPower Portable Charger 22000mAh 5.8A Output 3-Port Power Bank (2.4A Input, Triple iSmart 2.0 USB Ports, Li-polymer Battery) Portable Battery Charger For Smartphones Tablets - Black https://www.amazon.com/dp/B01G1XH46M/ref=cm_sw_r_cp_apa_VmB0ybAAEDPXX?ta...

Likely doesn't charge as fast as this pack would. Whether that matters more is up to the user.

Personal opinion. I prefer the slim and more pocket friendly samsung. I own a large power bank, rarely use it, prefer the Samsung one I got with my Note 5.

if USB-C is not needed...

Huh? As long as you have a USB-A to USB-C chord its fine. Not sure I understand your point here.

what I meant was - this does not have built-in USB-C support, so it may not have the needed fail-safe mechanism. Also, it will need another accessory to use it (and pay for).

If it had a replaceable battery like they used to have then this accessory wouldn't need to exist.

Yes, exactly! Make no mistake, this is a calculated move. Their alibi is premium materials. But in reality, it's for consumers to have no choice but to buy a new phone every 2 yrs bc the battery is failing.
Companies love throttlejohny

I have a 3 year old back up phone, and the battery isn't failing. Try again

How big is the internal battery?

Does it really matter? It could be 10000mah, about a yr in, the battery will start charging at a maximum capacity of 75%. And it's downhill from there

That makes capacity matter more.

Lol point taken. I'm really pissed that removable batteries are going to the wayside

If more people actually bought and used extra batteries, they wouldn't.

That's a gross exaggeration, unless you fully deplete and charge your phones twice a day.

Go anker. High capacity and cheap price

Pretty stupid for 60$ it's retarted on the price tag.

My 21000 2200 or whatever RAVPower cost 59.99 last year and it has USb TYpe C Quick charge 2 and 3 and a 2.4va so umm yea no way jose rivera

I prefer the cases with battery included, like the backpack for the S7, but more capacity...

I'll stick with the 5100 battery that comes as standard in my lenovo p2. 3 days with cellular WiFi and Bluetooth always on, Samsung 5. 5 super amoled screen, and the 500 quid plus price difference in my pocket.

doens't bode well for battery life if they felt the need to make this.

Every year they make accessory battery packs. They are quite well made and designed to be carried without the bulk and weight of the cheaper common variety found online.

YOU SHOULD HAVE PUT IT IN THE PHOOOOOONE!!!!!!! GAAHHHHHHH IT'S THIN ENOUGH
Android Central Newsletter
Thank you for signing up to Android Central. You will receive a verification email shortly.
There was a problem. Please refresh the page and try again.