Here's what the Galaxy S8's 5100mAh power bank accessory will look like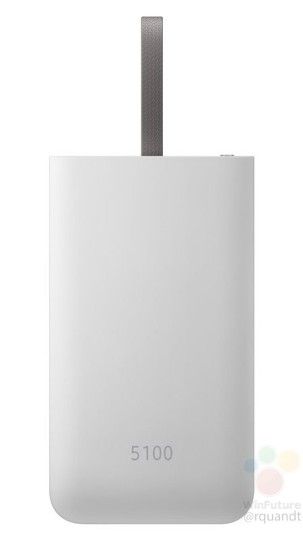 It's springtime (for some of us) and just as the flowers are blooming and the bees are buzzing through the meadows, so is Samsung preparing itself for its big flagship release later next month.
Practically everything about the Galaxy S8 and Galaxy S8+ seems to have been revealed, but of course, we won't know if that's the case until an official announcement from Samsung. For now, we can speculate on the smartphone and what its accessories might look like, especially considering the company will have to ostensibly refresh its accessory lineup to work with the Galaxy S8.
Samsung might sell this curvy, oblong-looking battery pack along with the Galaxy S8. It's a 5100 mAh battery pack with 15W Fast Charging and USB Type-C compatibility. According to the source, it may come in Samsung's signature gray and blue aesthetic, and it may retail for €60. The new accessory lineup may also include a few new cases and screen protectors, too.
We'll know more after Samsung officially announces the Galaxy S8 on March 29.
Be an expert in 5 minutes
Get the latest news from Android Central, your trusted companion in the world of Android
Florence Ion was formerly an editor and columnist at Android Central. She writes about Android-powered devices of all types and explores their usefulness in her everyday life. You can follow her on Twitter or watch her Tuesday nights on All About Android.