Galaxy S8 Plus: 3,500mAh battery from larger model pictured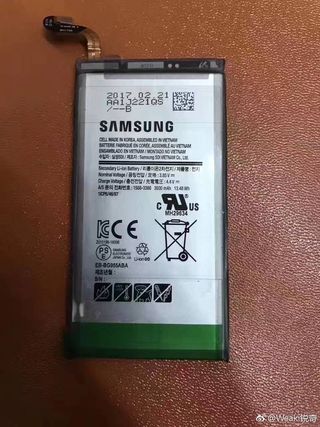 After the Galaxy Note 7's battery-related woes, there's been understandable interest in the cells used in Samsung's upcoming Galaxy S8 series. Recent rumors have pegged the Galaxy S8 and S8 Plus as having 3,000mAh and 3,500mAh cells respectively, in what would be a small reduction in battery capacity compared to the GS7 edge. And now it appears there's photographic evidence to back up these claims.
The image above was retrieved from Chinese social network Weibo by SamMobile, and it reveals a few crucial details:
The part number, EB-BG955ABA, is consistent with the expected model number of SM-G955 for the larger GS8.
The battery is manufactured by Samsung SDI in Vietnam.
The manufacturing date is marked as February 21, just over a week before the GS8 was reported to have entered mass production.
Its capacity is clearly marked as 3,500mAh.
There has been speculation that Samsung is playing it safe with a smaller battery — both in terms of size and capacity — after the Note 7 debacle, which would be understandable. On the face of it, a 3,500mAh cell seems a little on the small side for a 6.2-inch phone, but given the new taller 18.5:9 aspect ratio being used, the screen area of the GS8 Plus should be more in line with a 5.7- or 5.8-incher. It's also worth noting that the GS8 is expected to use new CPUs built on a 10nm process, which should offer greater efficiency than previous designs. The GS8's new RBG SuperAMOLED display is expected to offer power savings too, compared to earlier panels.
Ultimately, numbers can only tell us so much about capacity — we'll need to wait until we have the GS8 our hands sometime in April before we'll know how its battery life measures up.
Get the Android Central Newsletter
Instant access to breaking news, the hottest reviews, great deals and helpful tips.
Alex was with Android Central for over a decade, producing written and video content for the site, and served as global Executive Editor from 2016 to 2022.
Ahaa. So full production started end of February. I always wanted to know the timescale of a big release.
Must be hard to keep it under wraps. Thanks for the article.

Very interesting these days as so much is leaked we can only wait for the true user experience to be sure of performance as we speculate and assume so much. I am really curious about the S8 Plus. With a case no bigger in hand than an iphone7plus but such a great screen. Very curious indeed. But I must be patient to see what the Note 8 brings. Im not concerned about battery capacity as much as internal storage and price.

I wish that they'd put in a slightly bigger one.
Maybe this will be like the S6/S7 where they put out a slightly gimped one first then release the decent one later.

Well, 3500mAh is quite a good number for its relative size. But that larger screen is going to be a little bit of a worry, unless that new display and processor is efficient enough to offset that extra power draw.

If the new 835 chip is slightly more efficient , even having bigger screens it should be at least very close to the S7 variants in power use , if it's even "as good " I'd be happy with that .

3500mAh on a 6.2 inch display? 10nm CPU isn't going to help that. I find my S7 edge battery life just passable and won't go down from there.

My S7 Edge battery was awesome until android N installation. Though N is great. I have to say I would rather the battery life i had with marshmallow over any of the perceived advantages of the update. Though the android community loves the updates, I was I no hurry as my phone worked fantastically flawlessly before. I do understand though with non Samsung Android phones an OS upgrade makes much more sense with the features that it would bring to a phone that did not already have them.

I'm also extremely frustrated with the battery life of the edge with N. I love the N functionality though. But the fact that a phone with a large battery and smaller screen can't make it through the day didn't make me feel all that positive about the S8+

I will clear the cache again. I was not actually surprised at the decline in battery efficiency due to the N update for this very reason I have always held off on OS updates. I never had lag before and I don't have it now on this device however the battery life loss is very noticeable. I was able to use the phone for hours in the morning and evening during commute for video work and games now I have to be cautious I am still tuning using Android N where as I did not have to do any of this before to still have 10% the next morning (even with all radios on like wifi/Bluetooth and nfc). Now I'm now I'm dead by the end of the day.

There are some good battery savers on the Play store , it might be worth giving one a try ?

Yeah, N killed my battery life. Maybe 7.1 will help if they ever actually release it.

The official N update does have less battery life. The funny thing is the beta 1 nougat update increased battery life making my s7 edge standby in the 24-30hr range. The official has decreased my battery life around 15%

Would be nice to have a "settings" tutorial by an N expert to replicate those settings/ defaults that were that efficient because I'm not enjoying the decrease.

If I was buying it I'd be happy especially with the Snapdragon 835 it has to be much better.

The 3500 amp battery my s7 edge has been a beast no complaining here . And in most battery draining text it's always the top 2 still running in the end . So I think I'll be ok . The 835 should be more efficient

It's 3600 mAh, not 3500 amps. That would get some pretty good battery life, though. Probably last for years.

Sign me up for the black S8+ with a speck candy 🐚 case and I'll be a happy camper. From the looks of the gold gs8 leak, I'm steering clear of any colorful models this year.

You might want to wait until you see them in the flesh . These stupid photos don't do these phones Justice. Youll change you mind I'll bet when they actually drop

I'M even more concerned with the regular S8 powering a 5.8" screen with a 3000mah battery. That seems really low considering the 5.1" screened S7 has the exact same size battery.

I wouldn't worry about it. I have the HTC U Ultra, which has a 3000mah battery and I average about 14 to 16 hours. The 835 will be even more efficient.

SMALLER BATTERIES IN 2017??????????????????????????????????

More efficient chip !!!!!!!!!!!!!!!!!!!!!!!!!!!!!!!!!!!!!!!!!!!!!!

Come on Samsung! Put a 4000mah battery in there.

Sad sad, my htc 10 i find lacking in battery with its 3000 mah and brightness half way with minimal features on only manages 3-4 hours sot max, my pixel xl gets about 6 with its 3450 mah and 5.5 inch screen

By the same token the s7 edge gets better battery life then your pixel . With 3500 amps

So the S8, which has a bigger screen than the S7 Edge has a smaller battery? But the processor is smaller right? So why not keep the larger battery and make everyone happy? I'm so tired of manufacturers reducing battery capacity and touting efficiency gains when they should be increasing battery life while keeping the same size battery. Sure, quick charge is nice- but having to carry a charger isn't practical. I can only imagine how the S8 would of lasted with a 3600mah battery and "efficiency gains".

yep. every time they improve power efficiency, they add extra hardware and software to drain extra power out of the same battery or at times slimmed one.
as if their goal is not to give you more comfort in using all of their "amazing" features - 10 k recording, 20 k displays, VR, etc.

Yeah that dance they do with battery capacity and hardware specification. Aside from a large screen it is usually poorly written software that gives us the worst hit on our devices. As energy density increases you'll see battery capacity numbers shrink but actual life increase.

WIll the Galaxy Folder 2 be upgraded to Nougat

so s7 edge battery is already terrible, now the bigger screen will have an even smaller battery?