Galaxy S8 gets red screen fix in the UK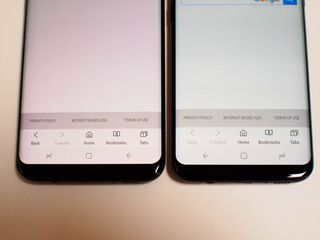 After Canada and the U.S., Samsung's "fix" for the red screen tint issue affecting some Galaxy S8 owners is now rolling out to unlocked handsets in the UK. The update to software version G950FOXM1AQDG and G955FOXM1AQDG, for the S8 and S8+ respectively, started rolling out on unlocked S8 models this morning. The update weighs in at 426MB, so it's likely Samsung has bundled other minor fixes into the OTA.
According to Samsung's official changelog, the update brings "improved color optimization and convenient color adjustment" — which translates to a fix for whatever was causing some S8 displays to show a reddish hue, and an easier way to tweak the overall color balance in the Display Settings menu.
For what it's worth, the Android security patch level remains unchanged on 1 April 2017 — no sign of that May security patch yet.
And it's worth remembering that carrier-branded Galaxy S8 phones will likely lag behind today's unlocked rollout by a few days or weeks.
Alex was with Android Central for over a decade, producing written and video content for the site, and served as global Executive Editor from 2016 to 2022.
Yep got it and it's still not 100%. The cinema and photo options are still a horrible red. Adjusting the new settings just makes it look more of a bluish tint. Samsung's sending a new one out today and give my old one back. If it's still the same it's going back for refund.

Got my update a week ago (right after I initially set up the phone), ironically its an EE branded device so super surprised to have received this so soon! Long may timely updates live on EE!!!

I'm on my 3rd S8 and all had the red tint but pleased to say the update today seems to have done the trick. I was close to just getting a refund.

@stinger16 so is your cinema mode not red?

Yeah I just tried it and it is. I'm fine just keeping adaptive on . It's not ideal I suppose for and expensive phone.

@stinger16 yeah I just can't get it looking good in adaptive. The red turns to blue/green. What's your settings?

Is Samsung treating security seriously? No security patch since January or February for non carrier-branded (unlocked) S7 Phone? For Galaxy S7 unlocked phone (so the OTA update does not depend on the carrier) Samsung let his customers with no security patch for 4 or 5 months! Here the list of the last security patch released at the beginning of the month of May:
source: http://samsung-updates.com/device/?id=SM-G930F February Security Patch: TTR Austria
BSE Belgium
BGL Bulgary
ETL Czech Rep
NEE Finland
XEF France
XEG Germany
BTU IReland
NEE Iceland
NEE Norway
AUT Switzerland
BTU United Kingdom
XEU United Kingdom January Security Patch: EUR Greece
XEH Hungary
ITV Italy
PHN Netherland
XEO Poland
TPH Portugal
ROM Romania
ORX Slovakia
SIO Slovenia
PHE Spain Please upvote my thread on reddit to try to make Samsung changing is security update timeframe:
https://www.reddit.com/r/samsung/comments/68nusi/discussion_is_samsung_t...

That's carriers, not Samsung. My AT&T S8+ in the US just got the April security patch.

Finally the update I've been waiting for... I'll install and feedback
Android Central Newsletter
Thank you for signing up to Android Central. You will receive a verification email shortly.
There was a problem. Please refresh the page and try again.