Galaxy S8 expected to improve camera capabilities with 1000 fps video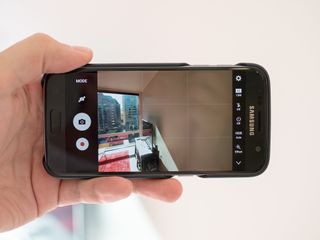 The soon-to-launch Galaxy S8 will offer ridiculously high frame rate 1000 fps slow motion video capture, according to new reports. That's over four times the frame rate of the Galaxy S7's 240 fps video, and even a hair more than Sony's upcoming Xperia XZ Premium with 960 fps.
Extra frames per second mean that you can slow down video even more, with just a few seconds of actual recording turning into a very long video of extremely slow movement. It also means there's simply more flexibility of choosing playback speed overall, with more frames giving you freedom to have smooth video across the range.
The report claims that Samsung is not using the same camera sensor as Sony to accomplish this, but is adding extra DRAM into the camera sensor itself — very neat.
In slightly more interesting territory for the selfie crowd, the report also points to an upgrade in the front-facing camera on the GS8, moving to an 8MP sensor that has auto-focus — something you don't see on most phones. Alongside it on the front of the phone will be a 3.7MP camera sensor used just for iris scanning, which is expected to be making a return after first debuting in the Galaxy Note 7.
We're less than two weeks away from the launch of the Galaxy S8 now, and these little bits of camera information just get us more excited for the announcement!
Get the Android Central Newsletter
Instant access to breaking news, the hottest reviews, great deals and helpful tips.
Andrew was an Executive Editor, U.S. at Android Central between 2012 and 2020.
Now this is something I look forward to experimenting with. High speed photographic ideas.

As a photographer I know for fact I'm getting this camera now I mean cell phone. Wow that's some serious frame rate . And if the video is gonna be this good what about the regular photos rumors say a F1.4 bey bey prime lens in my DSLR

This would be awesome...if it doesn't take 240p video to achieve it. My main 'gripe' with previous Sammy phones has been that: SloMo looks like crap because the resolution is uber-reduced/compressed.

I've shoot slowmo with my s7 at 720p looks pretty darn good and that's viewed from my desk top monitor where I do all my video and stills editing

720p is not bad... the ones before were 480p! And still, 720 is not ideal in an HD/4K world. iPhone video is clearer/crisper in Slow Motion than the Samsung ones (and no, I don't use an iPhone as my daily driver, just an observation... credit where credit is due). At 1000fps I can live with 720p, but not for 200 or 300 fps.

my mate can shoot slow mo FHD, i think V20 and G6 can also, 720P is really poor quality.

There's another thing you should note. You need a crapton of light for a 1000FPS video, because the shutter speed is so fast, the sensor won't have enough time to soak up enough light.

Well Samsung is claiming that there new processor has all the power to handle it's new camera capabilities we shall see in a couple weeks

It wouldn't surprise me. After all, it wouldn't be the first time Samsung picks up Sony's own camera hardware and beats them to the ground with it. They've been doing it since at least the S6 lol

Wasn't anticipating this, but it's fantastic news if it turns out to be true. 1000 vs 240 has so much more potential for creative shooting. I already know some hummingbirds I'll be visiting as soon as my S8+ arrives.

Haha I know right an with the rumored F1.4 stop . That's crazy can you imagine the low light capability and back ground blur for portraits . This might finally force me to try a cell phone to shot a wedding with for the first time. I'm excited

I am assuming this is at 720p? Been recording in 4k so long that 720p looks like 480p now.

1000 Frames Per Second... and 64GB of RAM for storage. Thanks, Samsung.

Lol you do know ram is not the same as hard drive space... Right?

WHAT?!? You mean the S8 won't have 64GB Ram?? :) I'm depressed now....

Hahahaha I know right damn it Samsung I wanted at least a 70 gb of ram

Don't mention bomb and Samsung in the same reference.lol

And I just dropped all these over priced phone and I bought a Kyocers Pro for $400.
I use to buy almost every phone comes out, but no more.

Its great to have choices

You can slow mo the phone blowing up!