Galaxy S8 colors: Our first look at most of the colors together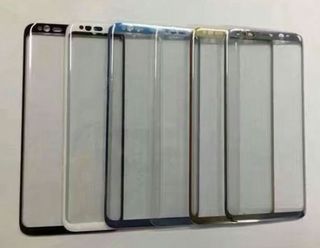 The Galaxy S8 has been leaking hot and heavy over the past week in the run-up to the phone's big reveal on March 29 in New York City.
Most of the leaks have been focused on what appears to be the Black Pearl model, which was introduced with the Note 7 and trickled down to the Galaxy S7 later on. We've also seen the gold model, which will certainly be popular in many regions.
Thanks to TechDroider on Twitter, we know have the front plates for what appears to be six distinct Galaxy S8 colors: Black Pearl, white, Blue Coral, silver, gold, and black. We've also heard that there may be pink and 'orchid' models introduced later on for specific markets.
Galaxy S8: Everything you need to know
Of course, color choice is an incredibly important decision for many people, and with the Galaxy S8 potentially expanding its lineup, it may be worth spending a bit more time on it. What color are you leaning towards?
Get the Android Central Newsletter
Instant access to breaking news, the hottest reviews, great deals and helpful tips.
Daniel Bader was a former Android Central Editor-in-Chief and Executive Editor for iMore and Windows Central.
Damn sumsung just when I had settled​ on the pearl black you drop a blue coral and a matte black love them all

I have had gold for the last three phones this next phone will be black S8 Plus

I'd be willing to bet that not all of these will be available in every country, which is unfortunate.

Well all the blacks we'll get for sure blue coral,gold and silver no doubt. My 7 edge is gold so I'll be going black

Bluuuue!! I wish they had the dark blue as an option...maybe they will 😮

You mean like the old s6 ,thought you guys hated that color when it was released

I had the Blue S6! When It was damaged, I replaced it with a Black S7.

What, no olive green??! The S6 looked great in that colour, always puzzled me why it never appeared on the S7.

Simple....It didn't sell well .....Most popular colors gold ,silver ,and black

I'll probably go black or pearl black, my guess is Verizon will only have one or the other.

Don't like the look gonna wait till this comes out and the s7 edge goes down in price

The s7 edge has dropped in price where have you been

The S7 edge price is already down. It's $2-$300 off at all major carriers right now.

Color choice is a great thing. However, this year I am less excited about color options as pearl black or matte black will be the only ones to conceal the "business" at the top of the device. Smaller bezels = less color on the front of the device. I used a clear case on my S7 edge for about 2 months before it started turning yellow. I even rinsed the case every week with water to keep it clean.

Those clear cases will always do that just buy a couple of them at a time heck there less then $10 on eBay

Hmm...perhaps. I had a Spigen Hybrid crystal clear with the silver bumper. It was $15 when I bought it late last year. When it comes to cases, I want something that comes from a reputable company, has a ton of YouTube reviews, and strong presence on Amazon.

I had the same problem so I started buying black rim with clear back. I have a vrs clearback on my S7edge. Strong and looks great. Very little bulk.

I love Spigen like the next guy but I've also purchased the cheap 8 one and guess they all yellow about the same time . Don't knock some of the knock offs some are just as good . But the clear cases will yellow no matter what you paid

Dude ,it's just plastic I wouldn't make to much of that . There all made in China somewhere

I've used a [Insert copy/paste here] Spigen Ultra Hybrid Galaxy S7 Edge Case with Air Cushion Technology and Hybrid Drop Protection for Samsung Galaxy S7 Edge 2016 - Crystal Clear going on 7 months now... No discoloration whatsoever.

You read my mind. The speaker/sensors/camera along the top may look kinda awful on anything other than black. I'm currently using a white S6 after always having black phones. I like that the white givrs a good contrast with any colour of case. I suppose black won't clash with any case colours either.

With how leaked this phone has been, I wonder how soon after launch it's going to be released. I remember the HTC One M8 was also extensively leaked because it was available for purchase that same day.

Hopefully the white version comes out in the US. Loved my white s6 edge

I'm surprised they didn't have a red Variant

Pretty sure US carriers will decide to carry only black and platinum silver. Because they know what's best for consumers.

Yes they do cause they have the data to back it up . Two best sellers gold and silver next was the black those are the facts reason why they dropped the white slow seller. Sure we want all the the colors in the rainbow but most crazy colors don't sell . Notice all the white and gray cars on the new car lots .....

White is a slow seller? Yeah ok lol

Yes I talked to a Samsung reap back when the s7 was just released and asked about the white . He's answer..It was a slow mover same difference

Fair enough but I see a ton of white phones, especially females.

Gold sells like, well, gold. And the Blue Coral S7 Edge/Note 7 did splendidly well, so... Unfortunately, at launch, not sure we'll have all options. But I REALLY hope blue coral will be one of them.

I would have really liked to have seen a some kind of red color but I guess I'll do a black pearl and Put) a skin on it :/

I was hoping for red, too. There was a rumor waaaaay back before all the leaks that they might offer that as a launch color. Guess they were dead wrong :(

No red :(
(No rumored Violet either...that's good haha)

I think they should make a rose gold are pink for the ladies apple sells a ton of that color guess we'll know in Two weeks

Glad to see coral blue made the cut. I still miss my coral blue Note 7.

I can't make most of those colours out really. I just want a dark grey or matt black.