Galaxy S7 or Galaxy S7 edge — which should you buy?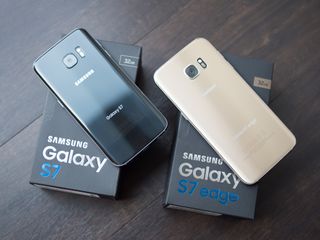 You can't turn on a television, visit a web page or take two steps outside your home without running into the Samsung Marketing Machine. It's in full effect now that the Galaxy S7 and Galaxy S7 edge are upon us. And if you've been paying attention, you'll note that Samsung is pushing one phone more than another — that'd be the Galaxy S7 edge. That's not unexpected, and Samsung's been pretty transparent about which phone it truly sees as the more important model.
But let us not forget about the Galaxy S7. It's a very capable phone, and there are number of reasons why you might chose it over the edge. Let's discuss which one is right for you.
If price is a factor: Galaxy S7
There is a price difference between the Galaxy S7 and Galaxy S7 edge when you're buying it from the U.S. carriers. On average, the Galaxy S7 edge is about $100 more. But you do get more phone for that extra money. You get a bigger screen. You get a higher-capacity battery. And you get the "edge" display. (More on all that below.)
An extra $100 isn't a huge difference in the scheme of things, but it's something to keep in mind. Here's how things break down by the four U.S. carriers.
Swipe to scroll horizontally
| Category | GS7 | GS7 edge |
| --- | --- | --- |
| AT&T | $695 ($23/month) | $795 ($27/month) |
| Sprint | $650 ($26/month) | $749 ($31/month) |
| T-Mobile | $669 ($28/month | $779 ($30/month + $59 down) |
| Verizon | $672 ($28/month) | $792 ($33/month) |
Where to buy Galaxy S7/edge in the U.S.
Where to buy Galaxy S7 in Canada
Where to buy Galaxy S7 in the UK
If you just want a phone with as few gimmicks as necessary: Galaxy S7
There's sort of no such thing as a "basic" smartphone these days, especially when it comes to Samsung. But the Galaxy S7 edge brings a little extra to the table in its "edge" display. That curved section is a must-have feature for a lot of folks. And you don't have to use it if you don't want it.
But if you don't want to deal with curved glass and one more extra software feature, then you'll want to stick to the GS7. And there's something to be said for simplicity, especially since smartphones (and Samsung's in particular) come with so many features out of the box.
That's not to say that the GS7 edge is overloaded with features any more than the GS7 proper is. It's just that the edge model has one (OK, two) extra features beyond the other model.
If you need as much battery as possible: Galaxy S7 edge
This one comes down to some pretty basic math. The Galaxy S7 has a 3,000 mAh battery. The Galaxy S7 edge has a 3,600 mAh battery. That's 20 percent more, which isn't a whole lot. But it's not nothing, either. And that's more important since the GS7 doesn't have a removable battery. You're going to have to recharge at some point, the question more a matter of when.
What's that difference mean in real-world use? Depends on how hard you're pushing your phone. Maybe a couple more hours or so. But either way the GS7 edge should last longer.
We haven't exactly been over the moon for the battery life on either one of these phones. "Adequate" is the word that comes to time. And while 3,600 mAh in the GS7 edge sounds like a lot of capacity (and in most cases it is), it's not magic. Here's how we put things in our Galaxy S7 edge review:
It's good. Not great.
If you need more storage: Either one
This one's a push. Samsung is only offering the GS7 and GS7 edge with 32 gigabytes of on-board storage. You'll actually be able to use only about 20GB of that, though, because of the way storage is measured, and because the operating system takes up a good bit of space.
To that end, Samsung has brought back the SD card. You can add up to 200 gigabytes more storage for things like pictures and movies and music and what not. You also can move apps to the SD card, if you want. Not every app will move — and Samsung isn't using the new Adoptable Storage feature for SD cards. But it's definitely better than nothing, and should be fine for most folks.
More: Best SD cards for the Galaxy S7
If you want a smaller phone: Galaxy S7
There's a pretty stark difference in size between the two phones. The Galaxy S7 display comes in at 5.1 inches diagonally. The GS7 edge is 5.5 inches. The GS7 also is about three-tenths of an inch shorter.
Size is one thing, and you definitely can tell the difference between the two phones when you're holding them. But perhaps the bigger change is due to the curved display on the GS7 edge. It's a good bit thinner at the edges than the GS7. And for that reason we've found it to be a little harder to hold onto.
And for the reasons we detailed above, there's just some more simple about the GS7 vs. the edge.
The bottom line ...
Look, you can't really go wrong with either one here. Both the Samsung Galaxy S7 and GS7 edge are really good Android smartphones in a sea of good high-end models. And in many ways, the two phones are pretty much identical. As a refresher, here's how the Galaxy S7 edge differs:
Larger, 5.5-inch display.
Larger battery, at 3,600 mAh.
The "edge" display, which adds more features along the side of the screen.
About $100 more expensive.
It also differs in that it's getting more attention from Samsung. And to be fair, it's the better phone in some respects. A good bit of this is going to be subjective, though. Want a smaller phone? Get the GS7. Want to save a little money? Get the GS7.
Want a damn good phone in any event? Get either one.
Get the Android Central Newsletter
Instant access to breaking news, the hottest reviews, great deals and helpful tips.