Galaxy S7 or Galaxy S7 edge — which should you buy?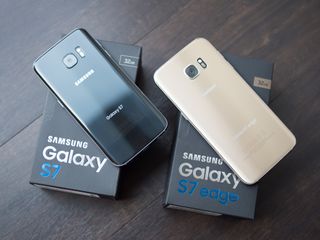 You can't turn on a television, visit a web page or take two steps outside your home without running into the Samsung Marketing Machine. It's in full effect now that the Galaxy S7 and Galaxy S7 edge are upon us. And if you've been paying attention, you'll note that Samsung is pushing one phone more than another — that'd be the Galaxy S7 edge. That's not unexpected, and Samsung's been pretty transparent about which phone it truly sees as the more important model.
But let us not forget about the Galaxy S7. It's a very capable phone, and there are number of reasons why you might chose it over the edge. Let's discuss which one is right for you.
If price is a factor: Galaxy S7
There is a price difference between the Galaxy S7 and Galaxy S7 edge when you're buying it from the U.S. carriers. On average, the Galaxy S7 edge is about $100 more. But you do get more phone for that extra money. You get a bigger screen. You get a higher-capacity battery. And you get the "edge" display. (More on all that below.)
An extra $100 isn't a huge difference in the scheme of things, but it's something to keep in mind. Here's how things break down by the four U.S. carriers.
Swipe to scroll horizontally
| Category | GS7 | GS7 edge |
| --- | --- | --- |
| AT&T | $695 ($23/month) | $795 ($27/month) |
| Sprint | $650 ($26/month) | $749 ($31/month) |
| T-Mobile | $669 ($28/month | $779 ($30/month + $59 down) |
| Verizon | $672 ($28/month) | $792 ($33/month) |
Where to buy Galaxy S7/edge in the U.S.
Where to buy Galaxy S7 in Canada
Where to buy Galaxy S7 in the UK
If you just want a phone with as few gimmicks as necessary: Galaxy S7
There's sort of no such thing as a "basic" smartphone these days, especially when it comes to Samsung. But the Galaxy S7 edge brings a little extra to the table in its "edge" display. That curved section is a must-have feature for a lot of folks. And you don't have to use it if you don't want it.
But if you don't want to deal with curved glass and one more extra software feature, then you'll want to stick to the GS7. And there's something to be said for simplicity, especially since smartphones (and Samsung's in particular) come with so many features out of the box.
That's not to say that the GS7 edge is overloaded with features any more than the GS7 proper is. It's just that the edge model has one (OK, two) extra features beyond the other model.
If you need as much battery as possible: Galaxy S7 edge
This one comes down to some pretty basic math. The Galaxy S7 has a 3,000 mAh battery. The Galaxy S7 edge has a 3,600 mAh battery. That's 20 percent more, which isn't a whole lot. But it's not nothing, either. And that's more important since the GS7 doesn't have a removable battery. You're going to have to recharge at some point, the question more a matter of when.
What's that difference mean in real-world use? Depends on how hard you're pushing your phone. Maybe a couple more hours or so. But either way the GS7 edge should last longer.
We haven't exactly been over the moon for the battery life on either one of these phones. "Adequate" is the word that comes to time. And while 3,600 mAh in the GS7 edge sounds like a lot of capacity (and in most cases it is), it's not magic. Here's how we put things in our Galaxy S7 edge review:
It's good. Not great.
If you need more storage: Either one
This one's a push. Samsung is only offering the GS7 and GS7 edge with 32 gigabytes of on-board storage. You'll actually be able to use only about 20GB of that, though, because of the way storage is measured, and because the operating system takes up a good bit of space.
To that end, Samsung has brought back the SD card. You can add up to 200 gigabytes more storage for things like pictures and movies and music and what not. You also can move apps to the SD card, if you want. Not every app will move — and Samsung isn't using the new Adoptable Storage feature for SD cards. But it's definitely better than nothing, and should be fine for most folks.
More: Best SD cards for the Galaxy S7
If you want a smaller phone: Galaxy S7
There's a pretty stark difference in size between the two phones. The Galaxy S7 display comes in at 5.1 inches diagonally. The GS7 edge is 5.5 inches. The GS7 also is about three-tenths of an inch shorter.
Size is one thing, and you definitely can tell the difference between the two phones when you're holding them. But perhaps the bigger change is due to the curved display on the GS7 edge. It's a good bit thinner at the edges than the GS7. And for that reason we've found it to be a little harder to hold onto.
And for the reasons we detailed above, there's just some more simple about the GS7 vs. the edge.
The bottom line ...
Look, you can't really go wrong with either one here. Both the Samsung Galaxy S7 and GS7 edge are really good Android smartphones in a sea of good high-end models. And in many ways, the two phones are pretty much identical. As a refresher, here's how the Galaxy S7 edge differs:
Larger, 5.5-inch display.
Larger battery, at 3,600 mAh.
The "edge" display, which adds more features along the side of the screen.
About $100 more expensive.
It also differs in that it's getting more attention from Samsung. And to be fair, it's the better phone in some respects. A good bit of this is going to be subjective, though. Want a smaller phone? Get the GS7. Want to save a little money? Get the GS7.
Want a damn good phone in any event? Get either one.
Android Central Newsletter
Get instant access to breaking news, the hottest reviews, great deals and helpful tips
Edge forever. Posted via the Android Central App

Agreed...he's an amazing guitar player ;)

*Wrestler Google Nexus 6P

*it's...
*browser...
*not very good

Lol Posted via the Android Central App

Hardware will not be the differentiator anymore. Startups like NextBit Robin and CREO from India are
the ones that will push the envelope and give us the next wave of innovation in smartphones.You should really check out this video https://www.youtube.com/watch?v=Dtorq_BTchA&utm_source=empmarket&utm_med...

I switch from iPhone 6 plus to S7 on Monday love it.. love the size would never go back to a bigger screen. Love the freedom on Android BTW Posted via the Android Central App

Regular s7 for two reasons. Size and edge screen was a mis-touch nightmare for me on the s6 edge and s6 edge+ (returned both) so not taking a chance with the new one, plus, again, prefer the smaller size.

My buddy got the edge and it's plagued by SD card errors. I'm thinking it's a hardware defect because a quick search shows he's not alone. Posted via Material AC app running smores.

Could be. I've had 0 issues with the card reading. Sounds like the issue I had with the Priv that a software update fixed. Posted via the Android Central App

Hopefully that's what it is. I told him it very well could be a software issue, he's not very tech savvy and is frustrated wanting to return it to Verizon. Posted via the Android Central App

If he's not saavy and considering VZW track record of updates, I would return it immediately Posted via the Android Central App

I normally go for bigger screens, but the s7 seems to be the perfect size. Posted via the Android Central App

That's the big reason I'm on the GS7 proper. Smaller size is just about a perfect fit for me.

I'm the same way Citizens 4 Constitutional Freedom

Every time I switch back to S7, keep coming back to the edge then back to S7. I'm stuck in an endless loop :( Posted via the Android Central App

That's hilarious Citizens 4 Constitutional Freedom

Albeit, not a terrible loop to be caught in eh?

Edge for me. Screen size main factor. The curve edge makes for easier for gripping. Posted via the Android Central App

For someone looking for a phone comfortable to hold around the 5'1 screen size with a battery that will last all day long then you will love the S7. I would say the S7 Edge is more for someone coming from a note 4 or switching from IPhone 6 plus. The battery is even bigger and the edge screen features are better than ever before. Posted via Samsung's beast S7

I just gave up my Note 4 yesterday & ended up buying the S7. Had my heart set on the S7 Edge until I actually got to the store & used both phones. To me, the regular S7 felt better to me; & I have larger size hands! My biggest decision was color (Gold)! Posted via the Android Central App

I'm planning to get the S7 Edge because I like the big display of my note 4, why you went down on the screen size?

This article is pointless. The Edge wins this easily.

This article is awesome!!!! Citizens 4 Constitutional Freedom

Id advise going and check them both out physically before purchasing. I personally went with the edge for the larger battery. So far it's an incredible phone. Posted via the Android Central App

Absolutely you should do that! With any phone. :)

And I would like to add that you want to be sure you check out the version for your carrier. That's probably not so bad if you're at the carrier store, but if you're in a place like Best Buy they have an unbranded version out on display. Just watch out because that unbranded version will not give you a picture of what changes the carrier has made, and it can go a lot deeper than just a different set of preloaded apps.

I purchased the s7. Price difference was small but I've never needed an "edge" before (pun intended) so I didn't feel I needed it now. My boss has one and she's loves it but I didn't feel like it was necessary when I played with it. If there was a pixel difference or software or major battery difference I could understand but 5 days in I love my non edge S7. To see such a beautiful display on a easy to handle phone is amazing Posted via the Android Central App

There is a major battery difference, though... From what I've read, the S7 has average or slightly above average battery life, while the edge has incredible battery life. I get 6.5 hrs of SOT everyday. Posted via Galaxy S7 edge

There's a 600mah difference, I wouldn't call that major. It even says so on this very article. If it was 1000 then I'd have felt compelled. My previous phone had 3000. I'm good. Still gets me through the day Posted via the Android Central App

it's not that much, it only takes 10 minutes more to charge fully that the regular s7, and in my testing of my s7 and my brothers edge, the only major difference is looks.

Love my edge, slightly longer but thinner and lighter than my BlackBerry Z30. Interesting to hear about SD card problems. I thought my card was bad but now I'm not so sure. My Spectacular Samsung Galaxy S7Edge

I went with the S7 edge because of battery life. I work 12 to 14 hours a day so the extra mah's come in handy. While i thought the s6 was a great fit for my hand, i felt the screen was a little small. Don't ask why, i guess it comes from using the note 3 and 4 fur so long. So the edge seemed worth trying. Posted via the Android Central App

Neither without a commitment of fast, monthly security updates. Posted via the Android Central App

For what i have tested now with my edge,the battery is superb. From 7:30 until 23:00, 2+ hours by train doing 3 supercell games besides some news reading and messages/email. So quite heavy use. Total screen on time of that day was about 5 hours. When I put it on the charger in the evening I still had almost 20%left. That's tablet behavior for me. The shield tablet with 6.0 can't even make that. But that seems to be a bug because doze really doesn't seem to work for me (losing 30 to 40 %battery when it is idle for 7 to 8 hours) Posted via the Android Central App

Loving the s7 edge. Great battery. Great performance. Doesn't feel much bigger than the s6. Can't wait for my gear VR. When are we getting a new photo contest Posted via the Android Central App

as much as I wanted the s7.. the locked bootloader across all carriers is unfortunate.. maybe exynos variant is my only option AC@OPO

Just got my S7 Edge delivered this after noon so I haven't had much time with it. It's going to take some time to get used to. That's said, I'm typing this on my Note 4!

Unless you can't handle the larger size or the price, definitely get the edge. Posted via my LG G4

I am thinking the S7 is near enough in price to the S7 Edge that it's not as good er value, might as well get the Edge. I had a 4.5" Moto G solely for a while and small size has merits, but if it's only one device and no tablet ... you know for the extra few squidges... and it's not as big as a Note..

If you want the silver color, you'll have to get the Edge since that color is strangely not offered in the regular S7. But if your hands are small like mine, you'll want to steer clear of the Edge. It just is too difficult and uncomfortable to use if your hands are small.

I think for the hard working everyday on the go man or woman the Samsung S7 is the way to go. Citizens 4 Constitutional Freedom

Thank kripes for that. This is why I have servants who work. S7 Edge it is.

Thank kripes for that. This is why I have servants who work. S7 Edge it is.

i chose S7 Edge because of 5.5 " screen.

S7 Edge will make America great again!

Hahahahahaha I love it! Citizens 4 Constitutional Freedom

Samsung is Korean. Posted via the Android Central App

There should be a third option to this question, which is C. Neither. The price trumps all. In this day and age, there are way too many other really good options, both in 2016 and from 2015, to throw away $750 on a phone. Especially a Touchwiz phone. Posted via the Android Central App

I get that. But keep in mind people buy all sorts of expensive things when there are cheaper options. Including cars, shoes, washer and dryers, flat screen TVs ect. It's called choice, and as long as I'm choosing it, I'm not throwing anything away. Posted via the Android Central App

Edge for me. Because 3600mAh battery. And the curved edges actually make it a little narrower than other 5.5-inch devices. Couple that with the curved back and it's really not that hard to hold. I might slap a case or a skin on it, though. It's still pretty slippery.

Microsoft Surface Phone...; -}> Posted via the Android Central App

*GASP* BLASPHEMY!!! Posted via the Android Central App

When the Microsoft Surface Phone comes out it will put all other phones to shame period. ... Posted via the Android Central App

I'm surprised case availability is not an issue for anyone? I have the s6 edge and regret the lack of waterproof/dustproof cases life lifeproof or otterbox for the edge variant. Same situation now with the s7/edge. Doubt I will upgrade, but if I do, it will definitely be the s7 just for this reason. I know its waterproof already, but a case for occasions of extreme water or dust exposure is a must for me.

Anyone else having their s7 edge demanding to have the Microsd card reformatted every time the phone is rebooted and erasing all content on the card when you do?I'm posting this here because I just had to reinstall the android central app after my phone did just that.This is a big problem,it means that you have a 32Gb device period,as any stored on your expandable storage will be thrown away each time you reboot with a demand for reformatting your microsd card . I'm with verizon,I don't know if they have a hand in this or not . I've seen a few other mentions of SD storage issues.This needs to be addressed. Posted via the Android Central App

I just verified on my device that each time you power down and reboot it dismounts the SD card and does not recognize it unless you reformat and it erases the Data on the SD card.I powered down,rebooted,and checked my Google play music settings which I have set to use external storage.After rebooting that was changed to no recognized storage.So evidently, I either accept that I have a 32Gb device period or I send it back and raise hell about not paying a restocking fee for defective equipment.If you haven't powered down your device since you got it,give it a try . I'd really like to hear from some other folks on this. Posted via the Android Central App

When you reboot your device,ignore the notification shade asking you if you would like to explore or eject the card it senses as something new evidently every time you reboot.Just swipe it away. Posted via the Android Central App

Same thing I do. I have no issues using or moving data to SD. That's currently where my music from my previous phone is and old pics and videos Posted via the Android Central App

Buy neither folks!!!! Buy the Samsung Instinct! The best phone in the worldz!

I upgraded from the standard s6 to s7 edge because the battery on the s6 was woeful and I didn't see the jump to the standard s7 worthwhile or justifiable. The edge looks beautiful, bigger screen, bigger battery but the mis-touches are a pain and I use a case and getting a perfect fitting car holder is non existent for now and I depend on on. I love my edge but the standard s7 would probably be a bit easier to live with at times Posted via the Android Central App

What? I had the S6 Edge and I use it perfect on my cat holder, never had issues. Posted via the Android Central App - Galaxy S6 on Android M

None. Samsung never again. Too much bad experiences.

Nexus 6P Posted via the Android Central App

Both are clearly great phones and Samsung Pay blows Android Pay out of the water, especially when neither Kroger or Target support AP. That said, even T-Mobile has locked the Bootloader on both. Right or wrong, I'm a Flashaholic, so this duh-cision by Legere and/or Samsung is a deal-killer for moi.

I used Samsung Pay today to pay at Kroger and the guy behind goes did you just use your phone to pay and i said yes.

Gs7 edge if nothing else for the extra battery alone . And for me the edge screen is a plus reminds me of my note 4 edge . For the $100 more which is only $3 more on your monthly payment Posted via the Android Central App

Neither of the two. This will be my first and last samsung phone unless they change their update policy on flagship devices. Posted via the Android Central App

These are true flagship handsets and two of 2016's hottest smartphones.

I have the s7 edge - mostly because I couldn't stand the gold or black s7 colors. So I went with the larger phone in silver, and it's too big. However, I really like the phone. The edge is actually useful and the phone is amazing, despite the size.

Trust me i tried to find a silver gs7 edge on att sold out got a gold one though. .I'm happy Posted via the Android Central App

Love the Silver also, I have the gold GS6 is the 7 edge something much better or do you think I should hold off for note6 or GS8?

I'm a few months from buying BUT to me the S7 is that smaller phone with Flagship specs that everyone is saying they want. For me, the LG G4 is a fantastic phone (upgrade from LG G2) - it's just too big. I also lost my G2 for a dunking in the pool and so the water resistance is welcome. I still have a few more months to think about it - may even stick with the G4 for a while (other than size) as it is a fantastic phone. I don't get the "cheap feeling" that everyone talks about since I got the black leather back and it has worn just fine as my daily driver. I also like the wireless charging capability of the S7 and micro SD was a mandatory for me. We'll see if another few months changes my mind about just sticking with the G4 for a while, going for an S7, OR can HTC make a comeback. Previous Phones - HTC Inc 2 and One M7, Samsung S3, S4 and LG G2, G4. Can't seem to get into the Moto phones as couldn't take the poor camera in the Verizon Droid phones or Moto X (2013 and 2014) and the Moto X Pure was not as good (to my eyes and hand) as the G4. So I guess I'm going to break my tie with one of the OEMs.

I am used to bigger phones so I chose the edge and love it ☆.♡~S7 edge~♡.☆

Waiting for the much improved and better Note 6 in August an actual upgrade over my Note 5.

I love my new S7, it's not too bad on battery compared to the S6, and I'm getting the backpack anyway.. The storage is disappointing but have Sd card, will travel :-)...

I have an upgrade coming at the end of the month. What do you all think. S7 Edge or Note 5? Just trying to get some ideas. Or should I stay with my Blackberry Priv another year.

Me and my husband have had every HTC phone since the EVO we had an M8 than upgraded to the M9 and it wasn't worth it and we were sorry we did. Camera wasn't good and it just wasn't worth the upgrade. Sold our <9's for $150 a piece and got 2 Galaxy S7 Edge for $300 each. Best phone we've ever had. Our M9 had a 5" screen and we wanted something bigger. Now when the S6 and the S6 Edge came out if it was back then I would of chose the regular S6 cause they were the same screen size and paying a $100 more for the edge just didn't seem like a good enough reason for me bif we were to of gone to Samsung back then but we got the M9. Anyway our 1st Samsung phone and we are in love it was the extra $100 for the bigger screen and battery. I am still learning stuff this phone does and have't messed with the edge screens much except for the people. But the camera is amazing it's fast and the screen is amazing too. We have always loved Android just always been an HTC fan until now. I recommend the Edge cause of the bigger screen and battery,.

The Edge might have a bigger battery, but it also has a bigger screen. So how much more real world useage are people seeing? Other than that, I prefer the regular S7.

Can someone who owns an S7 edge tell me how annoying, if at all, the glare is on the curved edges of the screen? This seems to be extremely visible in almost every picture I see of the edge. Also, do you tend to false touch the edges when holding it?

I am constantly going back and forth between the two...cant seem to make up my mind

I have the GS6 and am upgrading. Does the Edge offer any benefits in everyday screen viewing? I mean, the screen doesn't extend juuuust past where the GS7 scree is before it comes to the side where the notifications (gimmick) appear? I held the GS6 Edge before and didn't like the feel of it in my hands.

Going to upgrade from my GS6 to the GS7 Edge because I want the different form factor and large battery. That and the college chicks will dig me now and make wife jealous.
Android Central Newsletter
Get instant access to breaking news, the hottest reviews, great deals and helpful tips
Thank you for signing up to Android Central. You will receive a verification email shortly.
There was a problem. Please refresh the page and try again.