Galaxy Note 5 and S6 series owners, how's the Nougat update treating you?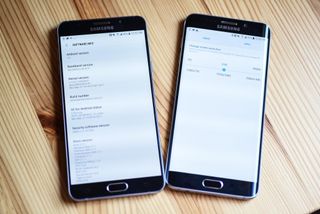 Depending on the carrier and version of the phone, it's been between a few weeks and a few days since your Galaxy Note 5 or Galaxy S6 series phone was updated to Nougat.
The update, surprisingly, brings Samsung's 2015-era phones largely to feature parity with the Galaxy S7 and Galaxy S8 — barring any hardware-specific variances — and updates the Samsung Experience UI to the company's blue-and-white color palette that it adopted with Nougat. Android 7.0 also brings battery-saving features in the form of a lower default resolution and improvements to background resources, which will hopefully boost uptime for a series of phones that were criticized for not having great battery life.
Beyond that, though, these are the same great phones that they've always been, even two years later. The Note 5, especially, feels like a new phone, and given that there's no Note 7 on the market anymore, it's still the phone we recommend if you need pen input on a phone. That the Note 5 and S6 edge+, each big phones, still feel so spritely and modern in mid-2017, is a testament to what Samsung accomplished with its then-new form factor and decision to ditch plastic for metal and glass. But hey, that's just our opinion!
What's your experience with the Android 7.0 Nougat update been on the Galaxy Note 5, or Galaxy S6, S6 edge or S6 edge+?
Daniel Bader was a former Android Central Editor-in-Chief and Executive Editor for iMore and Windows Central.
Wouldn't know. Still waiting for AT&T to actually push it...

Yep. S6 Active still waiting as well.

Really? Got it for my Note 5 last week.

Me too still no update pushed from at&t

Go to a Best buy with a Samsung rep and have them flash it.

Has anyone done this for AT&T S6? I've gone to Best Buy to update in the past (to 6.0.1), but don't know if they can flash Nougat for me since there is no mention of it on the AT&T site for the S6. There is for the Note 5.

Got my update today on S6 AT&T, nothing to get excited about

What phone do you have? My Note 5 on AT&T got the update about 3 weeks ago and in some ways Nougat makes it feel like got whole new phone it's definitely an improvement.

Haha you said improvement? They took stuff away and made you take more steps to get to the same things. Not an improvement.

Oh look, another spam jerk

I got it on day one was posted. But in the camera app I don't have the feature that you can use the main screen as a flashlight when taking a selfie!. And is not available on the Samsung app store for download. Does anyone knows how can I get this feature?

I got it via a custom ROM on my rooted S6, since T-Mobile STILL can't get their sh** together, and it's great. A few quibbles here and there, but it does definitely seem to have at least moderately improved battery life. And the new notification controls are really nice.

I have the Note 5 from T-Mobile and I've had the update all week. It was a very good update and feels like I have a new phone.

I'm in DC and have yet to receive an update on my T-mobile Note 5. What gives!

Have you checked updates in settings?

Use Samsung Smart Switch. Download it from their website and connect your phone. I did that the very night I saw the news about Nougat release for Note 5 on T-Mobile. As soon as I open Smart Switch, it downloaded the update and restarted itself. When I connected my Note-5, it asked me if I want to update. Do that instead of waiting for over the air update. I have it for a week now.

It's weird... with my AT&T Phones in the past... updates like that weren't supported so that feature has always been disabled. I think it only works with unlocked or international versions.

Verizon Galaxy S6 I think it's fantastic. I've had it for a day now. It reminds me of my beloved Note7 #rip #wearetheworld

Yeah short of the always on screen the update did help in bridging the gap in tech thirst.

I also got the update on my verizon s6 edge.after getting the update am noticing a sound distortion speaker when i play samsung ring tone or when i get a call and the ring tone plays.i have no issue while if i play music.the speaker works just normal.i wonder if my speaker is damaged or its a software issue.

ive been having that same issue on my s7 edge since the last security patch a month or 2 ago. its really annoying, and the call quality sounds really bad. i thought switching to another phone.

If you are a Verizon customer the first issue you might want to check is the time being incorrect. But after that it is just a matter of getting used to a new look and customizing it to what you need. I highly recommend turning the Blue Light filter on.

my unlocked s6 gt920I still did not got the update..why samsung??

No complaints on my Sprint S6 running the Nougat update. The transition was very smooth and I'm generally please with the update.

T-mobile led to random boot loop. Choking on update for now.

Fixed. Working very well now. Had to wipe to get up and running.

I just upgraded on verizon a week ago on my Note 5 and battery life is better. Not a huge fan of notifications though...some good things but other bad. I have noticed sometimes apps just hang on the open screen (including google ones) and I feel like I lose connection more often. Tough to blame it on the update but I didn't notice this before.

I just got the update on my T-Mobile Note 5 and I'm super excited to get back some of the Note 7 pen functionality that I was missing! Not sure why they didn't include all the Note 7 pen features but some is better than none.

What are the pen features ??? I see no difference after update

It now has all of the Note7 S-Pen features. Magnification, translation, gif capture. Go into the S-Pen settings via Air Command (click close to the screen) and you will see the Note7 S-Pen apps.

Now that's weird! Verizons Note 5 does not have the gif feature! The only one that I actually was hoping for. But the rest is there. 🤔

They actually do. Take ur pen out. Select or download "smart select" (on pen settings) click it. Top right says "gif". Boom

I'll be damned! Thanks for the input! I had completely forgotten that this feature was part of smart select and not stand alone. So, Sammy did bring some Note 7 love after all, hahaha!

It's also available from the Samsung app store. It's always a good idea to go there after a major update.

Also have a note 5 and Tmo. The new pen features are nice and the phone's been a bit snappier and nice and stable so far. Not enough time to get a feel for any batter improvements yet. The will help keep me with the Note 5 until I get the Note 8 or Pixel XL 2 this fall.

Still not released on t-mobile for s6 edge

Chuckles......try waiting for the Nougat update from EE !!(CSC code EVR worse network for updating say probably June 2017!! Laughs mine a S6 Flat....

They announced it will be coming next week so expect it around Tuesday or Wednesday

Next week for s6 edge plus. S6 and s6 edge they said soon

Verizon Note 5 works great so far. I agree Battery life seems a tad better. GS6 edge is still sitting in a drawer. I suppose I should dig it out and update that as well.

Sprint Note 5 here. Overall seems ok for me. No major impact on battery life either way. S pen function spazzed out a while back, was hoping update fixed it. But it didn't so I dunno if its my screen, my stylus, or something else. One weird specific thing I noticed too, is I can't pin YouTube Kids app while the phone in upright, only if I turn it sideways and put it in landscape can i pin that one app. Super weird and annoying, but I got used to it.

Note 5 feels just like my S7 again, of course with Marshmallow they were about identical as well.

Running smooth on GS6 on Sprint. Hate that the Good Lock app isn't compatible anymore. 😭

It's not? That's a bummer!

Note 5 on Rogers. Terrible. Battery life cut in half. Random freezes and reboots

Really? Mine has been okay so far. Battery is a tiny bit better and it seems to run a bit smoother too

Received the T-Mobile update OTA about 2 days ago on my Note5. Device has been running pretty smooth and seems a bit snappier. No hiccups or issues except for a few minor disconnects when trying to make a call other. Its been inconsistent but I noticed it after the update. All in all it feels like a new Note.

Note 5. AT&T. Love it after tweaking notifications. Battery life and speed both seem a tad better.

Agreed. I like the look and feel of it.

I agree. It's like it was fresh out the box.

Took a minute to get use to change. But I like it. Faster and battery life is much better.

Ha... What Nougat update? -__-

Got mine via T-Mo. Works great so far.

Oh please bring this love to my Note 4!

With Telus. No update for the regular S6 fella's...yet.

Tmobile still shows S6 update to 7.0 on "Manufacturer Development"
I guess JL dropped the ball.

Well if AT&T ever pushes the update I'll let you know! I check manually just about every hour hoping I'll get lucky.

Note 5 SM-N9208 BRI still waiting, seems like one of the last on the list.

At&t Note 5 with Nougat for at least a week...smoother with slightly better battery life...I like it!

Pissed Good Lock app won't work.

I thought the update would change the file operating system from EXT to F2FS. Even after a factory reset I'm still on EXT. Battery life seems better.

My sister has a note 5 updated and she hates it....the phone lags and freezes even more then it did before.....Samsung for u

Hahaha it comes out when I trade my phone for the s8 plus

Pretty much all is good but I have a weird problem with my Verizon Note 5. It was encrypted, of course, and after update I can't disable "install from unknown source" in security settings anymore. To be precise, I can disable it but it enables itself after a while. Also, PIN entry before boot disables itself as well. I deleted everything I installed after update, still the same. Then I had enough and factory reset phone,encrypted and - same result! No app installed so far. So I reset again, didn't encrypt this time and all is working well. Have everything back up and running again and it seems to stay disabled. I'd like to have an encrypted phone but I also like to have all the safety features working. Now I gave it a longer PIN code and live without encryption, like all the years before. Interesting enough, I could not find an article on the Internet about this. Must be unique to my phone alone.

I have the same. Vzw note 5. Of course I did a hard reset after the update. I have had my phone sit on the counter for 16 hrs untouched to loose 8% battery. The doze is awesome. Overall battery is better. Anyone who does not do a hard reset after a major update like that well you get minor issues then... There was an article back about sideloading apps about 6-8 weeks ago, somewhere... You have to go in to Google Play Store and Google Play services. they flipped a couple other switches inside of Google Play Store and Google Play services to make sure that sideload apps are not easily installed. Of course it did this for security reasons with all the potential malware sideloading by itself.

I have the Note 5 with Verizon and first couple days I loved it....until I started getting black screens when I try to slide up lock screen AND I am having major issues with my phone not ringing or notification sounds not making sounds IF I am on an app. I contacted TechCoach with VRZN and they accessed thru Assurion to do remote access and ONLY suggestion I got was to do a soft factory reset.
I DO LOVE THE LONGER BATTERY LIFE......

I'm also having audio problems. Audible won't work (or even play), nor Shuttle+, and a few other audio apps. When I use Google Now to set an alarm, it no longer audibly confirms the alarm is set (it looks like it's trying to, but I don't hear anything), and the alarm only rings sometimes. Incoming calls are randomly not ringing either. I was holding my phone reading Flipboard when a got a text telling me I missed a call that apparently came in 30 seconds earlier. What the heck?

Something odd I just noticed, now when I shut my phone off I need to authorize it with my finger print or pin before it shuts down. Must be a new security feature.

Enjoyed it for the 3 days I had it before switching to my S8+!

Sprint Note 5, absolutely amazing.

I don't notice as much positivity to my Note 5 that the article suggests. My phone was running well on Marshmallow. If anything, Nougat has caused me to retweak a bunch of things on the phone. For now, Note 5 64GB is running A-OK.

Serious issues with the keyboard. Nougat has taken away dual language typing recognition. Autocorrect much less efficient than with previous OS. Hard to understand why they would have taken that weird path of making one of the most important tools less sophisticated. icon for tethering was taken out of the quick command panel. Other than that looks pretty cool.

Yeah I'm not pleased the tether button was removed. I use it all the time

Loving it on my Sprint Note 5. It actually runs a lot better and battery life has improved a little. And I love that I finally got the Note 7 features.

i even did not recieved a patch since october

It is great! Unicorns now graze in my front yard, my wife and dog also came back home !
Seriously though, it is nice to "refresh" the look of the phone 👍
Will get me by until the Note 8 hits !

Sprint Note 5. Phone was pretty bad after the update, but after a factory reset, it's like a brand new phone. Significant improvement in battery life.

Difference between Nougat & marshmallow is like night & day. Nougat is really really fantastic on the Note5. Thank you Sammy.

I appreciate that in the recent calls list, it's two taps to edit a contact. It used to be twice as many.

I have.a.Note.5..installed the update to Nougat when prompted by notification, a.few.days ago.. Im wondering if.its normal for at the phone screen when making ,recieving and on a call the screen color seems like it does a.sort of constant color.change saturation greys, dark greenish yellow ,browns..? Also i was told.by tmobile customer service that there are glitches in Nougat and they recommend i do a.factory reset....also when at first i did chat with tech support that person imed told.me.also of the glitches and to do a factory reset .however looking in this forum or googling i dont see anything being mentioned of ' a glitch with Nougat.. Anyone else have this problem? Thank You for any advice or knowledge of this.problem anyone might have...

It is normal. Its the new phone app interface.. replacing the old 'half top only' colors :)

It is awesomeee haha! Been waiting for so long and now you got one happy android n samsung user here 😁👍👍

VZW note 5 .. love it.. battery life is better, features are great, notifications are good. Only thing I don't like is the phone numbers in contacts are not enough contrast so are hard to read and the effects in scrolling across home page screens seem to be gone. Overall a great upgrade.

No problems on my TMobile Note 5. Love being able to crank down the resolution to HD since anything above that is a waste on a phone unless you VR and VR resolution looks crappy anyway. Battery life has definitely improved, but I also did a FDR.

Note 5, Verizon, my Comcast email crashes often, other than that, glad to have Nougat

Enjoying it for the most part on my VZW GS6! Better battery life and the phone is still snappy. My only complaint is the new notification shade is white and should be dark like the rest of my phone and the font in the notification shade is really small. Many thanks and kudos to whomever at Samsung decided to not force the "Assistant only with long press of the home button" version of the Google app in this version of the software. I was going to have a coronary if I had to deal with the non typing friendly Assistant.

Use good lock from the samsung store and you can customize it.

Only thing I'm not a huge fan of is in messages app for texts .. And how difficult it is to just create a text message to someone now... both contact and other phone number (especially). Seems like there's an extra step. I used to be able to just open messages then start typing a number in and then next and start the message.

I wanted the always on display like my note 7 had and they took it off this update. Very frustrating!

More to do with the phone hardware and not software considering the always on chows battery

And probably burns the screen in

Anyone else have Google Play Services crashing on them all the time?

Yes, I get messages saying delete certain games because it's slowing phone down, never had that problem before this last up date.. And now phone freezes will not let me play games, how strange is that.. It freezes to the point that I can't use my phone..

My battery life is still poor.

I did an up date last week that came up on my S6 and since then my play store is awful. It deleted apps off my phone and now my phone freezes. What's up with this, is anyone else having this problem. I stay on wifi all the time it deleted my wifi. I never thought to keep check I'm at home all the time, causing me to use like 6gb in a week..Can not play certain games from play store.. Do not like up this update ..

I absolutely hate the new update to my phone s6. Any way to get this off

Note 5 on T-mobile. Battery life is a huge improvement. Especially the doze feature. My phone used to use much battery while on idle or overnight. Now, if I don't use the phone, it only uses like one percent an hour.

Don't know. I sold my Note 5 on t-mobile and my wife's note 5 on att has no update.

What's a Note 5? - I live in the UK

SM-N9208, Philippines. Running well without glitches. Kind of annoyed by the extra steps you have to take now when selecting a contact and sending a message/making a call. The settings are changed up a little bit too, but just took a bit of getting used to and now I'm good. Not bad so far, overall.

Love it on my international s6 edge. I've noticed improved battery. Oh and I love the eye candy.

Just got the update on my Note 5 last night and I haven't been this dissapointed with an update since I had my iPhone. Why? Well,
I am experiencing severe performance lag. Typing anything now is quite painful as the text can no longer keep up with my keyboard, like it used to. Switching between apps is a chore now that it never used to be. Overall, just a slower performance.
I am experiencing heavy battery drain. During low usage days, my battery is now draining at the rate it used to on high usage days, and high usage days, I can't imagine it'll last the day.
Some bugs have appeared, mixing around my files so that pictures don't match with the artists and bands now in google play. A small issue, sure, but if that happened, who knows what else is being messed up.
The notification bar is absolutely abysmal to look at. Everything that is different about the style of the swipe down menu is absolutely horrendous. Also, it appears that they took away multi window. Either that, or they made it more complicated to open than before.
Overall a horrible experience. If you haven't updated it yet on your note 5, it is my strong suggestion you don't. Clearly it isn't optimized for the device and it seems they are trying to push me to a newer device with this horrible update, which before now I thought was only a tactic apple used.

Your the only one experiencing this, sounds like you might have some apps on your phone that are messing with back ground ROM processing. Only way to fix that is a factory reset. Maybe run CC Cleaner and run a deep clean. First option is a better choice.

Since I downloaded the Nougat update, my battery has been lasting longer (thank God)! T-Mobile pushed it out the week they posted their article. I had no trouble with the download and thus far, everything is running smoothly. I cant speak for everyone on their experience, but I can say I've been very fortunate. My Note 5 has been getting the job done like a brand new phone!

Makes the Note 5 Feel awesome - Google needs to add Blue Light filter baked into OS, shouldn't need 3rd party apps, and Samsung should do this for all their devices for eye strain.

Fixed the sensor fail issue. Vz note5.

Verizon note 5. Screen keeps coming on during a phone call. Stays off for 2 seconds then comes back on. Bug fix required!

Some useful features are missing, which is very disappointing.. Auto battery life saver when the battery goes below 50% (or 20%) was a great feature. Now it only gives a notification that the battery is below 50% and I have to remember to manually turn on power saving mode. "My Places", which changed phone settings based on location or connected devices, is missing. I used this feature a lot, to changes settings and use the widget with different app shortcuts for home, car and work. Thankfully, S Note is still there. I swear I will not upgrade to Note 8 if they don't bring back S Note. I really hate the new Samsung Notes app.

I'm in Canada and my Freedom Mobile Note 5 got the update yesterday. Works pretty smooth, however, there's a weird flash of the lock screen when you put the pen back in after taking a note on an "off" phone. Don't like that aspect too much when I take a note at 3 in the morning.

On at&t... my wife's Note 5 received it a week or 2 ago. Unfortunately, I'm still playing with stale marshmallows on my s6 edge.

Roger's in Canada released it over a week ago. It's great. A few glitches, or perhaps it's my missing S-pen or Lense Launcher, or since I encrypted my Note 5... like WiFi says there may not be a reliable Internet connection. That comes and goes. Another issue seems to be the home button randomly takes you back to the home screen and or closes apps... That's all I've experienced so far post update. Phone seems a bit faster

Anyone else having severe lack of sounds after updating? I have a Note 5 and ever since the update it no longer makes any sounds: - Notifications don't make noise.
- Phone doesn't ring when people call.
- The "Beep" to say Google Now is ready for a command doesn't play.
- Some games don't make noise.
- Audible doesn't work at all
- Going into the Settings and flipping through the ringtones doesn't cause the phone to ring so you can hear them All volume options are at max. Do Not Disturb is not enabled. I did a full reset and am still having the problems. The phone is pretty much useless if it can't make sounds.

Today I received the AT&T Nougat update for the S6. So far no hiccups. I haven't had much time to play around.

What's your experience with the Android 7.0 Nougat update been on the Galaxy Note 5: Bad experience. The font size changed in several screens. Why are you make it it smalker?! All icons in the strings menu are strokes only instead of full God's or jpgs whatever they were. Notification and upper menus for telephone controls are so small and again only strokes. Why?! Hard to see at night in the car. I wish we can have a system restore option.

I just got NOUGAT on my Galaxy S6 128 GB from BELL. No problems . I did nothing special before the upgrade. It is noticeabley faster, no crashes and battery life is great. I sometimes end up in split screen mode when I don't want to. But that's no deal breaker. Now for my Galaxy Tab S2. I think I'll do some preparation for this one though.

My swype feature is not as accurate as before the update. It is really frustrating. Any suggestions?

i updated it and the fingerprint sensor doesn't work even after several patches. i dont know where to report this problem

Ever since I got updated to Nougat, my phone will not connect to wifi until i unlock the phone. For instance, if i am home and i leave, when i come back it doesnt connect. there have been times it has set for a hour and wont connect until i open the phone up. as soon as i swipe to open it, you can see the 4g at the top and then the wifi will come on in a few seconds. i have tried everything. reset network connections, forgot networks, i have done a factory reset multiple times. Ive started in safe mode. the wifi on during sleep is on. It especially causes a problem at work when the wifi drops out, it wont reconnect until i actually unlock the phone causing me to miss calls and text. did not do this on my old android version, but now all the time. ive contacted my carrier, ive contacted samsung and the only responses i get are to try the things i have already tried. one lady just flat out said i am out of luck. i wish i could just go back to the old version. at least it worked. i dont know what else to try.

Avoid updating to nougat on your galaxy s6. I've updated recently and regreted it multiple times. The performance of battery is poor when you even compare to how long the battery was holding on previous version. It littetaly drains your battery no matter what. All processes optimized, apps off, no access by apps to your data and tracking. It goes empty incredibly fast. Even now, having browsed with a minimum lighting of display, in 50 minutes alsmost 30 percent down. It is not just my device. The people keep asking how to save the battery's performance. Forget turning on your mibile data, the battery will be empty in no time.
Android Central Newsletter
Get the best of Android Central in in your inbox, every day!
Thank you for signing up to Android Central. You will receive a verification email shortly.
There was a problem. Please refresh the page and try again.