Galaxy Note 2 UK on-contract prices emerge, shipping next Tuesday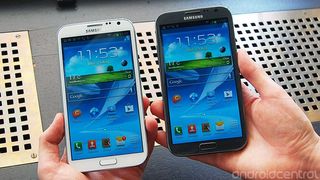 UK SIM-free pricing for the Samsung Galaxy Note 2 emerged some time ago, but if you're still wondering much it'll set you back on-contract, then wonder no more. The answer, it seems, is a lot. Independent UK retailer Phones4U has published its subsidized prices for the Note 2, which it's offering on Vodafone, O2, T-Mobile and Orange. But if you want to pick up a Galaxy Note 2 for free, you'll be paying at least £41 per month to one of the UK's leading networks.
On O2, that'll get you a free Galaxy Note 2, and an allowance consisting of unlimited texts, unlimited minutes and 1GB of data. Though for just a pound more per month, Vodafone offers the same call and text package, but with 2GB of data thrown in. Cheaper plans are available, but you'll pay up to £299 for the phone itself.
Phones4U expects to fulfill orders from next Tuesday, Oct. 2, which would fit with rumored release dates that've been doing the rounds in the past few days.
Source: Phones4U
Android Central Newsletter
Get the best of Android Central in in your inbox, every day!
Alex was with Android Central for over a decade, producing written and video content for the site, and served as global Executive Editor from 2016 to 2022.
Bring on the America note 2 prices and offical release dates

The prices will be for the 16GB version - many are waiting patiently for news of availability and pricing for the 32GB and 64GB models that whether contract free or otherwise.

I can pre-order now (5 weeks to go/USA) But I'll wait a bit longer. I'm hoping to soon see a 32 or 64GB option as well here in the States. My guess has to be, that Samsung's first production run was on what will be the biggest seller. The 16GB version. Thanks Alex.

off contract on verizon for those who want to keep unlimited data will be close to $800. Verizon still has the Gnex off contract for 689, fucking ridiculous not to drop the price.

There contract monthly prices are soooo cheap ughhhh

I freaking WANT note 2 period. That is all. Wish my Galaxy tab 2 7 inch was a phone and I'd be happy!

I am annoyed they got rid of the Black note for this Gray..... the black works SOOO well with the SAMOLED screen, i cannot tell the boarder of my phone from the screen. now il have to see the gray vs the black ? wtf? i want my black note 2

Yea, I know what you are talking about. The fact that you can't tell the difference between the screen and the border looks really sleek on my Nexus.

I'd rather buy phone off contract for £570ish and then get a sub £10 sim-only deal on one-year contract.
No carrier lock-in on phone, no long term monthly expenses, upgrade when *I* want not on the contract cycle so can buy phone as time when price right and right model is available. If you can't afford to buy up-front like this (in UK, USA is different as carriers are totally rapacious and you can't avoid dancing with the devil) then maybe you should stick with your old phone and go PAYG.

Why are phones so much cheaper in the uk/international than the US?

1.62527 is what it will cost you to buy a pound. So 570 pounds = $926. Cheaper? I want the Note2. Sammy hurry up and get it to the US!
Android Central Newsletter
Thank you for signing up to Android Central. You will receive a verification email shortly.
There was a problem. Please refresh the page and try again.