Gadgets of the week: OnHub router, iBackPack and more!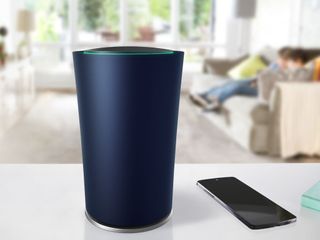 Every week, we round up the hottest in wearables, Bluetooth audio, and other Android-friendly accessories. There are a few goodies in particular on the plate this go-around: the OnHub router promises to whisk your Wi-Fi woes away, while the iBackPack crams more technology into a bag than should be reasonably allowed. There are plenty more Android gadgets than that to check out. Dive in!
READ: The very best new Android gadgets of the week
OnHub
Google announced a fancy new Wi-Fi router that promises to deliver uncompromising speed to your home network. It uses an app to manage your network and communicate problems. It can keep tabs on which devices are using the most data, and enables remote management and support. This thing packs in 13 antennae, which should be plenty for ensuring a strong, fast connection in your home. OnHub starts shipping at the end of the month.
strikeLINE rugged USB cable
USB cables tend to be the kind of thing that are a dime a dozen, but if you need one that can really take some punishment, Scosche recently released the strikeLINE rugged LED cable. A light in the microUSB housing lets you see at a glance if your phone or tablet is fully charged, and the grippy molding around either port provides protection against impact. Both 6-foot and 3-foot cables come with a lifetime warrantee that covers any kind of defect.
Tile (Gen. 2)
Tile upgraded their locator tags with the ability to easily find your phone with a double tap. You can also use the Android app to find your keys or whatever else your tag is attached to thanks to an integrated speaker. As always, the Tile app connects users so that if an item is marked as lost, all other Tile users will be on the lookout for it. If it comes within range of anybody, Tile will shoot a notification with coordinates to the rightful owner. You can create virtual Tiles on your Android devices too, so they too can find and be found.
Samsung Fast Wireless Charger
If you're picking up the Samsung Galaxy Note 5 or Samsung Galaxy S6 edge+, you'll want to make use of the newfangled fast wireless charging feature. An indicator light will let you know is your Note 5 or S6 edge+ is fully juiced. Though this pad will work with other Qi devices, it's the only one that can deliver 40% faster wireless charging to the new phones. These are available in black or white to match your device.
iBackPack
iBackPack is a new connected bag that goes well and truly over the top. It has an integrated backup battery like some of our picks for the back to school guide, but kicks things up a couple of notches with a bundled Bluetooth speaker, MiFi hotspot, dedicated GPS, and Android app with anti-theft functions.
There are a handful of tiers that shave off features if you want to save a few bucks, but if you're going to bother, you might as well go all-out. Expect the iBackPack to start shipping in March.
Your favorite new Android gear?
That's the coolest stuff we've been able to find, but as always, we wanna hear the latest releases that you've spotted. Leave a link in the comments!
Get the Android Central Newsletter
Instant access to breaking news, the hottest reviews, great deals and helpful tips.
Simon has been covering mobile since before the first iPhone came out. After producing news articles, podcasts, review videos, and everything in between, he's now helping industry partners get the word about their latest products. Get in touch with him at simon@futurenet.com.