Fresh Surface Duo renders leak, reportedly coming to AT&T in U.S.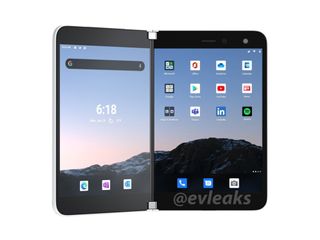 (Image credit: Evan Blass (@evleaks))
What you need to know
New Surface Duo renders have leaked.
The renders don't show anything new, but offer another look at the device in mutliple stages of unfolding.
Alongside the leaked images, leaker Evan Blass states that Surface Duo is coming to AT&T in the U.S.
The Surface Duo hasn't exactly been camera shy; we've seen Microsoft execs pose with the dual-screen device a lot over the last few months. However, if you're hankering for another look at the Duo, a new set of renders have leaked courtesy of prominent leaker Evan Blass (@evleaks) (via The Surface Guide).
The images don't really show us anything we haven't seen before. They do, however, give a nice, up-close look at the Duo in various states of unfolding. Check them out below:
Image 1 of 3
The more interesting part of this leak is that Surface Duo is reportedly coming to AT&T in the U.S. We still don't know how much Surface Duo will cost, but carrier installment plans could make it far more affordable.
Microsoft hasn't detailed all of the Surface Duo's specs yet, but it's expected to run a Snapdragon 855 with 6GB of RAM and up to 256GB of storage. A single 11MP camera is expected to be on board, just above one of the two 5.6-inch AMOLED screens.
Official word on the Surface Duo's release date is still "holiday 2020." However, we've heard that Microsoft is planning to ship the Duo much earlier, possibly during the week of August 24. Given that we've recently seen Duo pass through the FCC and other regulatory authorities, it seems like the launch is fairly close.
Almost been a year since this device was first shown and it's still not out lol.

And? That happens all the time

iPhone 8 calling from 2017, can I have my bezels back please?

Why do you obsess about bezels?

Even before bezels began to shrink I hoped one day phones would end up as all screen to maximise the part of the phone you interact with most of the time therefore getting the most screen in the smallest space. Not curved screens which I don't think are good and maybe a tiny even bezel on a flat screen to a avoid any ghost touches. This is only my preference though hope that answers your question? Seeing this design to me looks like a step backwards in phone design, to others (maybe yourself) it may be the best looking phone ever? No problems if that's so, I just think it looks outdated. Peace✌

Galaxy fold walks past all bronze tanned and kicks sand in surface duos face (and I don't like Samsung phones lol!)

I read "coming to AT&T" to mean "not coming to other carriers, at least at first". If correct, that's disappointing.

Couldn't care less what network this is on, it's DOA. MS had a year since the initial design and didn't address a single one of the negatives people pointed out.

Design was pretty much finalized by then. The pandemic just pushed things farther back.

Wauw.. a Snapdragon 855 and 6GB of RAM...
Welcome to 2018 dear Microsoft..
Android Central Newsletter
Get the best of Android Central in in your inbox, every day!
Thank you for signing up to Android Central. You will receive a verification email shortly.
There was a problem. Please refresh the page and try again.