Fossil Gen 5 vs. Samsung Galaxy Watch Active 2: Which smartwatch should you buy?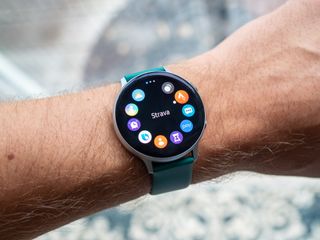 (Image credit: Android Central)
Samsung Galaxy Watch Active 2
The Samsung Galaxy Watch Active 2 is perfect for folks who want to be connected at all times with LTE. It's also a great pick for health/fitness tracking enthusiasts. Some perks include onboard GPS, heart-rate monitoring, an electrocardiogram (ECG) sensor, music storage, and Samsung Pay.
Samsung Galaxy Watch Active 2
Fully connected smartwatch
Optional LTE
Onboard GPS
Two size options
Samsung Pay
Robust health/fitness tracking
ECG
LTE increases the price
Fossil Gen 5
As time goes on, Wear OS watches continue to improve. The Fossil Gen 5 is a prime example of this. You'll have multiple design options to choose from. All models come packed with helpful features such as onboard GPS, heart-rate monitoring, activity tracking, Google Pay, and battery-saving modes.
Fossil Gen 5
A show-stopping timepiece
Onboard GPS
Attractive design
Google Assistant
Google Pay
Improved performance
Shorter battery life
No LTE connectivity
Only one size
No ECG
Choosing between similar smartwatches like the Fossil Gen 5 vs. Samsung Galaxy Watch Active 2 can be a challenge. The key is understanding their differences and how they affect your wearable experience. For example, if you want a piece of connected tech that allows you to remain in touch at all times, you'll probably want to opt for an LTE-enabled watch such as the Samsung Galaxy Watch Active 2. It also offers superior health/fitness tracking if that's something you're after. The Fossil Gen 5, on the other hand, is geared toward those who want a more fashionable design with some nice perks baked in.
Stay in touch with the Galaxy Watch Active 2
When it comes to the Samsung Galaxy Watch Active 2, the main draw for most users is the optional LTE connectivity. That said, you can opt for a standard Bluetooth model if you don't need to stay that connected with your watch. It has its perks, like the ability to stream music and take calls without having your phone close by, for example. If LTE doesn't interest you, the rest of the impressive features just might.
Swipe to scroll horizontally
| Header Cell - Column 0 | Fossil Gen 5 | Samsung Galaxy Watch Active 2 |
| --- | --- | --- |
| Dimensions | 44 x 44 x 12mm | 44 x 44 x 10.9mm |
| Display | 1.3-inch AMOLED | 1.4-inch AMOLED |
| RAM | 1GB | 768MB |
| Storage | 8GB | 4GB |
| Sensors | Heart rate, accelerometer, gyroscope, altimeter, ambient light | HRM, accelerometer, gyroscope, barometer, ambient light sensor |
| Battery life | 1 day | 2 days |
| Water-resistance | 3 ATM | 5 ATM |
| ECG | ❌ | ✔️ |
| Optional LTE | ❌ | ✔️ |
| Music storage | ✔️ | ✔️ |
| Mobile payments | ✔️ | ✔️ |
Have you ever loved everything about a smartwatch except for the size? You're in luck! The Galaxy Watch Active 2 comes in 40mm and 44mm. There are also various color options, like Cloud Silver, Aqua Black, and Pink Gold. In addition, this watch has a lot of compatible replacement bands, specifically 20mm quick release bands, which can always be changed when you want to try something new. It also has an innovative digital bezel without the excess hardware weighing down your wrist.
The Galaxy Watch Active 2 offers Samsung Pay, heart-rate monitoring, and smartphone notifications. It's also waterproof up to 50 meters, so feel free to swim your heart out. You can expect the battery to last for two days or so, which can vary depending on your usage. The good news is that wireless charging is an option with this watch.
Other reasons to consider this Samsung smartwatch include automatic activity recognition, tracking for 39 different workouts, and a Running Coach feature that offers real-time pace metrics so you know what to expect from a workout before you begin. Another new but less talked about feature is the electrocardiogram (ECG) sensor, designed to detect an irregular heartbeat. This may signify a more serious underlying condition, so it's nice to have for peace of mind.
Smart never looked so good
If your reasons for investing in a smartwatch are primarily for looks and a few bonus perks, the Fossil Gen 5 might be more of your taste. It may not come in two sizes, but it has plenty of variants. So whether you want a soft, feminine look or something that feels strong yet elegant, there's no shortage of options. The 44 mm stainless steel case boasts a lovely 1.3-inch AMOLED display. There are two programmable side buttons and a rotating crown for quick navigation. The 22 mm bands are interchangeable, so you can change them to match your style.
Wear OS is certainly far from perfect, but this watch makes the best of a mediocre situation. The Fossil Gen 5 has the latest Snapdragon Wear 3100 processor, which ensures smoother performance. You also have more to work with, thanks to new battery-saving modes that help you extend the life of your smartwatch. Keep in mind that these modes do limit functionality, so if you want to experience the full potential of your wearable, you'll need to charge it every day or so.
While this watch wasn't designed with fitness enthusiasts in mind, it does have standard health and activity tracking with Google Fit. You'll also enjoy heart-rate monitoring, water-resistance up to 30 meters, Google Assistant, Google Pay, music storage, and a mic/speaker. This means that you'll now be able to listen to music, take calls, and hear Google Assistant's responses on your wrist.
Bottom line
The final decision might be as simple as figuring out whether you wanted a fully connected fitness watch or you'd prefer to keep things simple with a stylish wearable that has the essentials. If LTE is a non-negotiable for you, then the Samsung Galaxy Watch Active 2 is the way to go. It also wins if you're committed to finding a watch that can easily and efficiently track all of your health and fitness metrics.
Those who'd prefer a smartwatch that is all about giving off a stylish aesthetic will love the Fossil Gen 5. It only comes in one size, but it won't be hard to find one that you like with all of the different design options. The battery life on these wearables still needs work, but the battery-saving modes are a suitable backup method to have. You'll also enjoy mobile payments, music storage, activity tracking, and heart-rate monitoring.
Fully connected smartwatch
Samsung Galaxy Watch Active 2 (40mm, GPS, Bluetooth)
Never out of touch
If it's LTE connectivity you're after, you'll be in good hands with the Samsung Galaxy Watch Active 2. It's an excellent fitness watch with solid health/activity tracking, heart-rate monitoring, Running Coach, and more. You'll also have music storage and mobile payments.
A show-stopping timepiece
A mighty fine wearable
If you aren't preoccupied with LTE connectivity, you might prefer the Fossil Gen 5. Some users may find it more fashionable. You'll have a mic and speaker, so taking calls and hearing Google Assistant responses is easier. The battery-saving modes come in handy as well.
Get the Android Central Newsletter
Instant access to breaking news, the hottest reviews, great deals and helpful tips.
Keegan Prosser is a freelance contributor based in the PNW. When she's not writing about her favorite streaming apps and devices for Android Central, she's listening to a true-crime podcast, creating the perfect playlist for her next road trip, and trying to figure out which fitness tracker she should try next. You can follow her on Twitter @keeganprosser.