How to fix Moto G4 and G4 Plus battery life problems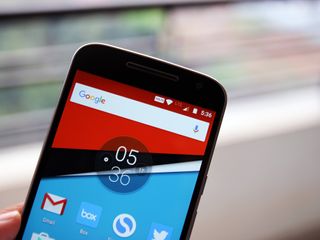 The Moto G4 and G4 Plus represent the biggest change to come to the Moto G series since its inception. The phones are the first to feature Full HD displays, with Motorola bumping the screen size to 5.5 inches. The G4 Plus is also the first to feature a fingerprint sensor.
There isn't a lot that differentiates the Moto G4 from the G4 Plus, at least not when it comes to features that affect battery life. As such, the steps mentioned below are valid for both variants of the handset.
Enable battery saver mode
One of the best ways to extend battery life on the Moto G4 and G4 Plus is to enable the built-in battery saver mode. Turning on battery saver dims the screen's brightness, limits the vibration motor, restricts location services, email sync, and background app data usage, all in a bid to squeeze more usage out of the phone.
You can manually toggle the mode to limit battery drain, or configure battery saver to run automatically once the charge goes below 15% or 5%.
Turn off Wi-Fi, Bluetooth, and GPS when not in use
If you're not going to use Wi-Fi, Bluetooth or location services for an extended period, consider switching them off to eke out more battery life. Leaving Wi-Fi on will result in the phone scanning for open networks throughout the course of the day, using up precious battery life. GPS, in particular, drains a phone's battery, so if you don't need location services, you should consider switching it off.
The notification panel on the Moto G4 and G4 Plus has quick toggles for Wi-Fi, Location, and Bluetooth, allowing you to toggle them on or off in a matter of seconds. On that note, you should also consider adjusting the dual-SIM settings. The ability to use two SIM cards in the same phone is very convenient, but it also uses up extra battery. If you don't use the secondary SIM card that often, consider switching off data on that slot or disable it entirely from the SIM cards section in the phone's settings.
Look out for power-hungry apps
Seeing unusually high battery drain on the Moto G4 or G4 Plus? More often than not, it is due to a rogue app that's sucking down a lot of data in the background or using up a lot of CPU cycles. Fortunately, there's an easy way to fix the problem.
Isolate the app that's causing the issue by heading down into your phone's settings and going to the battery page. You'll see a list of apps that are using up the battery.
Facebook and Facebook Messenger, for instance, are known to be very intensive when it comes to battery usage, so if you're not a heavy Facebook user, you should consider uninstalling the app. Facebook on the browser offers a great experience, and you can enable notifications for the social network in Chrome to receive profile updates.
The Moto G4 and G4 Plus don't come with a lot of bloatware, so you don't have to go through the additional hassle of uninstalling apps you normally wouldn't use.
You should also consider closing background apps frequently. Having a lot of apps in the background is not only detrimental to the phone's performance, but it also adversely affects the battery life.
Tweak display settings
The Moto G4 and G4 Plus offer a great Full HD display, but if you're having a difficult time managing battery life, you can make a few changes to the display settings. First up, consider turning on Adaptive brightness from the Display page in your phone's settings. Doing so automatically optimizes the screen's brightness based on the ambient light — dimming the screen in low-light conditions and boosting the brightness when outdoors.
You should also set the screen timeout to be as low as possible. Adjust the setting from the Sleep section on the Display page.
Motorola also offers the ability to peek at incoming notifications without having to wake up the screen through Moto Actions. The feature is handy, but if you're looking to maximize battery life, you should consider disabling it by going to the Moto app in your app drawer and selecting Display.
Disable automatic updates on the Play Store
The Play Store lets you automatically update apps even when you're on cellular data, but if you're looking to conserve battery life, a better option is to update only when connected to Wi-Fi. Doing so ensures that you don't run into overages on your cellular data, and also prevents apps from constantly updating in the background.
You can also disable automatic app updates entirely if you want to save a few percentage points on your phone's battery. You'll be able to change the setting by going to the Play Store, heading to Settings from the pull-out pane on the left, and selecting Auto-update apps.
Switch to Nougat
Motorola started rolling out the Nougat update to the Moto G4 and G4 Plus last month. The update is making its way to more regions, and if you're using either handset, you should go into your phone's settings to see if the latest version of Android is available.
Nougat brings an improved Doze mode, which has several tweaks to extend battery life. After installing the Nougat update, I noticed an uptick in the battery life of my Moto G4 Plus, so if you're struggling to get a day's worth of usage out of your phone, the Nougat update will fix it.
Turbo Charge
If all else fails, the Moto G4 and G4 Plus offer fast charging through Motorola's proprietary Turbo Charge tech. To take full advantage of the fast charging method, you'll have to use the bundled TurboPower wall charger. You can pick up the 15W variant for as low as $13 on Amazon.
See at Amazon (opens in new tab)
Motorola is also selling a dual-port TurboPower car charger for $21, if you're looking to top up on the go.
See at Amazon (opens in new tab)
Your turn
That's just a quick look at some of the ways you can extend battery life on the Moto G4 and G4 Plus. Let us know how you manage to get the most out of your phone's battery in the comments below.
Harish Jonnalagadda is a Senior Editor overseeing Asia at Android Central. He leads the site's coverage of Chinese phone brands, contributing to reviews, features, and buying guides. He also writes about storage servers, audio products, and the semiconductor industry. Contact him on Twitter at @chunkynerd.
You are suggesting switching off Bluetooth, Wi-fi, and GPS... REALLY??? I have never switched off these in all the years (YEARS) of using Android. They are used when needed, and only by the apps that need them... unless you have an app that uses GPS a lot, none of these will cause any type of battery drain. Having Wi-fi on all the time will actually help GPS locations. This part of your article flies in the face of everything we have discussed in the forums for years. I do agree that people need to know the apps they load on their devices and know if these run in the background and use up your battery life. The newer doze features have really done wonders for longer battery life, if you can actually stop looking at your screen every 5-10 minutes and just not have to look at every social media site every time you pick it up.

The GPS part is more of a regional issue. A ton of Indian ecommerce apps request location access, and most of them don't need it. In that scenario, it's better to turn off location services.

All of those drain the battery if your not using them because they are constantly searching for a connection.

I'm guessing nothing I say will change your mind... but having the Wi-Fi is so Minimal battery usage it's ridiculous... and the benefit to ME out ways any battery loss because you forgot to turn it back on when you where in a location that has a trusted wireless router. Personally, I have setup my GPS to connect and be used by my weather app... and that app only updates once an hour. But again, believe what you want. For most novice Android users I guess the general advice of this article will help them.

This was one of the big selling points of the original Moto G -- you could leave wifi, bluetooth, and GPS on without killing the battery. Phones I had before that definitely lasted much longer with them off. My Moto G3 rarely shows Wifi on the battery drain list, unless some app is misbehaving. Normally I'd much rather find and uninstall that app than turn off wifi.

Does adaptive brightness really improve battery life? I have read conflicting reports about this...

What the heck is a "rouge app" ? Is that an app that applies makeup when you least expect it?

If only. Totally missed that while reading through the post. Thanks.

I just got the phone this week. Too cheap not to. Easily the best $150 Ive spent on tech. Battery life is amazing. Easily 2 days. I started a thread about it in the G4 forums and posted Gsam battery screen shots.

For those of you who have a headache after banging your head against the wall. The cure is to stop banging your head against the wall.
Point:
The Moto G4+ battery life is great out of the box. You don't need to do anything.

I agree with most battery life is very good when out of box
Android Central Newsletter
Get the best of Android Central in in your inbox, every day!
Thank you for signing up to Android Central. You will receive a verification email shortly.
There was a problem. Please refresh the page and try again.