Fitbit Ionic: Adidas Edition now available for $329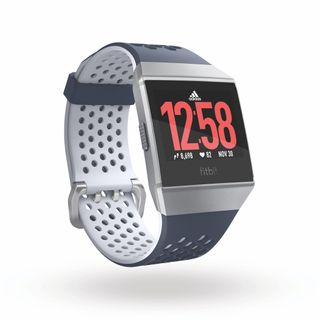 The Fitbit Ionic was met with a mostly positive reception following its debut last October, and while it may not be perfect, it's currently my go-to smartwatch/fitness tracker of choice.
The Fitbit Ionic: Adidas Edition was announced at the same time as the regular Ionic, but now during MWC 2018, Fitbit's shed more light on what it'll bring to the table.
At first glance, the most notable part of the Adidas Edition is its unique look. This version of the Ionic comes with the same Silver Gray aluminum case that's already available, but it's paired with an exclusive two-tone Ink Blue sports band that you won't be able to get anywhere else.
There's also an exclusive watch face that's meant to resemble a racing bib, and this is paired with six special on-screen workouts thanks to the Adidas Train app – including Dynamic Warmup, Power Race, Metabolic, Run Activation, Strong Strides, and Post Run Stretch.
Aside from those few goodies, this is the same Fitbit Ionic we've had since October. It tracks your steps, heart-rate, and sleep, supports a variety of apps, alerts you of any notifications on your phone, lets you make payments at stores with Fitbit Pay, and more.
The Fitbit Ionic: Adidas Edition is available for pre-order now and costs $329.95 ($30 more than the regular Ionic). It'll officially go on sale March 19 and be available at Amazon, Best Buy, Dick's Sporting Goods, Kohl's, Macy's, and Nordstrom.
See at Fitbit (opens in new tab)
Joe Maring was a Senior Editor for Android Central between 2017 and 2021. You can reach him on Twitter at @JoeMaring1.
My Fitbit Charge 2 is so worthless I wouldn't recommend a Fitbit to someone I didn't like, much less a friend. The HR sensor might as well be a random number generator during exercise, sleep tracking says I don't sleep at all 3 or 4 nights a week. The only function that actually works is step counting, and on the same 1 mile walk around a track even that varies by as much as 10% from one day to the next. It's nothing more than a very expensive pedometer.

Weirdly my wife got rid of her Apple Watch due to its inaccuracy and is very happy with her Charge 2. It's not perfect, but as part of a uni research project she was comparing it to the results from a chest ECG and it was 90% accurate.

Too little too late Fitbit. I had to replace multiple Fitbit bands in less than 12 months. Never touching another one of your products.

Ya.. I have not been impressed with Fitbit quality. Just bought a Amazfit to replace for $59. 30-45 day battery. Now that's a step forward!

Every runner I know either has a Garmin or Suunto watch with GPS. My Garmin does enough Smart actions that it's more useful to me than anything else I've come across and battery life is great and locks a GPS quickly.

You want to charge more than an Apple Watch for a non-smart fitness tracker. Love the moxy... but aint funna happen.
Fitness Tracker price ceiling: $129 and it had better be damn good for that.

Neber had a problem with any of my fitbit and I love the iconic. As a matter of fact the hr is spot on with the one I wear at orange theory. If I could add a feature, it would be to be able to reply to a text. That's the only thing missing.

If it was 50% of that price it would still be overly priced. Should sell for $99 at most.
Android Central Newsletter
Get the best of Android Central in in your inbox, every day!
Thank you for signing up to Android Central. You will receive a verification email shortly.
There was a problem. Please refresh the page and try again.