Samsung Gear Sport vs. Fitbit Ionic: Fitness smartwatch showdown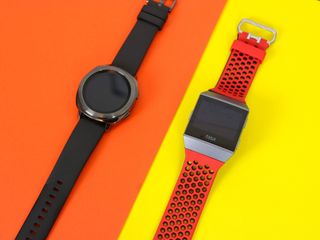 If you're an Android user and are in the market for a new smartwatch, you're currently in a slightly awkward position. Google doesn't seem to be giving Android Wear any sort of real attention for the time being, and as such, your best bet is to go with third-party solutions.
The Samsung Gear Sport and Fitbit Ionic were both released in late 2017, and they've quickly become two of the best wearables on the market. Samsung's Gear Sport is an evolution (and a shrinking) of the Gear S3 that came out in 2016, and the Ionic is Fitbit's first real shot at the whole smartwatch game.
Both are excellent products, but the one that's best for you will ultimately come down to services and features you're looking to use.
Let's dive in.
Design and fit
As someone with small wrists, I was very pleased to find that both the Gear Sport and Fitbit Ionic aren't oversized like most Android Wear options. The Gear Sport has a round display that sits atop a shiny, metal squircle body, and it's definitely the better looking of the two. The watch doesn't look out of place whether you're at the gym or in the office, and thanks to the 22mm band size, you can swap out the included silicon band with just about anything you'd like.
There are two physical buttons on the right side of the Gear Sport's body, and while these work fine, the real star of the show is the rotating bezel that surrounds this display. The bezel can be rotated left and right for navigating the Gear Sport's UI, and along with having excellent tactile response it also makes it easy to go find what you're looking for without covering up the screen with your fingers.
On the other hand, the Fitbit Ionic very much looks the part of the fitness-focused watch that it is. The square body is boxy and not nearly as sleek as Samsung's option, but what the Ionic lacks in looks it makes up for with how darn comfortable it is.
The Gear Sport isn't an uncomfortable watch by any means, but you almost immediately forget that you're wearing the Ionic as soon as you strap it on. Not only is the included band soft and easy to adjust, but the lighter weight of about 50 grams compared to 67 grams with the Sport makes a big difference.
Samsung's nailed the aesthetics down, but if you prefer comfort over looks (which is arguably more important when being active), the Ionic is the way to go.
Fitness features
Speaking of being active, this is the thing that both Samsung and Fitbit are marketing the most for their respective wearables.
As expected, both the Gear Sport and Fitbit Ionic do a great job at counting your steps, calories burned, and recording a variety of different exercises (including swimming thanks to 5 ATM waterproofing on each one). There are obviously small discrepancies between the stats that each one tracks, but one area where I found the Ionic to be much more accurate is with how many floors I walked up and down. On the Gear Sport, I found myself having to walk up and down a flight of stairs twice before it registered a single one, whereas the Ionic was able to keep up without any trouble.
Another area where the Ionic shines is with on-screen workouts. There are three loaded onto the watch by default, and you can get more with a subscription to Fitbit Coach. Being able to follow personalized workout routines right on your wrist is extremely convenient, and while Fitbit Coach will cost you $40 for an annual subscription, it's one of those things that's hard to live without once you've tried it.
The Gear Sport doesn't have anything like this, but it does have a few nice features of its own that the Ionic surprisingly lacks. You can use the Gear Sport for logging your food, water, and caffeine intake throughout the day, set desired targets you'd like to hit during a workout, and even view your weekly performance for steps, calories, heart-rate, etc. These are all things that Fitbit could add to the Ionic with a future software update, but for the time being, you have to go to the Fitbit app on your phone to see/do any of this.
Even with that said, I still found myself more motivated to be active with the Ionic. The frequent reminders to get 250 steps in per hour is a nice encouragement to keep moving, and a lot of Fitbit's clock faces do an excellent job at showing your steps, heart-rate, and calories burned. This is entirely subjective on my part, but I did actually notice myself wanted to hit the gym more often than not when wearing the Ionic.
Smartwatchy stuff
When it comes to non-fitness-related features, this one's a mixed bag.
To be perfectly blunt, notifications on the Ionic just aren't that good. You'll get notified of any calls, texts, calendar appointments, and other apps that you grant permission to, but there's no way to interact with them. You can answer or decline phone calls, but that's about it. If you get a text or message on Hangouts, the only thing you can do is swipe it away.
The Gear Sport is the best with notifications, but Fitbit's quickly gaining strong developer support.
You can dismiss notifications on the Gear Sport, but you can also Like messages on Facebook Messenger, archive/delete emails, and respond to texts by typing on a T9 keyboard, handwriting, using your voice, or even sending emojis. I certainly wouldn't advise writing long emails on the Sport, but being able to send off a quick reply to incoming messages without having to pick up your phone helps this feel a lot more like a proper smartwatch than the Ionic.
Both the Ionic and Gear Sport can store music for offline listening, have NFC chips for mobile payments, and can run apps. I prefer the use of Spotify on the Sport as opposed to Pandora on the Ionic for storing songs, and Samsung Pay has support for a lot more banks than Fitbit Pay in its early stages. When it comes to apps, however, I have to give the upper hand to Fitbit.
Samsung's wearables have had a lack of compelling apps since the original Galaxy Gear that came out in 2013, and this, unfortunately, hasn't changed all that much five years later. There are some big names here, such as MyFitnessPal, ESPN, Bloomberg, and Endomondo, but most of what you'll find in the Galaxy Apps store isn't worth messing with.
Numbers-wise, there are much fewer apps available for the Ionic. However, just about three months since its release, there are already apps for Starbucks, Yelp, Philips Hue Lights, Nest, Strava, Flipboard, E*TRADE, and others. Smartwatch apps aren't something I enjoy spending a lot of time in, but paying for my coffee at Starbucks and turning on my Hue lights (with an official app I don't have to pay for) are things I can't do on the Sport, and likely won't ever be able to.
Other tidbits
A few other things I noticed while using the Gear Sport and Ionic before we wrap things up:
You have to download four apps to use the Gear Sport on a non-Samsung phone. For the Ionic, you only need one (the Fitbit app).
The Gear Sport lasts for a solid two days on a single charge, but the four or more days of use on the Ionic is amazing.
Fitbit chose to use a proprietary band system on the Ionic, but there are already a ton of third-party options to choose from on Amazon.
You can change watch faces directly on the Gear Sport, but have to open the Fitbit app to do so with the Ionic.
Final verdict
The Gear Sport and Fitbit Ionic share the same retail price of $299 (though they're both cheaper than that right now), and to be perfectly honest, both are well worth the price.
If you're in the market for a smartwatch that looks great, handles notifications well, and is a very respectable fitness tracker, it's hard to be disappointed with the Gear Sport. This is the smartwatch I've been wearing since the day it came out in mid-October, and I've really enjoyed my time with it.
See Samsung Gear Sport at Amazon
With that said, I'm moving over to the Ionic as my daily wearable. The Ionic may not be as flashy as the Gear Sport or have its rotating bezel that's endlessly fun to use, but it works better for my lifestyle. For someone who's at Starbucks just about every single day, using my watch to pay for my morning coffee is a big convenience that I like to have. The Ionic stays more secure on my wrist when I'm running compared to the Sport, Fitbit's companion app is more enjoyable to use, and when you pair the watch with the Aria 2 scale, it's easy to see why the Fitbit community has become as large as it is.
If you own a Samsung Gear Sport or Fitbit Ionic, which one did you choose and why?
Sign up for Black Friday email alerts!
Get the hottest deals available in your inbox plus news, reviews, opinion, analysis and more from the Android Central team.
Joe Maring was a Senior Editor for Android Central between 2017 and 2021. You can reach him on Twitter at @JoeMaring1.