Fire Phone update focuses on camera, calling and messaging features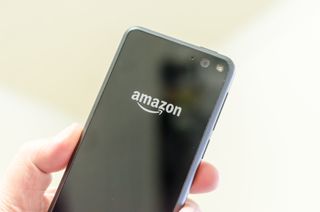 Amazon is rolling out a major update to its Fire Phone smartphone. The update is hitting both the AT&T model as well as the unlocked GSM edition. Amazon promises an improved camera experience, support for more keyboard languages, call blocking, custom ringtones, and improved battery life among the improvements featured in this update.
Here is the full list of what to expect in the update:
Translate text and identify famous artwork with Firefly
Text translation from/to: English, French, German, Italian, and Spanish, and artwork recognition for 2,000 famous paintings with info available from Wikipedia. To learn how to use Firefly, go to Identify Movies, Music, Products & More with Firefly.
Take the perfect picture with Best Shot
See three versions of a given photo to choose the perfect shot. To learn how to use Best Shot, go to Take Photos & Personal Videos.
Enable or disable SMS / MMS settings
You can now turn character counts and MMS on or off. To learn about SMS/MMS, go to Messaging.
Select additional keyboard languages
Choose from seven preloaded keyboard languages and 49 additional keyboard languages to download. To learn how to download a keyboard, go to Customize Your Language & Keyboard.
Block unwanted phone numbers
Decline unwanted calls from any given contact. To learn how to block phone calls, go to Review Your Call History.
Add custom ringtones to your phone
Add custom ringtones from the Amazon Appstore to your Fire phone. To learn more, go to Manage Ringtones & Notifications.
View more information from the lock screen
Control music directly from the lock screen, and configure your phone to wake up when a new notification arrives. To learn about the lock screen, go to Customize the Lock Screen.
Write and edit documents with WPS Office
Edit documents using the new, preloaded WPS Office app. To learn more, go to Docs.
Connect to a virtual private network (VPN) at work
Connect to a secure, corporate VPN from your Fire using the native IPSec / L2TP VPN client to stay productive while on the go. To learn how to use the VPN feature, go to Set Up a VPN.
Sync calendars across Amazon devices registered to your Amazon account
Create appointments that are automatically synced across supported Fire phones and Fire tablets registered to your Amazon account with Amazon Cloud Calendar. To learn how to use Amazon Cloud Calendar, go to Calendar.
Read your Kindle books in one continuous scroll
Read and scroll through Kindle books without ever having to touch the screen. To learn how to use Auto-Scroll, go to One-Handed Shortcuts.
Improved battery life
Dozens of systems updates for enhanced battery performance.
Bug fixes and user interface improvements
Hundreds of other bug fixes and user interface improvements.
Source: Amazon (opens in new tab)
Listen close enough and you can hear crickets chirping lol Posted via...The One

Hilarious man Posted from the bando

We don't have to listen very closely to hear them chirping. Posted via the Android Central App

I dont care if people troll me... but Fire OS is not Android and Android site giving coverage to Fire OS is like giving coverage for iOS or blackberry. Blackberry runs Android app as well. hell do people even know what Android version FireOS is??? Fire OS is modified so much that its no longer Android

But it is android a fork of it anyway with some software tweaks by Amazon Posted via the Android Central App

I don't care what they cover as long as it ain't iOS Edit: I don't mind a little iOS coverage either Posted via the Android Central App

oh man... you're gonna get roasted haha... it technically is and we all know what you mean... hell, some could argue tw is only a hair away from being as distant from android as fire is (about two versions of tw ago) Posted via the Android Central App

I think you meant "I don't care if people disagree with me". Posted via Android Central App

Fire OS Sangria is based on Android 4.4 http://www.androidcentral.com/amazon-announces-sangria-version-4-kindle-... "I'm da Blur boys!" - Me with 1200 ping. Yes. My Internet got worse.

Yeah, I know, man. Seeing AC devote a whole one article a month to something that I don't care about totally drives my nuts, too. Sent from my Nexus 5, behind six proxies

But it is Android. Forked by the open source project. Posted via the Android Central App

Fire OS is very much Android. Android is the OS, Google adds their ecosystem as do Amazon. Blackberry is not Android. Android was initiated by Google, yes, but it's open source. Fire OS 3 runs on Android 4.2 and Fire OS 4 will run on 4.4. Get your facts right before opening your big mouth.

Side note: I think they are planning a fire phone 2. I received a survey about the fire phone yesterday.

A survey? Wouldn't it have been easier to just call up all seven customers and ask them what they thought? I'll be here all week. Tip your waitress. Sent from my Nexus 5, behind six proxies

Maybe they'll roll out the update in stages to all 7 people like Google does with their OS updates. The one guy that gets it first will make everyone else, I mean the other six people, jealous! Posted via a beautiful Ebony backed Moto X on Verizon or the amazing Nexus 10 using the Android Central App

Well those six users should be very excited about this. Posted via Android Central App with my LG G3

Fire Phone is best phone! Posted via the Android Central App

Anyone end up being able to ROM this? Posted via the Android Central App

do anybody here uses a fire phone . all you need is a good launcher like nova and works better than most mid range phones and for $100 is steal..

it takes about five minutes to add with no root. MoonX and Jason Singleton reviews on amazon explain it.

Amazon it is time to junk this phone have to laugh at this useless update. Posted via the Android Central App

Is there a bug fix for 'sucks'?

Yup, it's called "Back to the Drawing Board." Posted via Android Central App

For what? To redo the pricing? And to remove the gimmick 3d effects. That's all that really needed to be done. It's not like they lied to people about what the phone is. As a phone it still is a solid device. As a Android master race device it falls short. Ironically enough, that's not why it was made. It is a portal to Amazons services, as much as the Nexus is a portal to Google services. Battery life, and camera improvements need to come in the next edition. As well as a competitive price and the removal of the 3d effects. They slowed performance and drained the battery. In fact, simply scaling down the tablet interface would work for them. It's pretty much what Apple has done all these years. "I'm da Blur boys!" - Me with 1200 ping. Yes. My Internet got worse.

Hey I liked the 3D effect for the 30 seconds that I held it in the store! IDont worry, I immediately washed my hands when I got home. Posted via the Android Central App

Yeah, but that's the thing. It made for cool "pick up and wow" but after ten minutes max, it became a pointless feature. Look at the 3ds. I know tons of people that have them, and the 3d is on for the first hour of a new game, and then never used again. "I'm da Blur boys!" - Me with 1200 ping. Yes. My Internet got worse.

you can side load about anything ,google play ,gmail,hangouts,google maps,you tube ,chrome all working good
battery is better than my moto x and nexus 5

Interesting...in that though I've been an Amazon fan and love the Fire Tablets, my wife loves her HDX, and our old fire worked great for a kids tab. my craw with them though is they have no reason or excuse or anything to not push OS updates to past versions. We have the 2013 HDX and from my understanding the 2014 was really just a refresh...but no OS push to past devices?
anyway..so interesting they are actually pushing an update to the phone....I imagine they must have some users that they needed to serve....or I wonder with the new price drop they are actually getting orders for Christmas phones and realized they needed to fix somethings.
Android Central Newsletter
Get the best of Android Central in in your inbox, every day!
Thank you for signing up to Android Central. You will receive a verification email shortly.
There was a problem. Please refresh the page and try again.