Fast Pair is Google's vision for fast, effortless Bluetooth pairing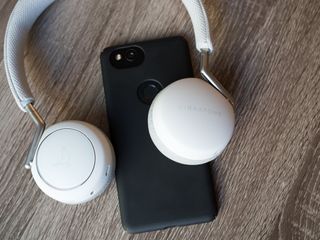 Bluetooth headphones have always been fairly popular, but with the rapid termination of the 3.5mm headphone jack, that point is only going to become more and more prominent over the next few years. Pairing Bluetooth devices to your phone has never been a beautiful process, but Google is aiming to alleviate this pain with the announcement of Fast Pair.
Similar to Apple's W1 chip that was introduced with AirPods last year, Fast Pair lets you connect to a new pair of Bluetooth headphones or earbuds by simply being within close proximity of them. Just turn on pairing mode on the Bluetooth accessory you want to pair, put it near your Android device, and you'll automatically get a notification to pair said accessory without having to jump through convoluted menus.
The only two headphones that currently work with Fast Pair include Google's Pixelbuds and Libratone's Q Adapt On-Ear, but Plantronics' upcoming Voyager 8200 wireless headphones will also support the new tech.
Unlike accessories for iOS that only work with the special W1 chip built inside of them, Fast Pair is a technology that can be pushed out to virtually any pair of Bluetooth headphones – upcoming or existing ones already on the market. Better yet, as long as you're using Google Play Services v11.7 or greater, you'll be able to take advantage of Fast Pair on devices running Android 6.0 Marshmallow or later.
How much longer do we have to fight for the headphone jack?
Joe Maring was a Senior Editor for Android Central between 2017 and 2021. You can reach him on Twitter at @JoeMaring1.
Why, oh, why are the Libratone Q Adapt On-Ear's Micro-USB and not USB-C? Not wading into the BT Headphone with Google Assistant until they charge with USB-C, no matter how easy they are to pair.

Usb-c is vastly superior. Micro is a horrible format and I'm glad it's dead.

How is this better than NFC pairing? I can see how it is cheaper and requires less hardware but it also involves a Google getting information about what devices you are pairing with. So new accessories will have to have this designed in but I would hope that NFC would be included as well for those whose phones support it.

So, Google will know what headphones I would be using. What's wrong with that?

I apologize, but I'm confused. "The only two headphones that currently work with fast pair are...." "Fast pair is a technology that can be pushed out to virtually any pair of bluetooth headphones" "As long as you're using Google Play Services 11.7, you'll be able to take advantage of Fast Pair on post Android 6.0+ devices." So all I need to do is get my device's (on Nougat) Google Play Services updated to 11.7 and I'll be good to go with Fast Pair on any BT headphones?

I assume the maker of the the BT headphones needs to do a software update for them? Will that happen..?

Fast Pair is good to go on the phone side of things with Android 6.0 and Play Services v11.7, but the tech needs to be added to headphones for the process to work. The two headphones listed are the only two that currently support it, but Google's working with manufacturers to make it available in other accessories via software. Sorry about that!

Thanks Joe. I imagine it would be reasonable to expect Fast Pair to be updated with say Bose QC 35s and higher end headphones. I don't expect my Jabra Sport Pace from 2015 or my Moto Rokrs from 2013 to be updated.

Cuz the 6 seconds it currently takes is so inconvenient.

And am I crazy or are we only talking about the first time a device is paired to a phone? I mean subsequent usages you just turn the headphones and you're done, right? Maybe I'm missing something because I only use a single pair of headphones with a single device?

I also don't understand it. I have a BT speaker and a pair of BT headphones. I pair them both with a PC and a phone. I've never had any problem with it - I turn them on and they automatically pair with whichever device I'm next to.

Yeah, that's the big benefit: multiple devices. I have a pair of Beats X (with the W1 chip) and the only time the quick pairing is useful is when I need to switch between iphone/ipad/macbook. Otherwise yeah, day to day use isn't changed.

I don't understand the rush to a lesser quality standard. This is little more than Apple driving the market to sell more Airrings. Just like they initially moved all the music to Mp3 to make sense of the iPod. It may sell well, but it sounds worse. You People Settle.

I am willing to bet the percentage of people who are true audiophiles and can detect the lesser quality audio is significantly smaller than the average consumer. Average consumers want to get in their car and not find the cable for the aux input. Average consumers don't want to snag cables on gym equipment or carry their device in their pocket while working out. Average consumers want to play their favorite playlists on a speaker and not have to unplug their phone when leaving the room. Bluetooth was always about functionality first. Then audio quality improved over time. I agree its still not as good as a wired connection, but c'mon..."You People Settle"? Did you think the masses were going to sit there and reject Bluetooth just because it wasn't as good?

@Law123...While I agree with most of what you say, all that is still available; car, pocket, gym on every phone sold over the past many years with Bluetooth. The difference is that choice is being eliminated and the choice presented is of lesser quality rather than higher quality. In what other area of tech would that be desirable. Plus, it, in most cases, requires the purchase of additional accessories and in many cases, they are ecosystem restrictive. I'm not arguing against Bluetooth, I'm arguing against the elimination of the higher quality choice that has been and is the highest quality standard that is universal.

If everyone was an audiophile, the term wouldn't exist. To most people it's just fine. I have never heard anyone complain about how their music sounds via Bluetooth, except on forums. Which would indicate that the rest of us arn't actually giving up anything in terms of quality. The best headphones I have, and the only ones with wires, are the standard apple earbuds which only get so good anyways. I have like 3 BT headphones, that in comparison sound just as good. so, eh? No loss Your ears are just better then most :D ...and you have fancy wired headphones. If I'm spending money (any substantial amount) I want those things wireless.
Android Central Newsletter
Get the best of Android Central in in your inbox, every day!
Thank you for signing up to Android Central. You will receive a verification email shortly.
There was a problem. Please refresh the page and try again.