SIM-free European HTC EVO 3D gets pre-order price and date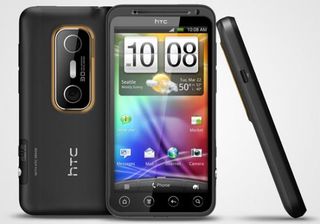 Many European retailers are taking pre-orders of the HTC EVO 3D (check out our initial review of the US version), but Amazon.co.uk is the first to offer up both a SIM-free price and a possible release date. Amazon's currently listing the EVO 3D with a due date of Sep. 12 and an unsurprisingly hefty price tag of £569.99 (~$910).
As we're always quick to point out, pre-order prices and release dates are never set in stone, and may be based off the retailer's best guess rather than anything official. While the price is about what we'd expect to pay for a phone like this, the release date seems a little wide of the mark given that HTC has already announced a July launch for the EVO 3D in the UK. With Vodafone being the only British network currently confirmed to be carrying the phone, we suppose it's possible that some sort of exclusivity agreement may delay availability of the EVO 3D through other channels for a few weeks, just as it did with the Sensation. Nothing has been announced yet though, so for the moment that's still just speculation.
Source: Amazon.co.uk (opens in new tab)
Alex was with Android Central for over a decade, producing written and video content for the site, and served as global Executive Editor from 2016 to 2022.
Sweet phone Europeans! Sweet phone!

Got these new phones brand new in the box. Sacrifice for $325 each.

HTC Germany sets the recommended retail price to 699 Euro. Thats inclusive vat and would be 1014 $. From experience I would say the retail price will be at least 100 Euros lower. Samsung Germany recommends a price of 649 Euro for the Galaxy S2. Amazon is selling for 515 Euro at the moment.

16 days and still no "full" E3D review....

Best phone out there EVO 33333333333 DDDDDD

Agreed. I picked one up on launch day to fuol around with. My Droid X hasn't gotten any love since. I've decided to keep it and give the X to one of my kids. The E3D is a beast!

anyone know what bands it has? maybe i could import it on AT&T :)

At that price, I hope "SIM free" means unlocked, because if not, that would surely be something only the idle rich, would be interested in.

No 3G bands for US. Have fun on Edge/WiFi. Sprint ain't that dumb. HA!

How did Sprint lose the exclusivity to the EVO family? I thought Sprint owned the EVO name like Verizon owns the Droid name?

Verizon doesn't own droid, Lucasfilm does. Remember what they'd call the robots?

If you check the HTC website, it has AWS so would work fine on T-Mobile.

Ha, Ha ! This smells so much the bullshit that I can't believe a news site like this one can take it serioussly. A dealer just put the most far away date he is sure to be able to get the phone (Meant to be available in July in the UK, so September = Zero risk date), and the highest possible price for a Smartphone ever (Zero risk again) and he can get free buzz. Too easy. Call that STUPIDITY that a journalist can fall in such a game. Shame on you guys.

The "dealer" sourced isn't some creepy bloke selling phones out of a trenchcoat in a shady part of Manchester... It's freaking Amazon UK. I'd say it's a pretty reliable source.
Android Central Newsletter
Get the best of Android Central in in your inbox, every day!
Thank you for signing up to Android Central. You will receive a verification email shortly.
There was a problem. Please refresh the page and try again.