Europe to get its own LTE-enabled Nexus 7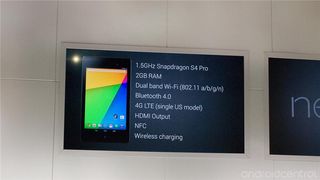 If you watched Google's San Francisco presentation today and felt a little left out when only U.S. carrier support was mentioned for the new Nexus 7, fear not. Google's official spec sheet (opens in new tab) for the upcoming 7-inch tablet confirms that a European LTE-compatible SKU will be offered, with support for a whopping seven bands.
The spec sheet shows support for 800, 850, 1700, 1800, 1900, 2100 and 2600 MHz in Europe — that's bands 1, 2, 3, 4, 5, 7 and 20. That septa-band LTE support means you're well-equipped to use any current or future 4G networks in Europe. In addition, you've got HSPA+ on travel-friendly 850, 900, 1900 and 2100 MHz bands, as well as AWS (1700/2100).
The U.S. model, of course, comes with unlocked Verizon, AT&T and T-Mobile LTE support.
Android Central Newsletter
Get instant access to breaking news, the hottest reviews, great deals and helpful tips
Alex was with Android Central for over a decade, producing written and video content for the site, and served as global Executive Editor from 2016 to 2022.
So, if I'm on Sprint am I using the only carrier in the world where I can't use LTE on the new Nexus 7? Sprint's LTE bands seem to be supported. I'm confused and dismayed.

I'm guessing that the 1900 is band 2, not Sprint's band 25 (which includes all of 2).

Wow. I am super stoked on the HSPA+/LTE bands and hope that this means much more for future Nexus devices.

If you're a Nexus fan, why in the world would you ever need a cell radio in your tablet? Just tether from your N4 etc.

Actually, if I were on Sprint I'd view this as an opportunity to try other carriers. Its not like you're porting your phone number around, you would be establishing a separate data account for this anyway. Personally I'm jazzed that it crosses two GSM networks (T-Mo & AT&T) with the Verizon CDMA/LTE network. I don't think there has ever been a device that did this.

Wauw, HSPA and LTE on all that spectrum on both GSM and CDMA. Imagine when this hits phones.

What radio's does the "Normal" Nexus 7 II have?

I was going to order the note 8.0, but this is my next phone as soon as it gets released . Because I could never get a straight answer as to which carrier would let me use it here in the USA. All I care about is screen size for my phablet. If samsung releases the note 8.0 in the USA then I would switch again.

If you're using GSM, you simply just put the SIM into any unlocked devices and use it. No need to ask.
It's best to buy international unlocked device, so when you use it on T-Mobile or AT&T, for example, they don't know what device you're using, therefore they cannot force you to be in any specific plans, just so they can rip you off.

The Note 8.0 with phone capability, as in my previous comments.

Does anyone know if I could use this on 3 or O2's LTE when they launch later in the year? Posted via Android Central App

Yeah it will work as they will be using 800/1800/2600 MHz specturm

Wow....you really missed the mark on that one, Alex....Hugo Barra specifically said there will be ONE model LTE Nexus 7 that will work on US and EU band LTEs. You should watch the presentation again....that was a really big deal!!

Actually, band 7 works in a whole lot of places, which makes this tablet a global alternative. Here in Brazil we use band 7. Yes, I know we follow "European frequencies",so it's implied somewhat, but it's always good to remember.

Good news as I felt disappointed living in Europe. But here, sorry for my ignorance, the lte service us going to be provided to existing users with sim cards, so, will the nexus lte for Europe have that slot?

they are not apple. they know what LTE is
Android Central Newsletter
Get instant access to breaking news, the hottest reviews, great deals and helpful tips
Thank you for signing up to Android Central. You will receive a verification email shortly.
There was a problem. Please refresh the page and try again.