Essential Phone update adds Bluetooth 5.0, extra notch settings, and more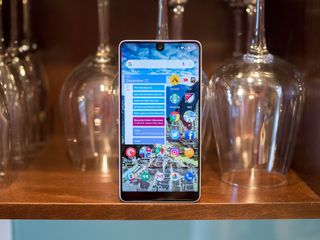 There's a new update making its way to the Essential Phone, and like we've come to expect from Andy Rubin's startup, there's a lot that's included.
This is a new version of Android 8.1 that Essential pushed to all users last month, and with it comes official support for Bluetooth 5.0 and the April 2018 security patch that Google just released for Pixel and Nexus devices about a week ago.
Also mentioned in the release notes for the update are modem stability fixes, better handling of external game controllers, improved performance, and bug fixes.
Shortly after the update was released, our friends at Android Police discovered something else that Essential forgot to mention — more controls over how apps interact with the phone's notch.
Assuming you have developer options enabled, head to Settings -> System -> Developer options -> Essential notch settings. Once you're here, you can set a default for how all apps should use the notch area or specify the behavior of the notch on a per-app basis. There are three options to choose from, including "Essential recommended", "don't use notch area in landscape", and "always use notch area." That last option could result in some apps looking a bit wonky if they haven't been updated to officially support notches, but it will help to make the Essential Phone feel as immersive as possible no matter what you're doing.
If you've got an Essential Phone, will you use these new settings to embrace the notch in all of your applications?
Essential Phone 2 — How Essential can have a much more successful Year 2
Joe Maring was a Senior Editor for Android Central between 2017 and 2021. You can reach him on Twitter at @JoeMaring1.
Comparing this phone today with all the latest software and fixes, to the original phone when it was launched back in 2017, there is a day and night difference. Well done Essential! This is by far the best <$499 phone in the market with an excellent build quality that no other current phone can match. Android Central - I would love you guys to do a second review of the phone now, with all the latest software and camera improvements.

It still has touch issues, which is unacceptable. Camera still isn't good enough. The design on the front is ugly af.

Cool 3 things that are wrong in one post.

I like the front design, no touch issues here.

Unmorphed.... On one article, you are defending Essential, the next...you are bashing it.

Shashankmittal - I'd like to see a re-review as well.

Just picked up one of these off of the bay. Value proposition is quite strong on this phone. It looks like the support and updates continues to be strong.

Very nice! I actually had no idea that Bluetooth can be updated without a hardware change.

It can't if the hardware doesn't support it.

Gotcha. The more you know...

Love it. Keep it up Essential
Android Central Newsletter
Thank you for signing up to Android Central. You will receive a verification email shortly.
There was a problem. Please refresh the page and try again.