Essential Phone 2 — How Essential can have a much more successful Year 2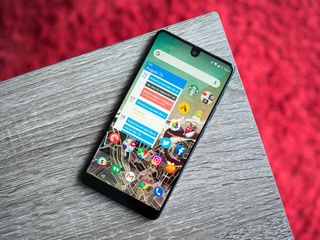 One of 2017's most polarizing devices was the Essential Phone. There was a lot of hype for the startup headed by Android father Andy Rubin, and while the Essential Phone's hardware is still some of the best money can buy, continued software bugs and lackluster camera performance continues to put a damper on what should have been one of last year's best handsets.
Essential's confirmed that a successor to the Essential Phone (aka the PH-1) is in the works, and while the company hasn't shed too much light on what it'll change or when we can expect it, there are a few key areas that Essential needs to work on if it wants to avoid the various blunders it's already experienced.
Wider availability
Before Essential starts worrying about new software features or hardware refinements, it needs to focus on expanding to more markets and carriers with the PH-2. The Essential Phone is still limited to just the United States and Canada, and when it comes to carrier support, you'll only find it on Sprint and Telus, respectively. For a startup trying to break into a well-matured industry, this is not the right move.
If Essential wants to keep pushing its way into North America, it needs to expand to other carriers like T-Mobile, AT&T, Rogers, Bell, etc. Average consumers still buy their phones in carrier stores as opposed to going online to purchase it unlocked, and because of this, having a larger presence here will make Essential much more visible to a broader audience as opposed to just Android diehards.
Additionally, it wouldn't hurt Essential to also set its sights on other markets entirely. Expanding operations to new countries is an expensive decision, but it's one I think could benefit the company in the long run.
Take Nokia, for example. During just one year of being run by HMD Global, Nokia-branded Android phones have "been selling already millions of Nokia smartphones" during 2017. HMD Global was just founded in December of 2016, and those "millions of Nokia smartphones" is considerably more impressive than Essential selling less than 90,000 units of the PH-1.
The secret behind HMD Global's success? Wider market availability. The company sells its Nokia 6 in the U.S. and Canada, but HMD Global more heavily markets its products in China, India, Australia, the UK, and more. These markets are much easier to break into than Canada and the U.S., and if Essential doesn't have the time and/or resources to focus on North America and more global availability, it should go with the latter before worrying about the former.
Make the PH-1's software mess a learning lesson
Essential promised a pure, stock software setup with the PH-1, and while it technically delivered on that front, the user experience was almost too barebones at launch. Essential's slowly added new features as time's gone on, such as fingerprint sensor gestures, UI themes that changed based on your wallpaper, and more. These have made the Essential Phone feel more complete and well thought-out, and they're things that need to be present on the PH-2 from day one.
Another persistent issue that Essential just recently addressed is jittery scrolling. Users have been reporting laggy/slow scrolling animations on the Essential Phone pretty much since it first came out, and after shelling out $700 for a new phone, running into something like that is a major turn-off. The latest 8.1 update appears to have finally fixed this, however, so once again, Essential's moving in the right direction.
I don't think there are a lot of things Essential needs to change on the software side of things with the PH-2, assuming it understands where it went wrong with the PH-1 and applies those fixes/changes for its second go around. Have more software goodies and a fix for bad scrolling present on the PH-2 as soon as it ships, and it'll make a much better first impression than the PH-1 ever did.
Go back to the drawing board with the camera
And then, of course, there's the camera.
The camera on the Essential Phone has been bad-mouthed relentlessly since its launch, and I don't think anyone will have a hard time agreeing with me that this is the biggest user-facing issue that Essential has to tackle for gen two.
To its credit, Essential's released non-stop software updates to the PH-1 that have all be focused on trying to make the camera as good as can be. Some of these updates have been more successful than others, and as it stands, the Essential Phone's camera is now fine. It's not amazing or nearly on the same level as the Pixel 2, but it is far better compared to how it initially performed.
With that said, it's probably best Essential goes back to the drawing board for the PH-2's camera. If the company wants to stick with dual-cameras, it needs to find a way to make both sensors truly useful. Then again, it could drop the secondary lens and focus its time on just one that performs really, really well.
Don't mess with the hardware
Producing a great camera is going to take a lot of time and effort, but thankfully Essential should have plenty of it since nearly everything else about the PH-1's hardware is still impeccable.
The Essential Phone remains as one of the most attractive and well-built phones on the market, and its use of ceramic and titanium continues to be refreshing in a world of glass and aluminum. I imagine some people would still like to see wireless charging and a 3.5mm headphone jack, but these minor gripes aside, I wouldn't change much at all with the PH-2's hardware.
What do you want to see?
Whether you own an Essential Phone or have been viewing things from the outside in like myself, what things are you hoping for the most with the Essential Phone 2? Am I on base or is there something I missed? Sound off in the comments below!
Sign up for Black Friday email alerts!
Get the hottest deals available in your inbox plus news, reviews, opinion, analysis and more from the Android Central team.
Joe Maring was a Senior Editor for Android Central between 2017 and 2021. You can reach him on Twitter at @JoeMaring1.