Essential Phone available in three new colors for a limited time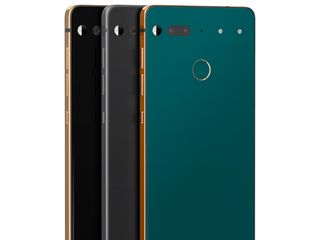 On February 13, Essential shared a teaser image on Twitter saying that "a new wave" of the Essential Phone was coming. The photo hinted that we were finally getting a launch for the Ocean Depths color of the Essential Phone, and while that color is now available, there are two other ones being released alongside it.
In addition to Ocean Depths, Essential is launching the Stellar Gray color that was also announced last May and a brand-new Copper Black variant.
Ocean Depths is my personal favorite of the bunch, as it features a stunning teal back and gold frame + fingerprint sensor accent. It's one of the most unique color combos I've seen in years, and while some people may find it a bit obnoxious, I think it looks amazing.
Stellar Gray has a much more subdued appearance with a matte black back and frame, and Copper Black offers the best of both worlds with a glossy back and copper frame.
Due to the difficult process of consistently producing colored ceramic, Essential is only releasing these three colors in limited quantities. In regards to the release schedule:
Ocean Depths is launching February 15 @ 12:00 PM PST
Stellar Gray is launching February 20 @ 12:00 PM PST
Copper Black is launching February 22 @ 12:00 PM PST
Each version will cost $599 ($100 more than Black Moon and Pure White), and they'll be sold exclusively through Essential's website.
Joe Maring was a Senior Editor for Android Central between 2017 and 2021. You can reach him on Twitter at @JoeMaring1.
That green is dreamy. The other 2 are also really nice as well.

The heck with the color. Where's the Oreo update!

8.1 Beta already been released. You're a guinea pig for their beta phone so get the beta update.

I should have bout it when it went to $399 w/camera on Amazon. Since then, all other deals don't appeal to me.

Always loved the Ocean color. I'd probably still have this phone and put up with them if I had that at first bought.

I've wanted that ocean depth since they first teased it all those months ago. Am I going to buy it now? No. I already caved and bought the white one as a back-up last year. It's really tempting though. It's so pretty

Those are some sexy phones

Bold ceramic back, gorgeous rear, but nasty notch. A featureless beauty.

I'll never understand ppls problem with it. Now the iPhone x, that's ugly. I don't even notice the essentials notch anymore, I only notice all screen

Yah I actually like the notch, it gives the phone some character

The green one looks fantastic.

Can't give them away... I'm sure the new colors will help.

They all look nice, but don't 99% of people put a case on them anyway? They all have the same black screen. Can't see the logic to paying $100 extra for a new color.

Clear cases are your friend.

Pretty sure Ocean Depths will look even better in person

There's a saying in my language: "la mona, aunque se vista de seda, mona se queda". Basically, you can paint the phone any color you like, it's still the same unimpressive hardware.

"Limited time"
Because they only made one of each.

I would have been interested if it had removable storage as I been using a 200gb card for years now, it's basically a large part of my music library in lossless Flac. I could create a lossy version of it and upload it to the phone, but it is so much easier just remove the card and insert it into the next phone. Maybe the next version....
Android Central Newsletter
Get the best of Android Central in in your inbox, every day!
Thank you for signing up to Android Central. You will receive a verification email shortly.
There was a problem. Please refresh the page and try again.