Waggit is a Fitbit-style health tracker for Man's Best Friend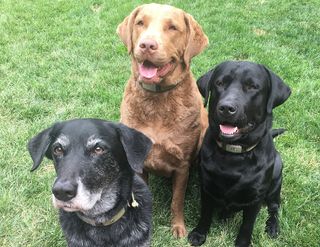 There's a ton of tech out there for tracking human health, but what about your family pooch? Dogs hold a special place in our families — don't they, too, deserve a bit of smart tech to help keep them healthy and safe?
Enter the Waggit, a smart dog collar designed for 21st century living. This collar is jam-packed with smart features to help track the health and well being of your pet.
First off, it's a ruggedly designed to withstand whatever your dog gets up to (or in to). The band is made of standard nylon and the tech is housed in a case made of bendable rubber that's flexible, waterproof, and comfortable for your dog. Connect the collar to your phone via the Waggit app (available for both iOS and Android) and you'll be able to monitor your pup's vitals and receive alerts if there are any changes that may require a vet visit. It'll also track your dog's activity levels and compare them to similar dogs on the Waggit leaderboard — just like the Fitbit app does for humans! It also tracks your dog's average calories burned so you can adjust their food accordingly.
But perhaps the best Waggit feature is the tracking tech included for safety assurance. Each collar includes built-in GPS that will let you track your dog via the app no matter where they are in the U.S. This is accomplished with a cellular antenna which uses the AT&T network. This service costs $4.95 a month and gives you the peace of mind that your dog will be quickly found if they ever get lost.
Waggit has already well surpassed its goal, but there's still a couple weeks remaining to back the project and get in on early bird savings off the retail price. The Waggit team has spent two years testing and optimizing the collar with the help of hundreds of dogs of all sizes and breeds, and the collar is available in three sizes. Waggit plans to start shipping orders by May 2018.
Waggit will retail for $279, but you can save 29% by backing this Kickstarter with an early bird pledge of $199. Got more than one dog, or know someone who would love this as a gift? You can save even more — up to 40% — by pledging $339 or more.
This is the first Kickstarter campaign created by Waggit and the good news is they've already well surpassed their goal of $25,000 four times over! This is a great bit of tech for any dog owner who cares about the well being of their furry friends, and you can't beat this deal.
Marc Lagace was an Apps and Games Editor at Android Central between 2016 and 2020. You can reach out to him on Twitter [@spacelagace.
GPS using a cellular antenna??? Whatever will they think of next.

I know how much my dog is jogging as she runs right besides me.

This. Also, I would not want something that close to my dog's brain that emits cellular and BT signals continually. Dogs are already much more prone to get cancer than humans.

First generation Kickstarter of WHISTLE was supposed to be the exact same thing; Whistle is out there but barely works and I no longer use it. Don't see any difference with this one.
Android Central Newsletter
Get the best of Android Central in in your inbox, every day!
Thank you for signing up to Android Central. You will receive a verification email shortly.
There was a problem. Please refresh the page and try again.