From the Editor's Desk: Covering Apple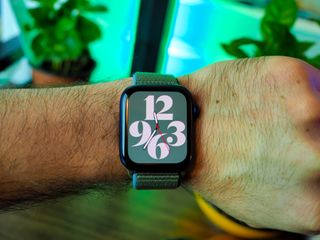 (Image credit: Android Central)
Every year, sometime in the first week of September, I corral the Android Central team to plan how to cover Apple's inevitable hardware event, which usually happens in the first or second week of the month. As one of the diminishing number of niche tech sites on the internet, covering Apple's hardware events is a bit like racing a sports car on a parallel highway; there's no winning, but the race itself is a lot of fun.
The reality is, eleven years after the iPhone 4, Apple still commands more attention than any tech company for its product debuts. Samsung's products may fold, Google's may flaunt, but Apple holds the regard of the mainstream, that average consumer that doesn't read this or any other tech blog, in ways no other company can pull off.
Even as Apple has shifted from debuting new categories and unique ideas to honing and perfect existing ones, it's still important to cover the launches almost as closely as we would any other — even if we don't cover it the same way. Our goal here at Android Central is to keep you knowledgeable about Android and the companies and ecosystems that surround it, from wearables to smart home to gaming, and Apple is both Google's and Samsung's closest and most important competitors.
Apple has also had a very interesting year, and many of its legal and regulatory troubles are being reflected back at Google, some focusing on the relationship between the two companies and others parallel arguments about app store and ecosystem monopolies. And with Google reportedly pulling out all the stops for its Pixel 6 series this year, it will be more important than ever to see what they're up against.
The other thing to consider is how to cover Apple's releases given the company's varied market share throughout the world. In the U.S., where Android Central gets most of its readers, Apple has over 50% of the user base — 53% as of this past quarter, according to Counterpoint Research— while Samsung has around half of that, at 26%. In other parts of the world, especially in Europe and parts of Asia, Android, and Samsung in particular, is much more dominant. But those regions also see competition from three manufacturers in particular — Xiaomi, OPPO, and Vivo — that barely touch the U.S. market. Even as Apple has attempted to bring down the cost of entry by renewing the iPhone SE or offering refurbished models of its older phones, it's the company's influence more than its actual products that impact the decisions of incumbents in developing markets.
All that being said, you're going to see a lot of Apple-related coverage on the site over this coming week, much of it talking about how the company's latest products will impact the broader market rather than your specific purchasing decisions since, as we all know well by now, switching ecosystems is a bit of a chore.
Until then, I want to highlight a few of the great original pieces that went live this week. If you bought a Galaxy Z Fold 3, Galaxy Z Flip 3, or Galaxy Watch 4, we have guides for how to make the most out of them, and judging by the traffic numbers of these posts, many of you did buy them.
We've seen a ton of interest in the new Galaxy Watch 4 series, but almost as much in the Fossil Gen 6, as evinced by the interest in this piece comparing the two products. Our resident contrarian, Jerry Hildenbrand, brought his classic sarcastic humor to this piece on welcoming Apple to the hole punch game with next year's iPhone 14. And I also want to call out this incredible piece from Harish Jonnalagadda all about Xiaomi's improved software experience with MIUI 12.5, which was one of our most popular articles this week.
Hope you have a lovely week and let us know what kind of opposition Apple coverage you'd like to see from us.
-Daniel
Sign up for Black Friday email alerts!
Get the hottest deals available in your inbox plus news, reviews, opinion, analysis and more from the Android Central team.
Daniel Bader was a former Android Central Editor-in-Chief and Executive Editor for iMore and Windows Central.