Dropbox becomes more competitive with revamped pricing and storage upgrades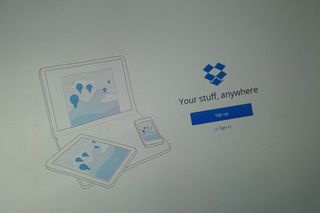 Dropbox is cutting the price for 1 TB of their cloud storage the service all the way down to $9.99 a month. The change shows that the company is going after Microsoft's OneDrive and Google Drive's paid cloud storage services.
Before today, Dropbox Pro offered just 100 GB of space for $9.99, with an upper limit of 500 GB for $500. Now Dropbox Pro's prices are more in line with similar services offered by OneDrive and Google Drive and could generate even more competition in the personal cloud storage space.
Along with the price cut, Dropbox Pro will be getting some extra features, including new sharing controls that will offer better security when sending files to others, and a remote wipe feature that will allow users to delete any Dropbox files from a smartphone or tablet if it gets lost or stolen.
What do you think of Dropbox Pro's big decrease in price and will we see even more cloud storage price cuts in the future from Microsoft and Google?
Source: Dropbox
Wasn't it 100 GB of space for 9.99? Posted via Android Central App

Yep, it was. This is nice upgrade and makes them more cost competitve. I prefer Dropbox because I've found it to be faster than competition and works well cross platform in the Apple, PC, Android, and iOS clients I support.

No thank you Il stick with my TB from Gdrive the built in office sweet is absolutely killer for me. not to mention being tied in with all my other Google things.

Same here. 1 TB plus my 100 GB from my Chromebook is all I need. Used Dropbox for many years back in the day though. Sad to see how slow they are to keep up with everyone else. Oh well.

+1 I am a one drive fan. 1 TB free with office 365 which we already have. Posted via my OnePlus One!

Does google do automatic photo backup across multiple platforms and devices? My photos is honestly my only reason for cloud storage aside from occasional documents and music.

Does google do automatic photo backup across multiple platforms and devices? My photos is honestly my only reason for cloud storage aside from occasional documents and music.

Does google do automatic photo backup across multiple platforms and devices? My photos is honestly my only reason for cloud storage aside from occasional documents and music.

The issue with Gdrive is they are deeply disrespectful of your privacy, I had various articles vanish from my Gdrive and I learned the hard way they're constantly watching for anything suspect. It's the same logic behind the YouTube rights to use controversy.

Agree about Cloud providers in general. I had a non DRM ebook that I downloaded from a website who had the author live-blogging at the time (everyone that was in during the liveblog got access to his book DRM free.) I was at work so I uploaded it to Dropbox so I could reach it at home later. When I got home and tried to access it, Dropbox blocked me from accessing it and reprimanded me for having illegal content in my dropbox account....

Does anyone actually pay for cloud storage? Why bother when you can just make multiple accounts for free?

I pay google every month who would want to manage a slew of accounts

+1 I will gladly pay 10$ a month to not have to deal with what picture is going in what account and what the hell the password is for that account.

why would you wanna make multiple accounts ? it would be hard to manage and to remember all those accounts credentials , imagine how many accounts you would have to make in order to get 100GB free storage.

9.99 EUR, not $ for me...

Today I learned $ only represented US currency.... Posted via the Android Central App

Use private tunnel or other vpn to a us server and get the American pricing. Posted via Android Central App

$10.99 CDN Posted via the Android Central App

I think Google Drive, OneDrive, Box and Cloud Drive are more than enough for me. Posted via the Android Central App

I was such a Dropbox fan back in the day and actually still love the speed and effectiveness of its sync function, but I'm basically 100% all in with Gdrive now. What can I say, it was the right price and the right time. The only thing that frustrates me is that I have to reset the Sync application on my laptop periodically or it just hangs. Lame.

1TB OneDrive for up to 5 accounts and the full MS Office 2013 Professional for $9.99/mo. for me. Better deal, IMO. Posted via Android Central App

+1. We already had office 365 for all our computers so the 1TB on onedrive is nice. Use for for android, iOS and WP devices. Posted via my OnePlus One!

Money thrown. finally I can backup all my camera raw files in the cloud. Posted via Android Central App

Took so long.. Had to be done they had no chance being priced more than drive and one drive Posted via the Android Central App

Today! you can't beat the 9.99 microsoft offer (1tb + access to office + updates on up to 5 devices? Come on! I love dropbox but microsofts one drive offering is super attractive and worth every damn penny

One Caveat : One Drive have a single file size limit of 2 GB, Dropbox's limit is 10 GB, Google Drive's is 5TB.

Yeah. That's the only downside.

I love Dropbox and have been paying for it along with 100GB Gdrive, I had tried to go all Gdrive but the client sucks on Windows, you end up with duplicates all the time, you cant copy your local files to a new PC or reinstall Gdrive without downloading everything again (there are work arounds but it still sucks) and try and make changes to a doc on different PCs...... Dropbox has syncing down to an art and at this price Im so happy, My original plan was to get 1TB Gdrive as a backup and use Dropbox as my sync tool, now Im all in on Dropbox.

Good to know as I'm very close to making the investment in cloud storage. Now Drop Box is back in the running. Will probably be deciding this weekend.

The question is will my account be automatically updated to 1tb? Posted via Android Central App

Just checked and my account has not been upgraded and there is a glitch that is not allowing me to be upgraded.. I hate when companies do this... Like yo I've been paying you for years if you are offering more for the same price just upgrade my ishhh i shouldn't have to ask!!!! I emailed their support team.... Smh Posted via Android Central App

Update:
Veronica, Aug 27 04:19 PM: Hi M.Polo, Thanks for writing to us at Dropbox. Please note that all Pro plans are automatically being upgraded to include ten times the available space. While no action is required on your end, the new Dropbox Pro features may take some time to roll out. You'll see more space in your Dropbox by Friday, August 29! I hope this clarifies! Please let me know if you have any further questions, and I'll be happy to help. Regards,
Veronica Posted via Android Central App

I'd pay for cloud storage if it was like $10 a year for these amounts. Otherwise I'll just continue using multiple free sites and accounts which is easy if you are actually using them. If I was a photographer as a profession I'd pay for it though just for the security of knowing I wouldn't lose someone's wedding photos or something(and write it off on my taxes)

I like copy.com. It is as fast as dropbox and the referral process is nice to get you 25GB by just getting 5 friends to install it. So you can get 45GB free from copy pretty easily

Not bad. I don't use that much cloud storage. I have used almost 4 GB of my 15 GB free from Google .. The day I need more I will just pay $1.99 a month to Google for 100 GB and call it a day :).

Does this mean people will get a refund for being over charged in the past???? Nexus 5

Good point... That was my first thought. Posted via the Android Central App

Is there a way to use Dropbox to backup your entire drive? or at least the "my" files (my docs, pics, videos, etc)

Western Digital has a backup program that is OK once you figure it out; it can backup to an external hard drive or to dropbox... although I've never used the dropbox feature. Posted via the Android Central App

I think we will continue to see the prices from cloud data storage drop. I imagine it won't be many years before 1TB of data is offered for free. I can certainly see Google and other companies increasing their free space as more and more low budget markets continue to grow in the connected cloud. Currently 1TB of data seems like plenty of space for most people, but I remember a time not too long ago when 1GB seemed huge.

When I bought my first computer, they asked me if I wanted to spend an extra $500 for a 20 my hard drive, to go with my 2 5.25 inch floppies. My reply was heck no, what would I do with that much space. Posted via Android Central App

-Bitorrent Sync- Personally, I have been trying out BTSync for a little while. They still need to add some features, but honestly I could see it replacing most everything I currently use "cloud" storage for.

I'm gonna stick with my 1TB from Google Drive. I have 50gb free from a device I bought. I think it was from back when I had my galaxy s4. Anyway, when it Expires I'm not renewing it because the only thing I use drop box for is sharing files with people who don't have Google drive. Posted via Android Central App on the Moto X

That's great, but what if I don't need a TB? Any lower tiered plans at a cheaper price?

Welp, I'm rolling back to Dropbox. I said before that the ONLY reason I went to drive was the price. I actually really like Dropbox better. Now I can pull back out of the Google+ scene...

Good to see Dropbox finally catching up with the times. That said, for now I'll stick with my TB of Drive storage. Just easier for me. Surprised it has taken them this long to make the changes Posted via Android Central App

Well $9 is cheap but still can't beat "free"!
I just entered free 1 Tb Dropbox Pro lottery. Here it is: http://dropbox18gb.com/1tb-dropbox.html
Android Central Newsletter
Get the best of Android Central in in your inbox, every day!
Thank you for signing up to Android Central. You will receive a verification email shortly.
There was a problem. Please refresh the page and try again.