Droid Incredible 2 Android 2.3.4 update now available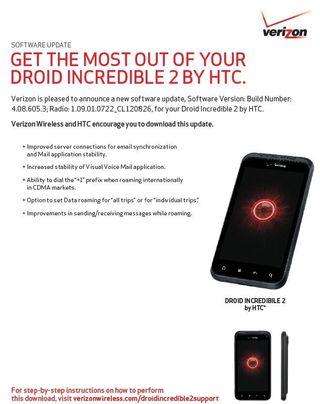 Have yourself a Droid Incredible 2 and wondering when it will see Android 2.3.4? Well, wonder no more. It looks as though the latest software update for the device is now pushing out. Word from the forums is that it is a 32MB file and upon installation you will be asked to go ahead and reboot your phone. Changes? Not many but they are listed for us:
Improved server connections for email synchronization and Mail application stability.
Increased stability of Visual Voice Mail application.
Ability to dial the "+1" prefix when roaming internationally in CDMA markets.
Option to set Data roaming for "all trips" or for "individual trips".
Improvements in sending/receiving messages while roaming.
As you can tell, a few bug fixes and improvements in this release so you'll want to be sure you grab if it you've been having any issues. Though, if you're rooted you might want to check out the Android Central forums to ensure root can be obtained afterward as well. If you've not received the notification as of yet, go ahead and check for system updates it should be waiting.
Source: Android Central Forums
Android Central Newsletter
Get instant access to breaking news, the hottest reviews, great deals and helpful tips
I think they misspelled Thunderbolt again, silly Verizon.

This is getting annoying already. They touted the Thunderbolt as the greatest phone ever, and I agree that it may be, and I love the phone to death. But, where is the support?

Hang in there - Gingerbread is on it's way via the pony express.

Anyone know what happened to the update for the original HTC Droid Incredible? There were articles on here about a month ago, but nothing came through. There was buzz on the forums last week touting Sept 15th as the big date, but still nothing. I prefer to wait for the OTA version, IF it comes. Anyone?

The HTC Incredible did in fact get it's update. Check the forums and you will see a volume of people who had major problems with the update. Enough people that the update may have been pulled. You would figure you would hear something here on Central, but there is nothing. I got the update along with a friend. took me 2 weeks to get my phone working right. My friends was a different matter... As sson as she got the update... LOW SPACE ERROR... the same bug that's been there since day one... Anyway, not to hijack. It would be good to see Central do something story wise on this updates...

All phones mentioned are better than the Bionic

Hmmm... still no Google Video Chat.

I noticed that as well. Isn't that feature the whole point of an upgrade to 2.3.4?

yeah, I thought the exact same thing. what gives?

And no update for the EVO? Not surprised. Oh well. It would probably break my root. Meanwhile, the Nexus S is on 2.3.7? This is my last non Nexus phone. That is, if the Nexus Prime arrives at Sprint by December first. If it doesn't? It's been nice knowing you Android... NOT!! LOL!!

The incredible is such a nice looking phone.

Gingerbread for the thunderbolt got lost.. It took a left at verizon sucks for support instead of going right.. since GB is lost Cuz he took that left at verizon sucks for support he will never find his way to see thunderbolt.. End of story.. I emailed htc complaining about the lack of support & upgrades & they pretty much said oh well deal with it.. I wasn't happy..

lol. if you're rooted, then you've been on 2.3.5 for awhile now, so all you really care about is the new radio, which may or may not be crap

Didn't receive a notification but was able to download after checking for a system update. Process went smoothly. Don't notice much difference, but I wasn't really expecting anything to be different; none of those bug fixes/improvements really apply to my usage.

I'm still waiting for the update for the original Incredible from 2 weeks ago. Good luck 2 owners.

I don't think you want gingerbread. Upgraded it on my Droid X and had nothing but problems. Went through 2 replacements before getting the Incredible 2 as a replacement. Not as many problems, but the ones that are there were there in the Droid X post GB and never there pre-GB. I'm going out to my I2 and make sure auto updates are turned off. It doesn't look like any of my problems are covered. I'm trying out CyanogenMod.

I just need the HTC ADR6350 rom 2.3.4 and download, Hope you are going to help me found it easy, ....Thank You....
Android Central Newsletter
Get instant access to breaking news, the hottest reviews, great deals and helpful tips
Thank you for signing up to Android Central. You will receive a verification email shortly.
There was a problem. Please refresh the page and try again.